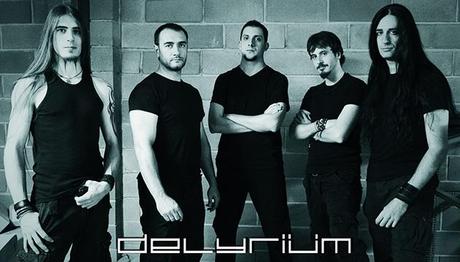 Hi Metal fans! I bring you today an amazing Spanish Progressive Metal band, its name is Delyriüm and they have really a fantastic sound.
Delyriüm was born in Albacete (Spain) in 2006 when Art Rodríguez (guitars) and Roberto Cappa (drums) decided to create their own musical project to develop their own sound based in their musical interests.
The band starts to play in several shows around Spanish locations to promote Delyriüm's music and show their brand to the public. But the band's line-up will suffer a period of several changes.
Finally, Delyriüm achieves stability and a solid line-up to continue to grow like a band, and they participate in the XXV edition of the Contest in Modern Music Memorial Alberto Cano in Albacete, in which they are proclaimed winners. The award was a recording of an album, a Spanish tour and a promotional campaign for the band.
Due to this award, Delyriüm release the debut album entitled "Quaerens Utopiam" which contains ten fantastic songs with a very good sound and a nice production.
In "Quaerens Utopiam" we can find a high quality metal music, full of complex compositions executed with a highly technical level, oh these guys show us a great skill as musicians.
The first song in the album is entitled "Quaerens Utopiam" and it's an amazing instrumental track with orchestral arrangements which shows as a great prelude to the excellent music from these guys and their fantastic album.
The album contains some tracks in Spanish language and other songs in English. Songs like "Al Final Del Laberinto" with great guitar solos, complex progressive touches and a nice melody or "El Vuelo Del Alma" and "Sin Mirar Atrás" with a powerful sound, nice keywords and a great job on vocals are tracks highly recommeded.
You pay attention to "At The Boundaries Of Oblivion" with its eleven minutes and a rich composition I think it's an amazing masterpiece. I also recommend "Where Hearts Roam To Rot" with a fantastic and poweful sound and excelent guitar and keywords solos. Another fantastic song that I like is "Tu Voluntad" which you can enjoy by clicking the following link.
DELYRIÜM – Tu Voluntad (VIDEO)
by MetalWind
Ok guys, Delyriüm has been a great discover for me, I think they are fantastic musicians and their Progressive Metal sound is really amazing, "Quaerens Utopiam" album is a good proof of this. I recommend you don't miss this excellent band and pay attention to Delyriüm news, these guys are working at this moment in a new album.
Finally I would send a greeting to Art Rodríguez for his collaboration with MetalWind and a greeting for Delyriüm, great job, guys!
Discover Delyriüm band, enjoy their music and leave your comments!
Follow Delyriüm:
https://www.facebook.com/delyriumspain
https://twitter.com/DelyriumSpain
http://www.youtube.com/DelyriumBand
http://www.reverbnation.com/delyrium
Free Music Player for Myspace at ReverbNation.com