Thanks to the age-old adage of "something blue", blue is, by far, one of the most popular hues at weddings. The good news is that this is an extremely harmonious color to include in just about any setting. From the drapes or even to the aisle carpet, there certainly isn't a lack of ways to incorporate blue in your wedding and reception. So, read on to learn how you can very easily bring this color to the forefront on your special day!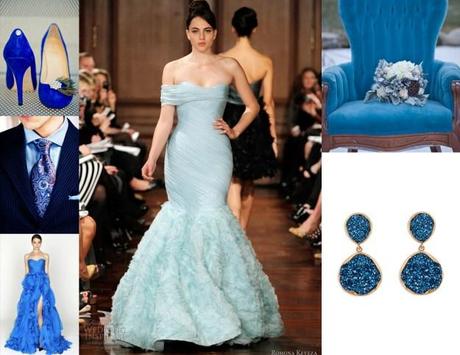 Wedding cake
The one item that will certainly be on display at your reception, your wedding cake should preferably be done up in varying hues of blue in order to keep in line with the all-blue theme. In this case, couples usually have several options to choose from: for example, you may either go for an all-blue cake or a white and blue cake, or even a plain white cake with a blue cake topper. Adventurous couples might even ask their baker to add a few drops of blue food coloring to their cake batter for a more daring look.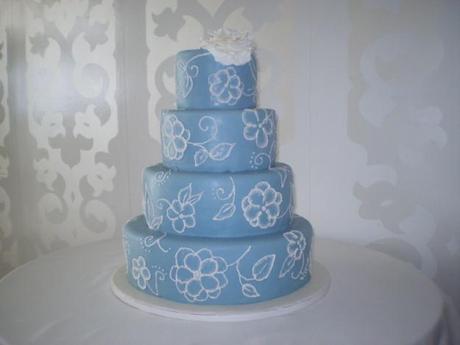 Table settings
If you want to adopt a blue themed wedding decor, one of the easiest ways is to incorporate this shade through the table settings. Indeed, the catering industry is practically brimming with blue tablecloths and napkins. There is one thing that you should bear in mind though: a blue wedding reception doesn't mean that you should go crazy on this color. Far from being appealing, an overdose of blue might end up short of being sickening.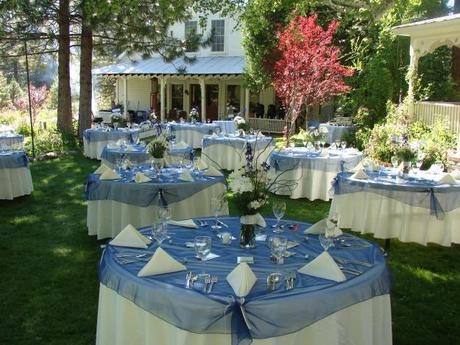 It's therefore crucial to properly balance the various colors and incorporate other tones in the overall decor. For example, a nice idea would be to select a napkin and a tablecloth made of two different shades of blue. Dark blue and turquoise, for example, go superbly well together. Alternatively, you may also go for an entirely contrasting combination such as blue and yellow. Blue-rimmed plate with an ivory surface will also complement your color scheme.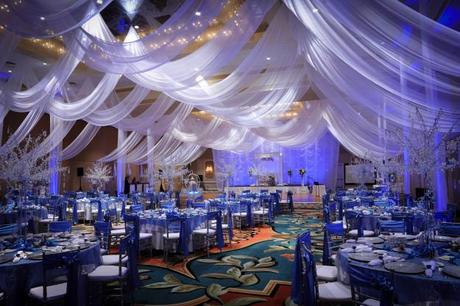 Wedding favors and other decorations
Since wedding favors are usually lined up on a same table, a particularly pronounced effect would be to pack everything in the blue boxes or packaging, which will instantly draw attention to the overall theme. Of course, couples should also focus on a few other accents and decorations to liven up the blue theme. Blue candles, for instance, are fabulous choices to vamp up your reception decor.