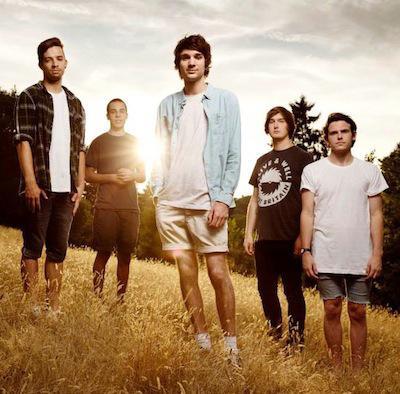 iTunes have given us Bath based rock group Decade this week and the song 'British Weather' from their debut album 'Good Luck'. Together since 2009, the guys: Alex Sear (vocals), Joe Marriner (guitar), Connor Fathers (guitar/vocals), Dan Clarke (drums) and Harry Norton (bass) are signed to the Universal Music Group and are about to embark on a tour with Mayday Parade. The majority of dates area already sold out but there are still some tickets left!
Decade have a classic pop/punk/rock sound. It's in your face from the beginning and reminds of all the angsty rock stuff I used to listen to when I was 15. You can imagine it having been used in classic teen programmes and movies of the 90s. British Weather is very much a jump up and down, learn all the words to blare out at the top of your lungs kind of track. It's dead catchy and I've had it on repeat for the past 10 minutes; it isn't getting annoying yet. Heavy guitar and bass chords, the odd oo's here and there, heavy kit action: it's mint! Added bonus: they're also nice to look at

Verdict: download it, get the album, go see them and relive your 15 year old concerts by making your throat hoarse. These guys are gonna be big!
 -Kristine
Download British Weather and Good Luck
Find out more about Decade: