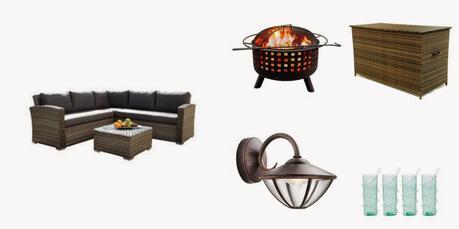 Currently, our garden is very children orientated, with a 12ft trampoline, football goal, playhouse, water-table and many other toys, the kids toys have simply overtaken our garden and our decking area. When we first had the decking fitted, it was in mind for a nice area, with table and chairs, a nice outdoor heater; a place where we can sit, eat, chat, laugh, relax and/or socialize, however, it's just full of bikes, sit-ons, and not forgetting the garden box full of water guns, balls and etc. Thus, my wish list would be to transform the decking area into an area that I had originally wished for.
My wish list of garden items from the Debenhams garden range:
Debenhams Grey 'Victoria' small square corner unit Not only would this look stunning on my decking area, it would give us the freedom and joy to lounge around, watching my kids play in the garden, or I could read a book, or perfect for when friends come around for lunch or a BBQ.
Memphis firepit It's always nice to sit outside in the evening, relaxing, chatting, and soaking in the fresh evening air, and with this gorgeous fire pit, it will keep us warm, snug and relaxed.
Brown 'LA' outdoor storage box This perfect storage box to store away all the cushions, and probably a few kids toys - but this would like amazing on my decking.
Philips MyGarden Eden LED Wall Light - A couple of these lights around my garden wall, to light up the garden would cast a warm white light that would change the atmosphere of the garden.
Set of four green curly straw plastic hi-ball cups - These cups are versatile, perfect for a refreshing juice, or great fun for a cocktail during a BBQ.
*This is my entry for the Debenhams Easter Blogger Competition.