Pieous. Oh Pieous. Where do I begin? Probably the best place to start would be back on April 29, 2013, at 9:32 a.m. when I made a comment on another local blog, South Austin Foodie, regarding her visit to the brand new and much anticipated pizza spot, Pieous.

I'd heard a lot of rumblings about this old-BBQ-joint-turned-pizza restaurant. It seemed that everyone was gravitating towards their completely scratch-made menu of handcrafted pizzas, pastries and breads. I also heard some pretty powerful testimonies from people after having tasted their house-smoked pastrami. Pastrami? Say what?
You heard (read) me right. They have some beautifully smoked pastrami prepared in the smoker left behind by the building's previous tenant, Cartwright's BBQ.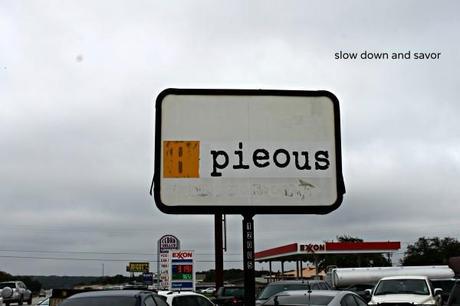 Anyway, Pieous opened one year ago in February, on Highway 290 in Austin, just past the Nutty Brown Café, if you're coming from my neck of the woods, and if you're coming from Austin, it's just before the Nutty Brown Café. See how that works? Anyway, the humble pizza place has since made a seriously solid impact on pretty much everyone who visits. Like I said earlier, Pieous boasts scratch-made and super inventive food, using only the freshest and highest quality ingredients. Want to know something cool? They don't even have any packaged mozzarella cheese! They make it fresh every day. That's crazy, right? Crazy awesome!
All of their beautiful pizza pies are hand crafted, fresh to order, and are cooked in a real-deal wood-burning oven. Yum.
So after hearing all these awesome things, and even going so far as to comment on a Pieous-focused blog post saying that I'd be there soon, you'd think I'd be out the door and there in 3.4 seconds. But I wasn't. In fact, months passed, and I didn't go. I think the reason behind not sitting at a table with pastrami and pizza set before me was simple: I'd forget about it. Awkward. I mean, I had driven past this place a bajillion times in the past year, but never stopped.
Until this weekend, that is.
Finally, this past Saturday, my husband and kiddo and I piled into the big blue pickup, and headed out to Pieous. When we arrived, there was one (questionable) parking space left. Boom. We made it a spot, and we were in business.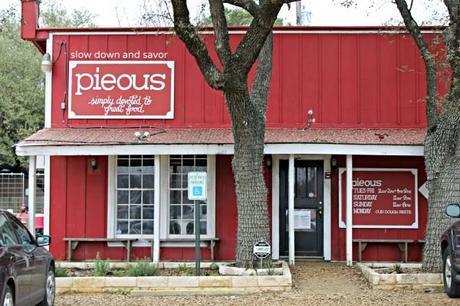 I couldn't hide my excitement as we walked through the packed-dirt parking lot to the adorable little red building. Yeah, I started clapping and quietly whispered, "WOO HOO," which drew a strange look from the kiddo. Oh well.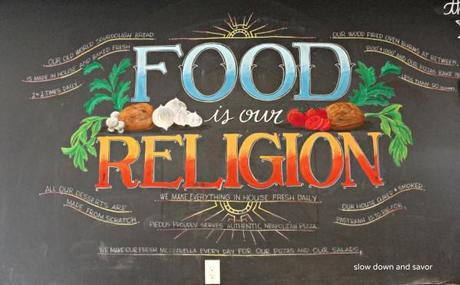 As soon as we entered the dining space, my eyes immediately drawn to the glowing wood-burning oven that bakes pies in less than 90 seconds.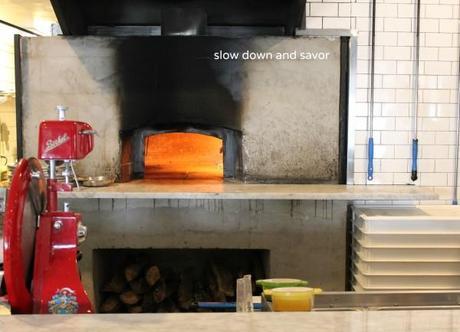 It was mesmerizing. The whole interior was bright and fun, complete with chalkboard walls.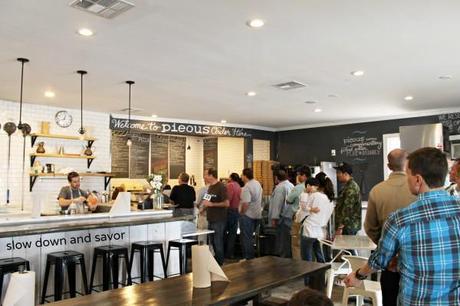 This captured the excitement of the little one, who found a comfortable spot in front of a piece of wall with a stick of chalk, where he happily drew hearts, stars and his name. This place is DEFINITELY child friendly, and that's probably because the owners have three young children of their own. What was a relief for us, as we are always trying to find restaurants with scrumptious grub and a kid-friendly atmosphere.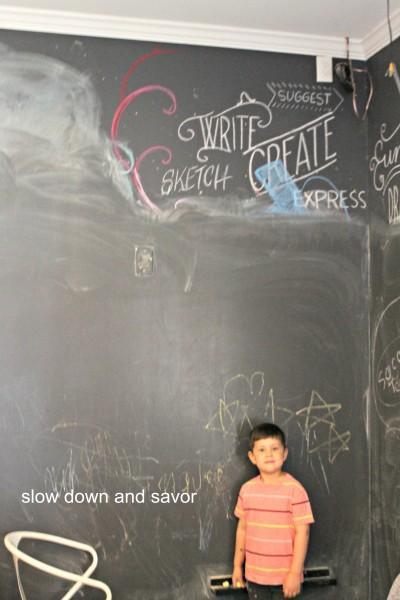 As we stood in the long line leading up to the register to place our order, I became increasingly glad that we took the time to check out the menu online in advance, since the only way to see what they have to offer while at the restaurant is to get close enough to the chalkboard menu behind the register.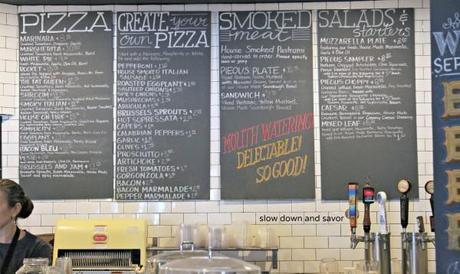 We had made up our minds to try some of their seemingly world-famous pastrami in the form of the Pieous Plate, which comes with a hefty portion of their sliced pastrami, pickles, two styles of mustard, marinated onions, and fresh sourdough bread. We also decided that a Fat Queen pizza, with crushed tomatoes, fresh mozzarella, hot soppresata, Italian sausage, and pepperoni would be a perfect, albeit bizarre, compliment to the pastrami.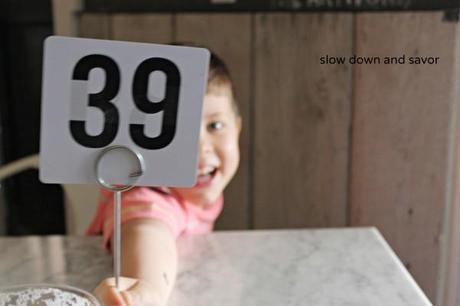 We paid, received our order number and found a comfortable table in the sunshine, where we could bask in the warmth of the day and the warmth of our surroundings. Shortly after settling in, our server presented us with a beautiful, nay, STUNNING plate of pastrami glory.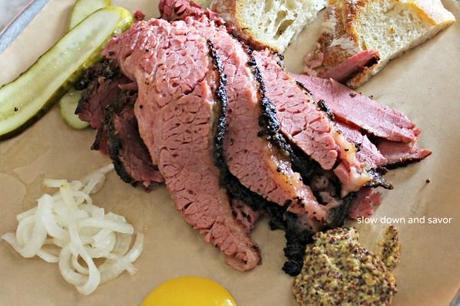 There were no frills. It didn't need it. Just a simple sheet of butcher paper lined pizza pan with the beautifully rose-colored and glistening mountain of joy in meat form, surrounded by little piles of accoutrement. Glory. Glory day.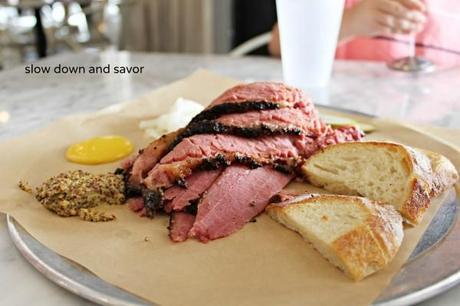 This pastrami is the stuff dreams are made of, folks. Even if you don't have pastrami-laden dreams, this stuff is still the stuff that dreams are made of. After having a taste of this pastrami, you will dream of it.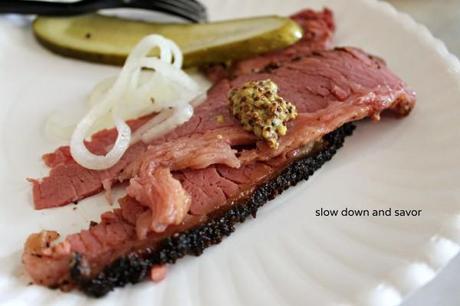 The meat was ultra tender, super juicy, and packed with a salty, smoky sweetness that went perfectly with the peppery crust… That crust! Just perfection. With a small dollop of the coarse ground mustard and a strand of lightly marinated onion, this perfect pastrami is elevated to a whole new level of crazy-goodness.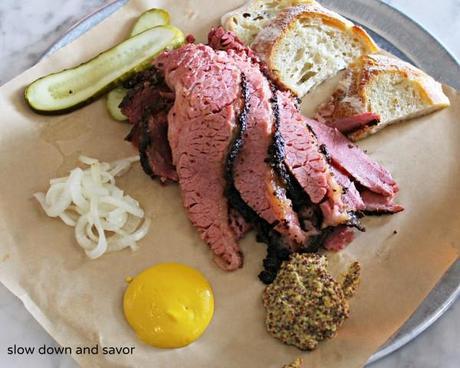 All three of us fell into a silence while we savored each and every bite of pastrami on that platter set before us, and we couldn't have been more content.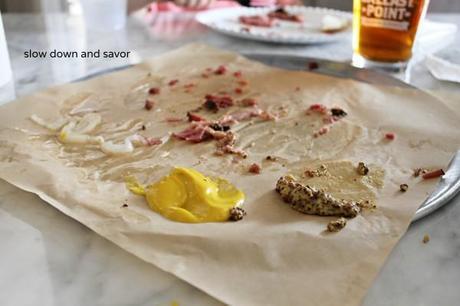 Delicious. Bravo, Pieous. Bravo.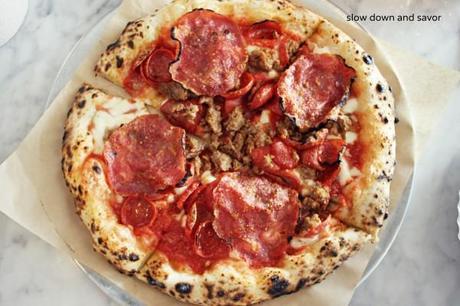 Next up was our Fat Queen pizza, which measured up to roughly 12" of deliciousness.  The first thing that hit me was the smell of the cured meats. That sorpresetta was pungent in the best of ways. I guess that would be aromatic, rather than pungent. But it wasn't gentle. It was in your face, sweet and savory cured meat at its finest. The dough itself was nice and crispy on the exterior and chewy on the inside, and that probably comes from the fact that the dough is simple: water, salt, and some activator. Then it is stirred, kneaded, rolled by hand, and then topped with all of the locally sourced ingredients you desire.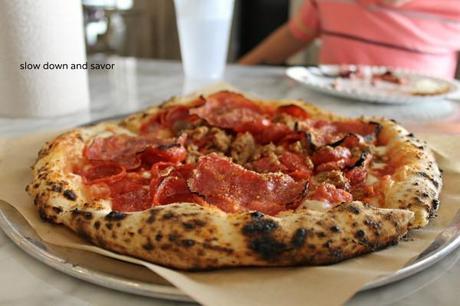 It's pizza in its simplest, purest and most delicious form. I loved it. The kid loved it. The husband loved it.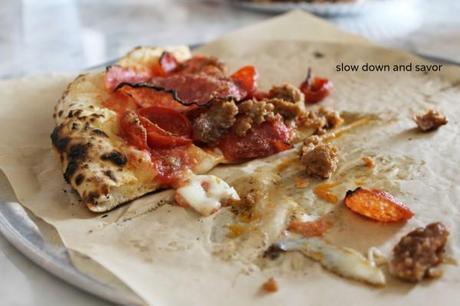 We left Pieous on Saturday with happy tummies and happy hearts. I know we'll be back VERY soon.