Dear Jack,
I can't believe it's already been a year since we first laid eyes on you.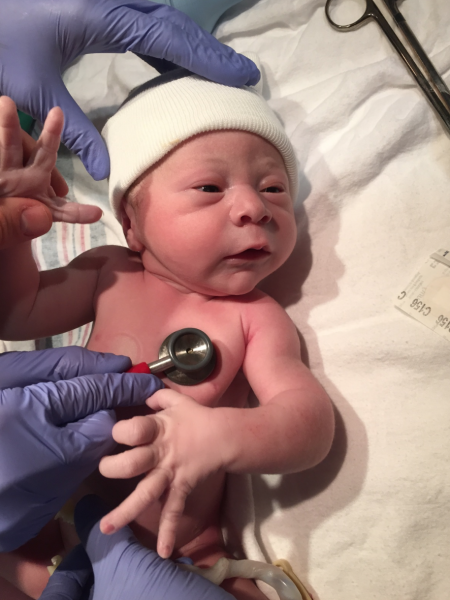 Sometimes it feels like it's only been just a few eye blinks, and other times, it feels like I've known you my entire life. I'm watching you walk around the living room, eating a granola bar, thinking, how did you get to be so grown up?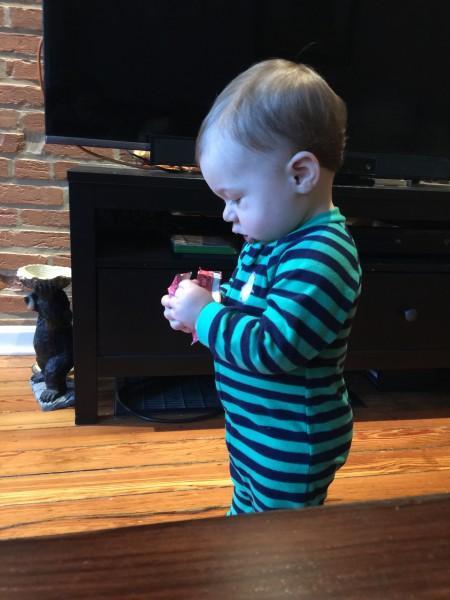 I know I'll be asking myself this question over and over again over the course of your amazing life, but just a year ago, you and I were up every 2 hours together, nursing, burping, changing, swaddling... And here you are, making all of your sweet little noises, walking, exploring and changing.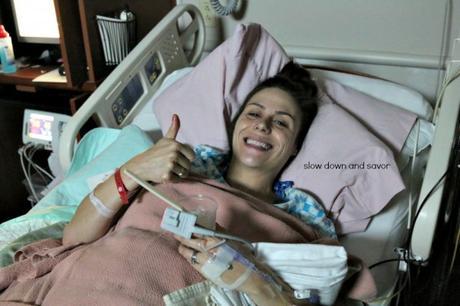 I remember back to the day you entered this world. I was so scared, but so excited at the same time. Your daddy and I couldn't stop smiling once we got to the hospital, and they told us that you were on your way! I knew it was going to be a hard day, but all of the pain was so much more than "worth it." I'd go through all of the sheer hell of labor over and over again if it meant I could see your little face.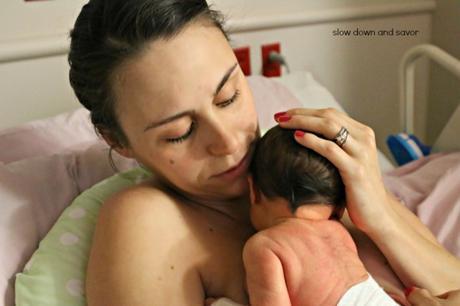 Your daddy and I were overflowing with love for you from that first moment we held you in our arms, officially naming you Jack Houston Ogletree. It's a strong name; a name created from amazing men in our family history, just for you. You're a strong man in the making, and I can't wait to see what happens.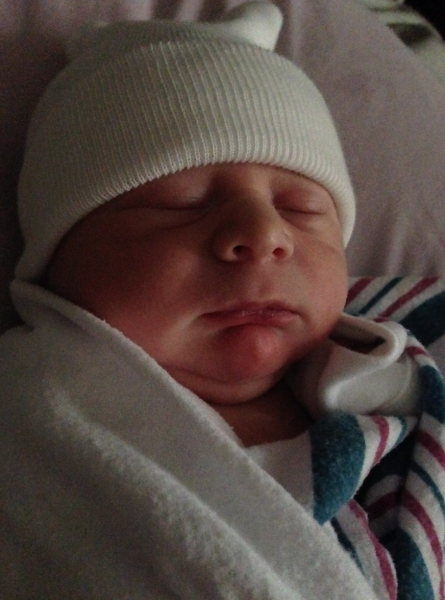 During your first month, we were discovering YOU together. I started to learn your language. I somehow just KNEW when you were hungry, versus being dirty, tired or bored or over stimulated. We began to become so in tune, and it was truly a trip. You slept a whole lot during that first month, and I didn't. I didn't sleep at all. Everyone told me to sleep when you slept, but that wasn't possible. No way. Plus, how could I sleep when I had you to stare at? You were so captivating, even in your slumber.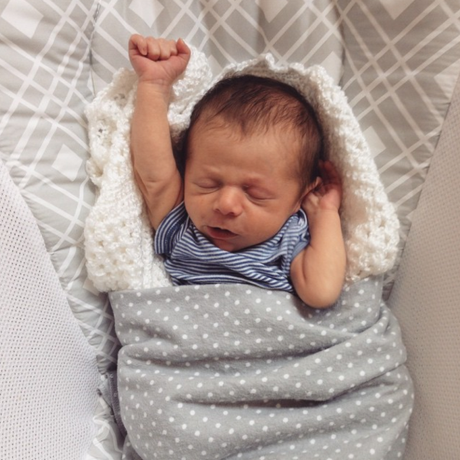 Month 2 brought us your first smiles, which by the way killed me. Every time you smiled, a little piece of my insides would just melt. I can't even tell you how sweet your smile is. It's just one of those things that could turn a bad day into a good one. You also managed to sleep through the night a couple of times, letting me get a tiny bit of rest. You also left the house for the first time in the second month. Call me paranoid, but I was scared to let the germs of the outside world get to you. Guess what? You were fine. And so was I.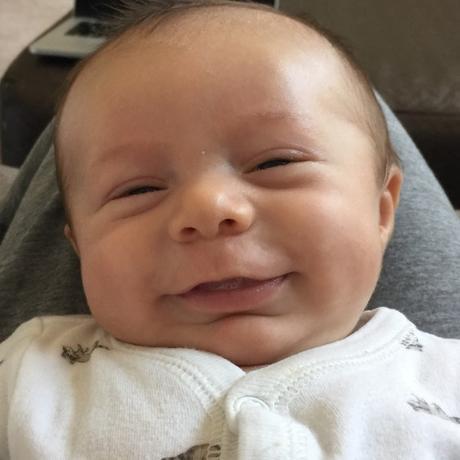 Your third month brought a lot of growth. I mean, you grew a LOT, and became way more alert and active. It was a lot of fun watching your world grow bigger.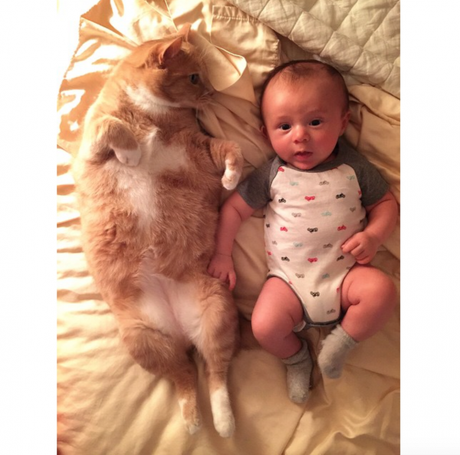 You started staying awake more, and even discovered your stuffed bunny. You loved squeezing him and giving him big, open-mouthed kisses. You also would LOVE when your big brother, Major, would read to you.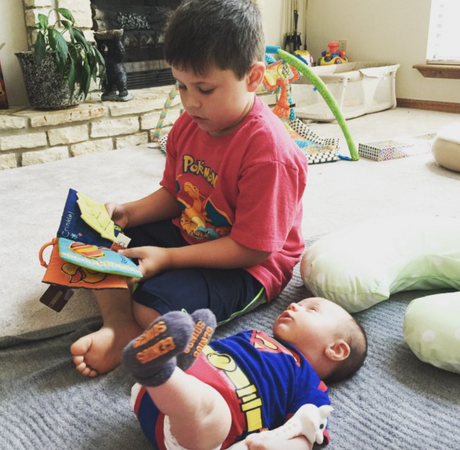 He loved it too, because you would just stop and stare at him with an understanding that only two brothers can share. Plus, we got to hear your first laugh and of course I cried. You didn't laugh again for a couple of more weeks. Daddy joked that I scared it out of you with my emotional response. I'm not so sure he was wrong.
Month 4 was exciting for so many reasons, but mostly because we moved!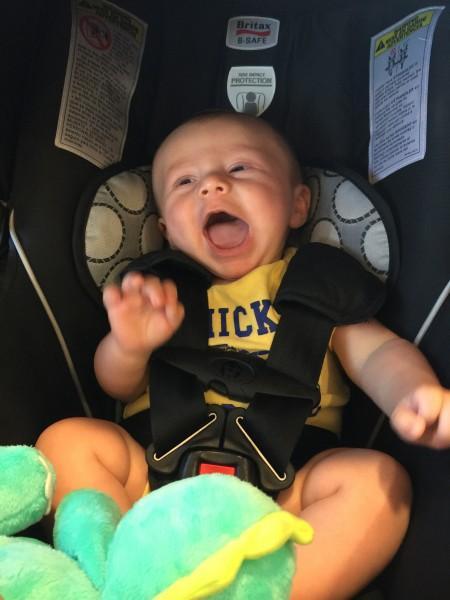 Yes, you were born a Texan, but now we're residents of Charm City, and you're a real Baltimore baby. You, me, Karen, Markus and Nana all piled in my car and we drove the 3 days from Wimberley to Baltimore together to meet daddy at our brand new home, and what an adventure that was.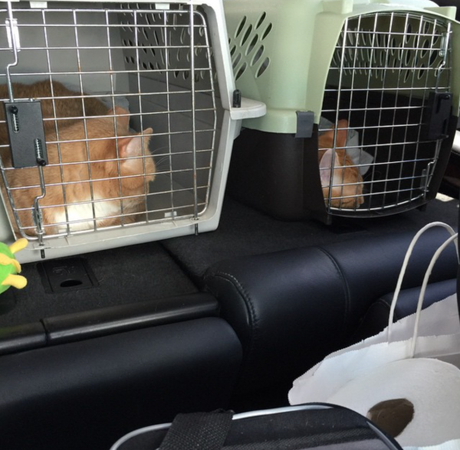 You were so good. I was astounded. You barley fussed, and I loved watching you look out the window, taking everything in as we drove. You also got sick for the first time during your fourth month of life. I was so scared. I hated that you had a fever, and I hated that I didn't know what to do! But I figured it out with the help of daddy and Google, and we had you well in no time.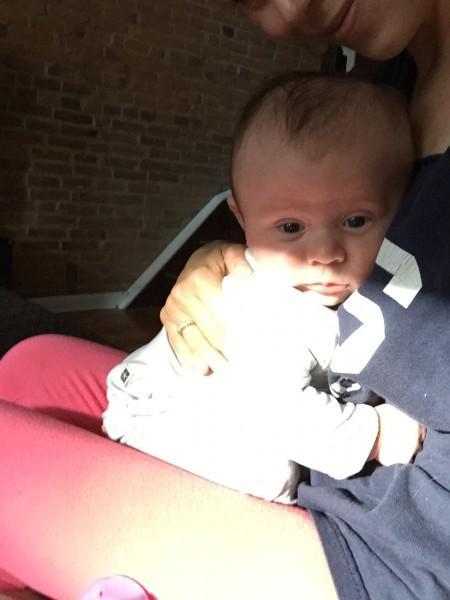 You also decided that standing was pretty cool, and so was making fart noises. You also started to sleep in your own room, and you really took to your crib. Thank God.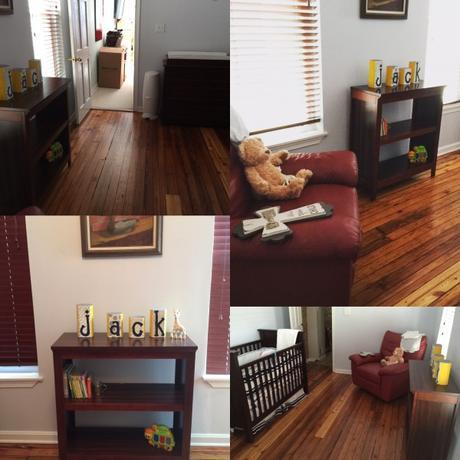 Your fifth month was a lot of fun. Major finished his summer vacation with grandparents and aunts, and came to settle in at home. We visited Washington D.C., and enjoyed all the sights and sounds that the city had to offer.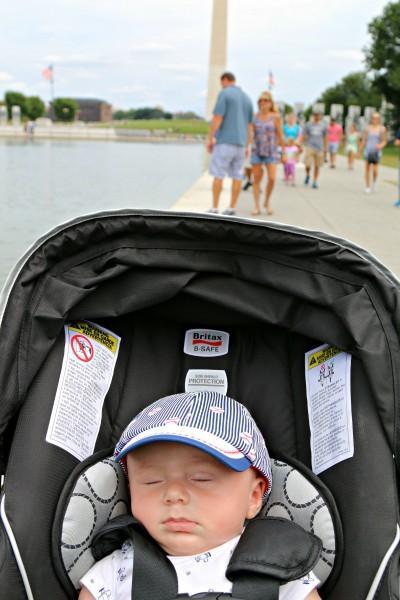 You also loved going to the park and to the pool this summer, where we watched your brother play and splash around. I could tell you were so frustrated that you couldn't go play and splash around too, but you were able to actually sit up on your own and watch, so that was pretty darn cool.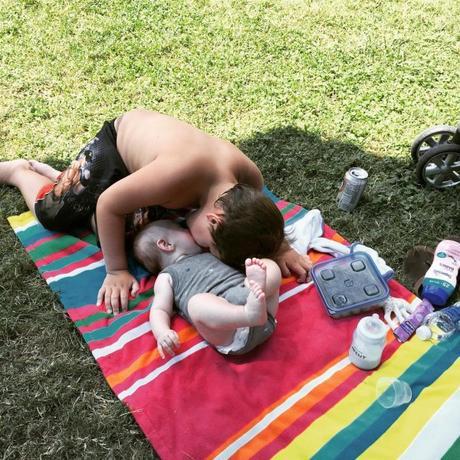 You started to try to crawl, but you mostly just wiggled around on the ground, sort of scooting, and it was adorable. You smiled and laughed a ton, and it made me the happiest mom in the world to hear those sounds.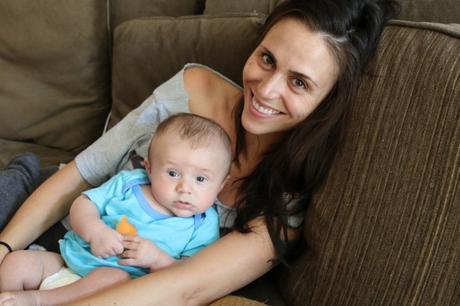 You reached half of a year in stride, and met so many fun milestones. You started to eat baby food, and you would have thought you tasted literally the single greatest thing in the world. You would freak out before each bite, like it couldn't get to you quick enough.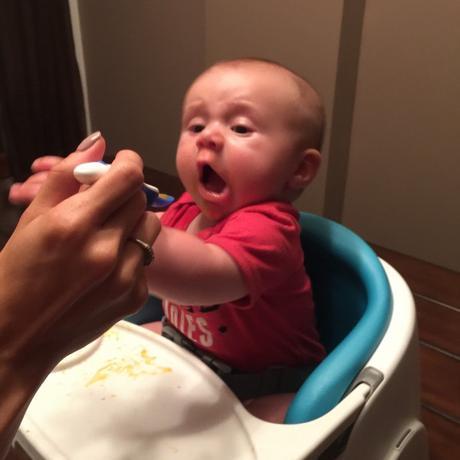 You surprised us all with what a clean eater you were too. You loved the butternut squash and the carrots mixed with apricots. You also were able to sit all by yourself for extended periods of time, and we could tell how much you loved your new found independence.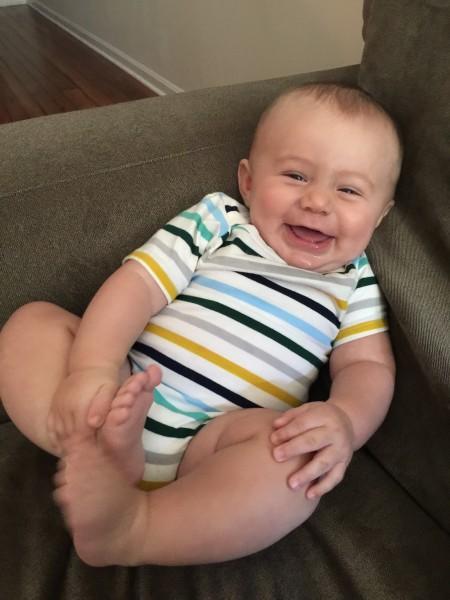 You still didn't have the crawling thing down quite yet, but you were getting there.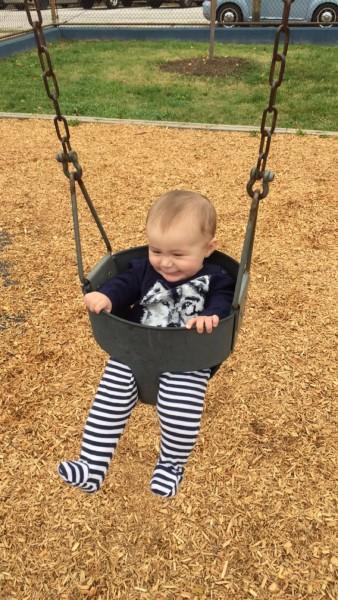 You learned that swinging at the park is a ton of fun, and you became quite the feeler, learning that hair is fun to pet and pull, both on my head and on the kitties!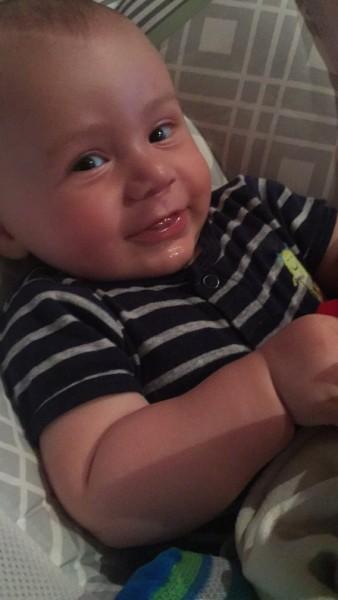 You also didn't cry at all when you got your 6-month shots. You creepily smiled at the tech after he poked you, and that made me smile. You may look like your daddy, but you are a LOT like me.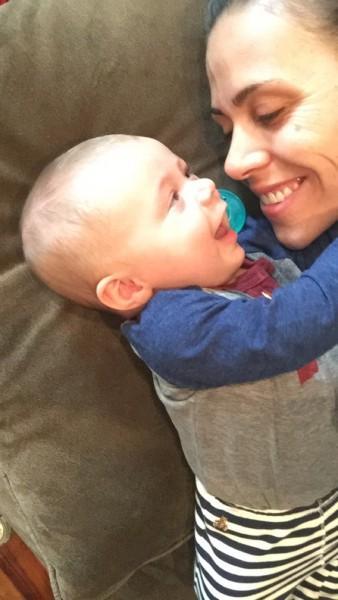 At 7 months, I celebrated my 30th birthday! I can't believe it still, mostly because I feel 17. But that's neither here nor there. We enjoyed celebrating the fall by heading out to Rodger's Farm, and picking out our very own pumpkins from the pumpkin patch.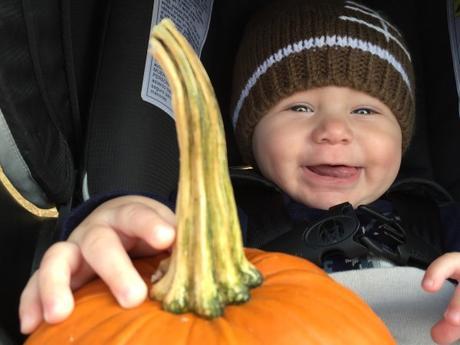 You also discovered how fun walking can be in your little walker. More independence!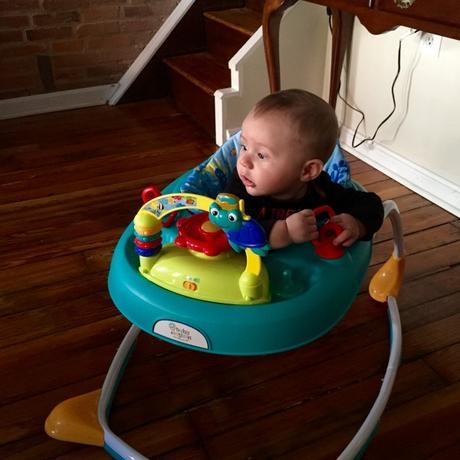 We also went to see Disney on Ice, and LOVED it. I was so afraid you'd be a fussy cryer, but instead, you sat and watched the whole thing! Incredible! We also celebrated your first Halloween.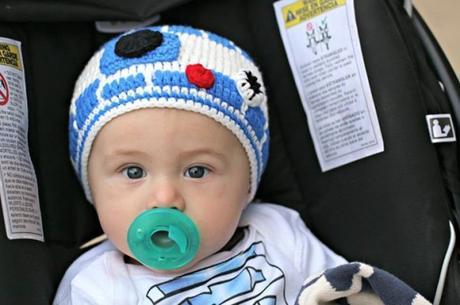 We all dressed up in Star Wars gear since it's your brother's favorite. You were R2D2, and everyone thought you were the cutest ever. That's because you are.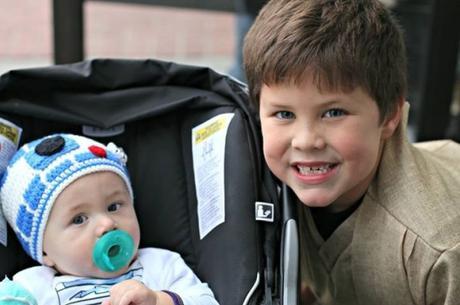 In your 8th month, you really started to crawl. I was so excited! You struggled for so long with it, and you finally got it. You got really fast too! You also would get into laughing fits. It was amazing! I loved it. Plus, you celebrated your first Thanksgiving!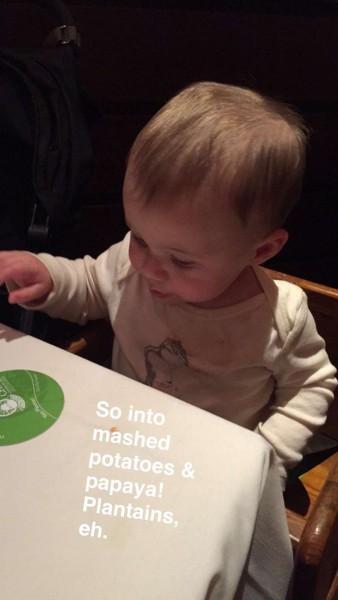 There was a lot of drama with our oven breaking, so my plans of making you a pureed version of our meal was a bust, but we did have a LOT of fun at Fogo de Chao where you enjoyed some papaya, avocado and a little meat! I LOVED watching you taste new things, and enjoy REAL food for a change. It opened a whole new world, and suddenly, you were tasting all kinds of new flavors and textures. It was exciting.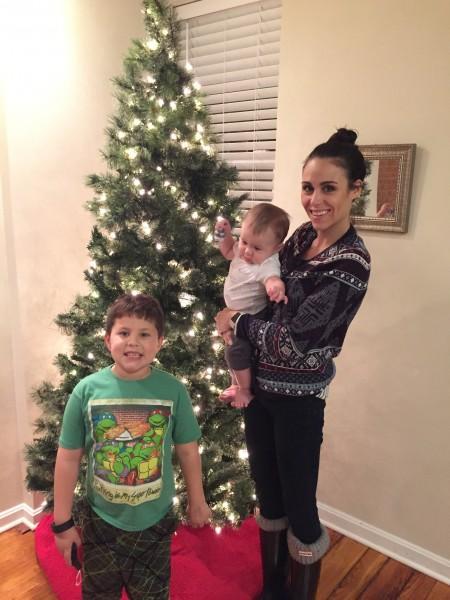 We also set up our Christmas tree and you LOVED the lights. It was beautiful.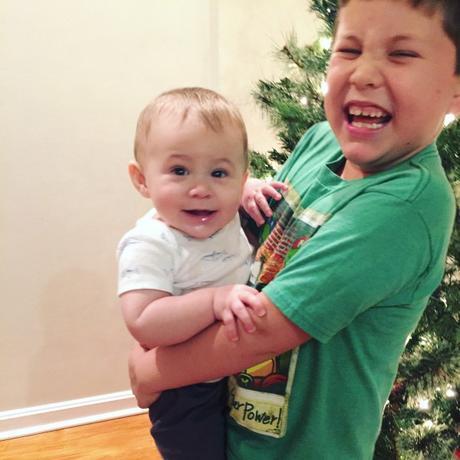 During your 9th month of life, you took your very first plane ride, and were a little angel.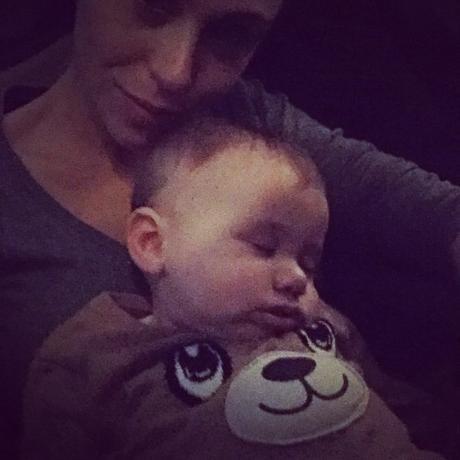 We spent 10 days in Texas visiting family during Christmas break, and you had a blast with Nana, Granddaddy, Grandma, Opa and Oma. They all loved getting their "Baby Jack Fix," and I can't blame them.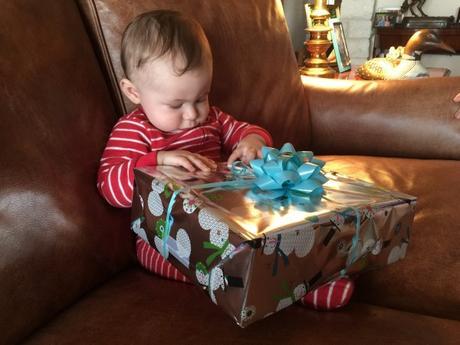 You got some great gifts, and had a lot of fun playing with everyone. You met Santa and really had a moment with him.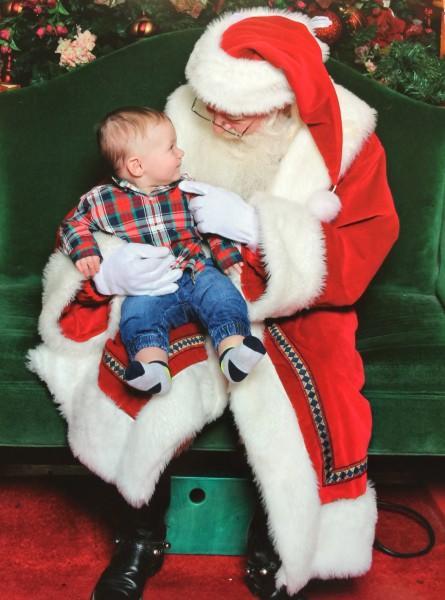 It was amazing.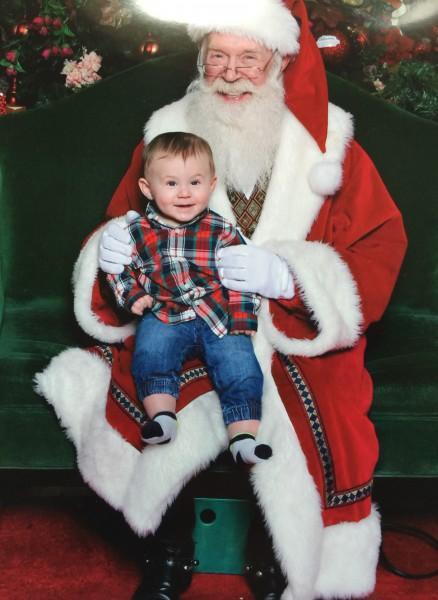 You even met a llama, and gave him a big hug.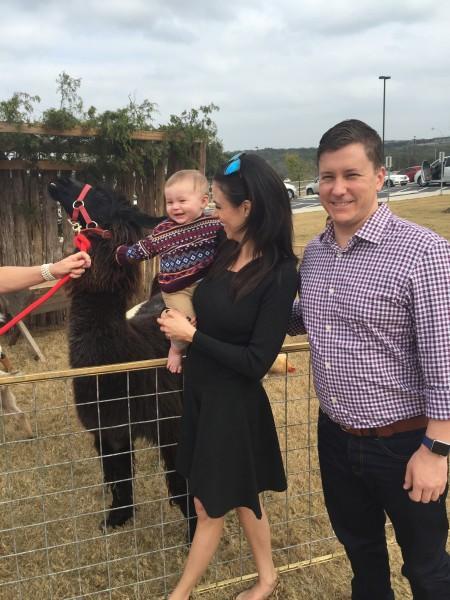 You show no fear, and have the most adventurous spirit. In addition to taking your first plane ride, you also took your first steps!!!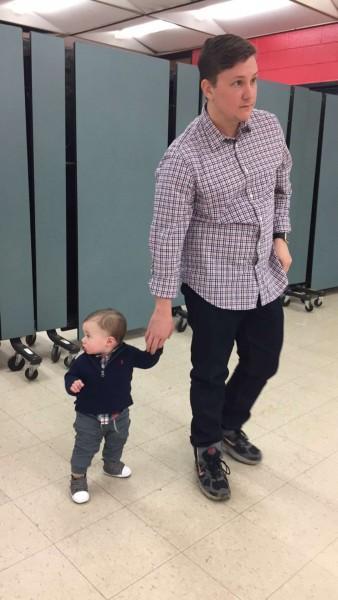 That's right. You started walking. I mean, it took you FOREVER to crawl, then all of a sudden, you decided crawling is for the birds. It was an incredible moment, seeing you walk for the first time, and seeing your face burst into a huge smile. You knew what you were doing was exciting, and you were so proud of yourself. It made me just well up with joy. Over-pouring.
Ten months marked the first signs of teeth in your cute little mouth. Yes, you walked before you had teeth. Crazy kid.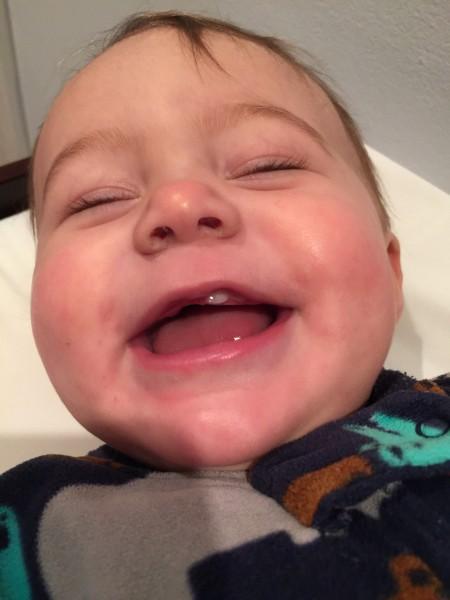 You also decided that now that you can walk, you didn't want to snuggle with me anymore. You were suddenly too cool to hang out, but you really did do some amazing things. You proved to be such a well behaved little boy whenever we would go out to the store, to out to eat.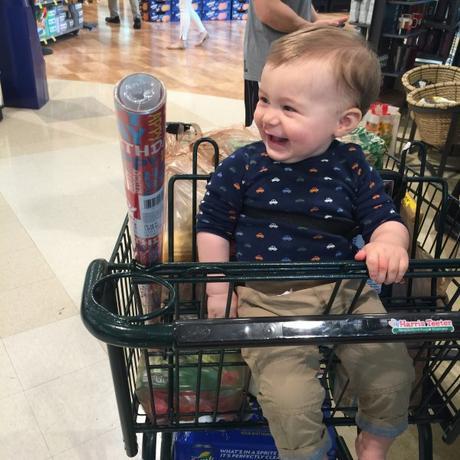 You were the perfect gentleman, and continued to make every day the best adventure ever. We also had a HUGE snow storm here in Baltimore, and you got to play in the snow!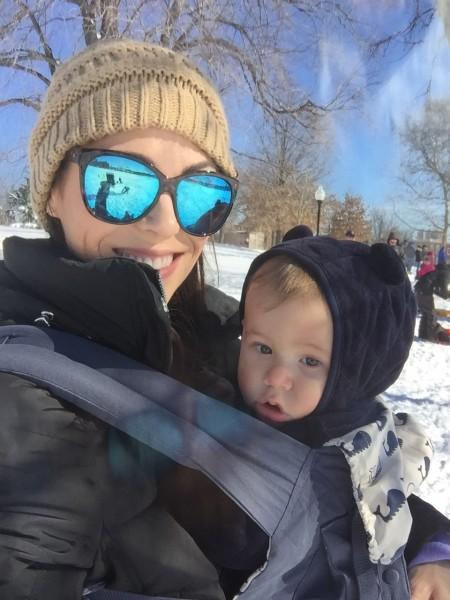 You weren't quite sure what it was, and you seemed a bit concerned when the snow touched your hands. You even went down the hill on the sled with daddy, and you smiled the whole time. You keep sharing your adventurous spirit, and it's a beautiful thing. I pray you never loose it.
At 11 months, MORE teeth started showing themselves, and we decided to stop with the formula, and get you fully on board with real foods and other new flavors. You're walking everywhere, and your personality is really coming through.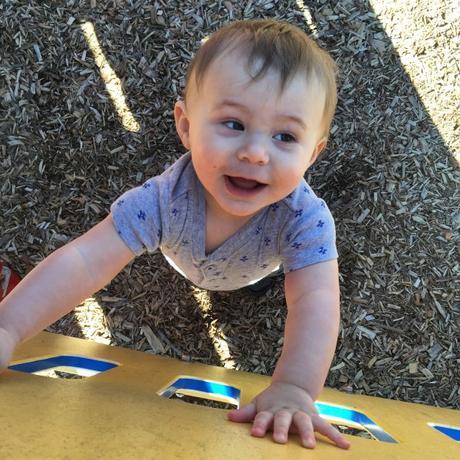 We started swimming lessons for you during your 11th month too. You LOVE the water in a way that makes my heart soar.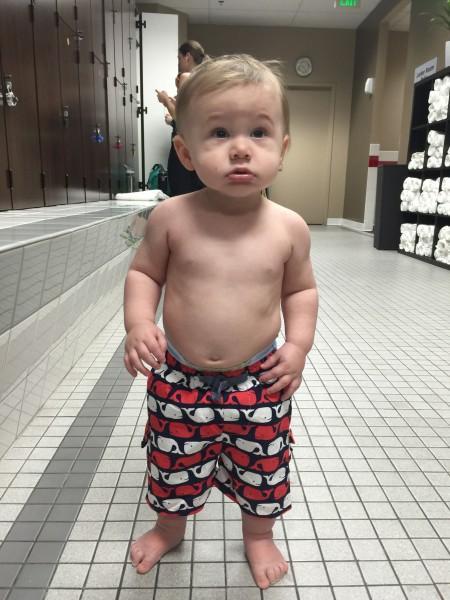 You love going all the way under, and you always come up with the biggest smile. You started blowing bubbles at our last lesson, and I forsee swim team in your future. Maybe you'll take after me, and make it a big part of your life! Who knows. It'll be up to you, of course.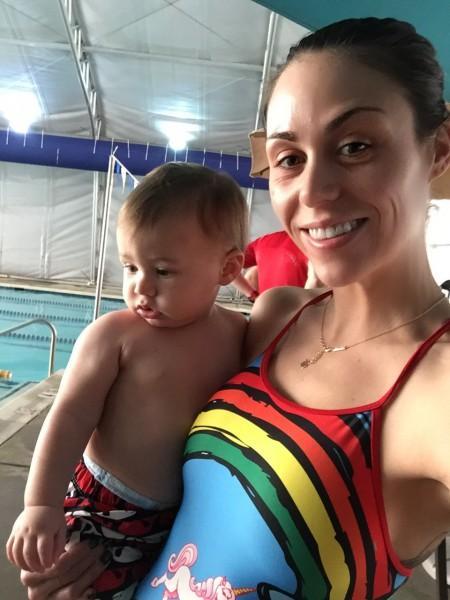 You also got sick again in the 11th month, with a lot of vomiting. It made me so sad, and I just wanted to take it away. It killed me when you were shaking, screaming so hard.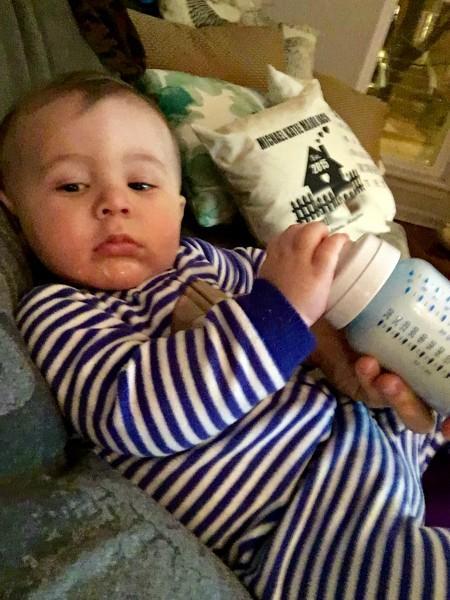 I just wanted to absorb every single thing that made you uncomfortable, hurt and sick, and I couldn't. So I just held you, prayed over you and rocked you to sleep. Yes, I was covered in your vomit, but I wanted you to feel all better, and you come first. You recovered quickly, and were back to your normal, happy self. You also received your first real injury, but you didn't let it stop you.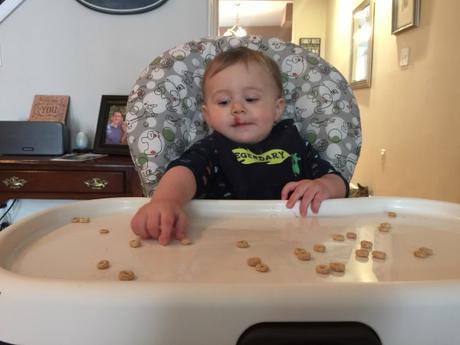 You tripped as you were coming to visit me in the kitchen, and hit your lip on the corner of the back stairs. Your lip blew up like a balloon and turned a deep purple. Yes there was blood, but you handled yourself so well. You aren't even letting it get in your way. It looks funny, but who cares! You just keep on walking, and keep on enjoying your little life.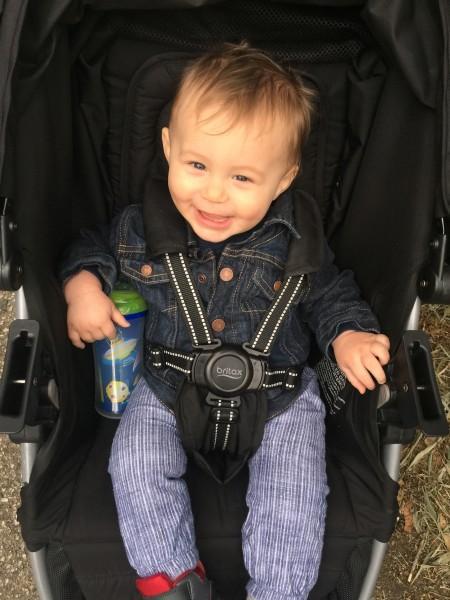 You never let anything get in your way. You are one determined little dude, and I love your ambition, and your courage. You're headstrong, enterprising and strong-willed. You don't ever give up when you're trying to do something, and you always end up getting it done. You started walking at 9 months, for goodness sakes.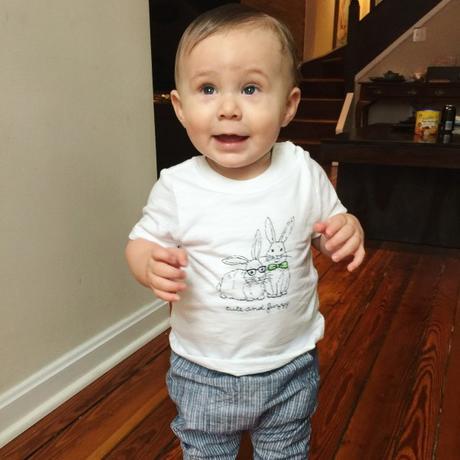 I can't believe you're turning 1, and I can't wait to see what this next year brings.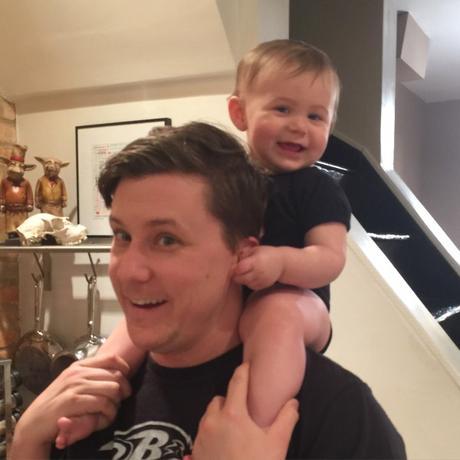 I love you, Jack Houston. You're an amazing little boy, who is growing and changing every single day. I am so happy to be your mom, and I'm feeling blessed to be able to witness your life, and see how your own worldview expands with each new milestone.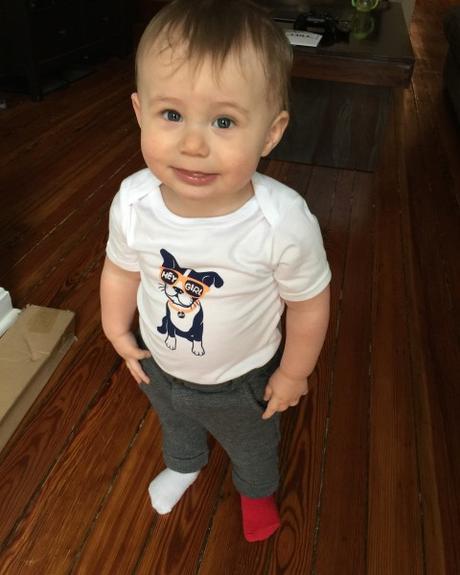 I love you so much, Jack.
Love,
Your adoring mom