"Why, sometimes I've believed as many as six impossible things before breakfast."
De Mad Hatter
http://www.facebook.com/d3madhatt3r
747 Collins St Docklands
9620 2226

Disclaimer: I dined as a guest of De Mad Hatter and Harvey Publicity. I do, however, like to think that I am objective and all thoughts are that of my own at the time of my visit. One could say my ventures into blogging could identify with Alice; tumbling down a rabbit hole into a wonderland filled with both challenges, magic and interesting characters. Yes, it may be a stretch, but as someone who grew up with Alice I can only but love her adventures. That means an invitation to a tea party at De Mad Hatter's could only be approached with excitement and joy.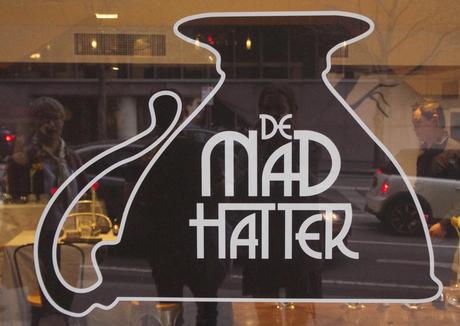 So themed due to its high ceilings, De Mad Hatter cafe in Collins Square Docklands, features scenes from the iconic story playing across the walls. Volumetric flask vases are reminiscent of those naughty 'drink me' bottles and a seasonal menu plays on many of your favorite scenes.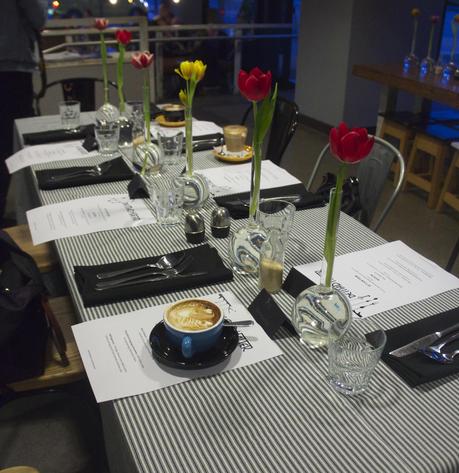 At a tea party with De Mad Hatter, it is only appropriate to have two courses with breakfast, and make sure it's backwards. We began our morning with something sweet: a decadent Bircher muesli featuring a lusciously sweet berry coulis. Passionfruit pulp cut through the sweetness and a thick, creamy yoghurt ensured indulgence. Even the textures were saved by whole nuts and plump sultanas and, dare I say, the lovely presentation topped what was my favorite Bircher to date.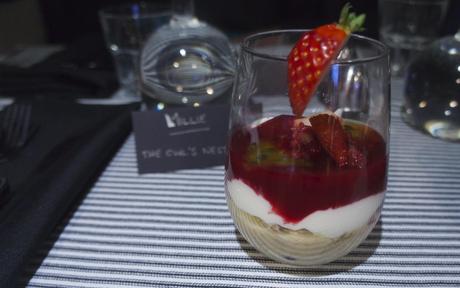 As if dessert wasn't enough, it was time for the main course: enter the usual suspects. Corn fritters, poached egg bruschetta, pancakes or a big breakfast were all available to ensure you have the energy to navigate your way through wonderland. Each dish packed it's punch and, most importantly, the serving of bacon with the fritter stack was more than acceptable.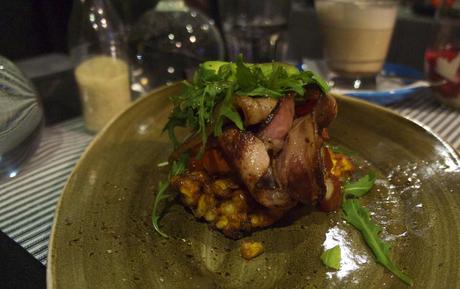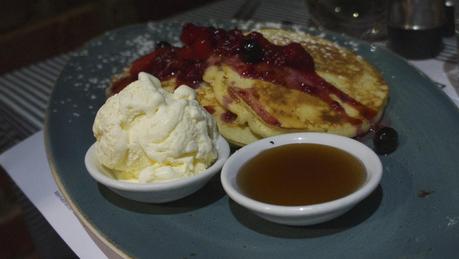 My bruschetta boasted soft baguette smothered in garlic butter. The rich saltiness exemplified in perfectly poached eggs and delicate prosciutto was balanced by fresh rocket. Perfectly satisfying and counterbalancing the previous course.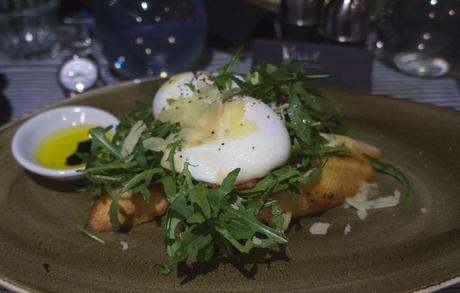 However, what is a wonderland without fantastic coffee? Strictly speaking, the Mad Hatter hosted a tea party but we are in Melbourne, and no Melbourne tea party is complete unless copious amounts of coffee are consumed. Thankfully, that's not a hard task at De Mad Hatter where latte art overlies a creamy, well balanced, subtle house blend. If you do favour something less caffeinated, prepare yourself for gorgeous glass milk bottles featuring vibrant fresh juices.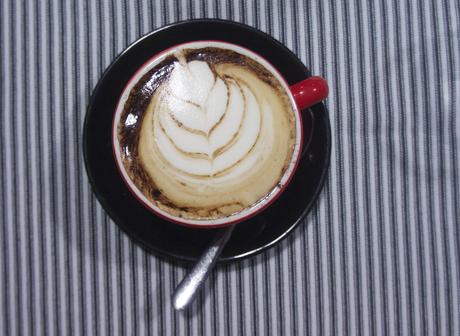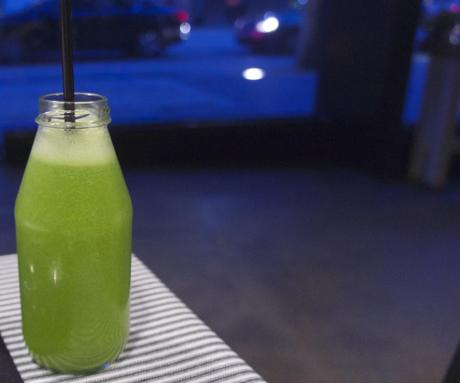 De Mad Hatter, being in Docklands, is well out of my way and not somewhere I would have even thought to visit. However, now that I have I can hardly wait to return. With such excellent coffee and the best Bircher I've ever tasted, I can believe it will become a favorite with those needing to step into wonderland in the morning for a refuel before heading back into the real world to face their day.