Hello Blogger Bunnies!!!!
Party season
Well it has come for that time of year were fashion is changing from summer to Autumn/winter and the party season is upon us. 
So many occasion are happening around this time of year eg-
Birthdays

Weddings

Halloween/Bonfire night

Christmas/Christmas parties

New Years eve parties. 
So I am here to give you some tips on what you can do to glam up your look, for any of these occasions and events, also help with gift ideas too.
Starting with nails
A set of 3 Magnetic Effect Nail Varnishes by Ellie Mai, leaving you a fabulous catwalk finish.
The set includes dark brown, dark green and dark pink polishes, along with a cuticle corrector and a nail file.
Each nail varnish has an individual magnetic cap design, you don't have to use the cap that matches the colour, you can mix them up.
The set is £6.99 from TJ Hughes, price may be different online or in other stores.
How to apply
Apply one coat of the Magnetic polish to all nails and allow to dry

Then one nail at a time, apply a second coat of the Magnetic polish, immediately, whilst the nail polish is still wet, hold the cap of the polish closely over the nail for 20-30 seconds. Try not to touch the nail with he cap.

See the effect emerge before your eyes! Repeat for all nails and allow to dry.
The pink polish and the cap design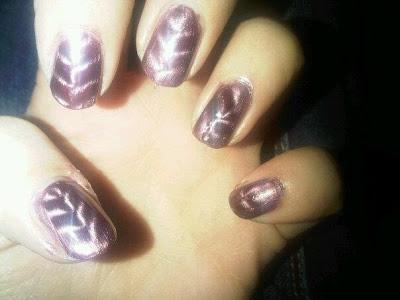 The green polish and the cap design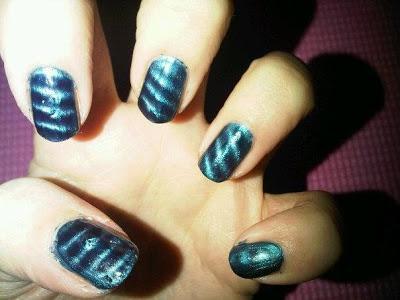 The brown polish and cap design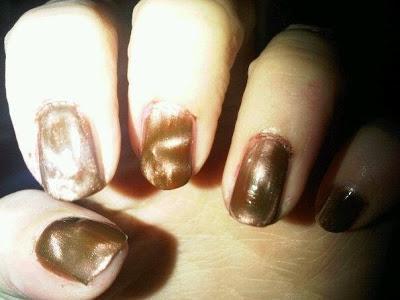 As you can see the polishes come out bright and looking great. Don't forget you can mix and match each design with a different color.
These would be a lovely birthday gift or a Christmas present. They are great fun to use so GO ON
GIVE IT A TRY !!!!!