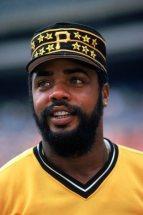 Dave Parker was the star of the stars for the late-'70s Pirates.
Today's sad news that former All-Star Dave Parker is battling Parkinson's Disease stirred a host a childhood memories.
I grew up watching "The Cobra." I was a mediocre right fielder in Little League right around the time Parker was winning batting titles and Gold Gloves patrolling right field in Pittsburgh. For years he was one of my favorite players, both in his truly electric prime as a legitimate five-tool talent with the "We Are Family" Pirates of the late 1970s and later, when he resurrected his career following baseball's cocaine scandal of the 1980s that also claimed another hero of mine, Vida Blue.
As a West Coast native, I was never a Pirates fan, but they were a fun team to watch throughout much of the 1970s. The late '70s "Lumber Company" lineup of Willie Stargell and Bill Madlock and Omar Moreno and more was impressive to say the least, but to me the true superstar was always Parker.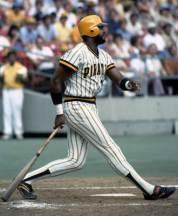 The Pirates had no shortage of eye-popping uniform combinations in the late 1970s.
His performance in the 1979 All-Star Game in Seattle was one for the ages, gunning down two runners on the bases with seemingly superhuman throws from deep right field…the two-time defending National League batting champion winning the All-Star MVP Award for his defense.
The seemingly endless combinations of Pirates uniform tops and bottoms – gold, black, pinstripe – in the late '70s and early '80s only added to the flamboyance of the time.
Parker was the poster child for that flamboyance, a giant of a man adorned with jewelry, a huge smile, and a cannon of an arm; hitting, running the bases, and playing right field like I'd never seen.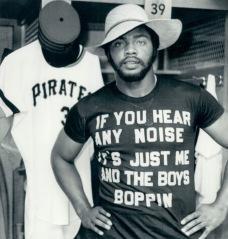 The brash, flamboyant Parker personified an era…and its demise.
Sadly, and inevitably, the excesses of the era caught up with him and many others in the 1980s, when baseball's last drug scandal before the PED explosion of the past 15 years took hold. The Pittsburgh drug trials left a stain on the game for a time, and it sullied the image of Parker above all others, because he was one of the game's brightest stars…perhaps THE brightest. It seems somewhat trivial now, given the focus on steroids that continues to dominate today's news, but for Parker it was a death knell to his Pirates career and, likely, his Hall of Fame chances.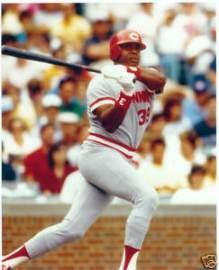 Parker was an All-Star again in Cincinnati, where he twice finished in the top five in MVP voting.
Parker bounced back though. His time in Pittsburgh over, he found new life as a prodigious run producer with the Cincinnati Reds in the mid-1980s, leading the National League in doubles and RBI in 1985 in the midst of a four-year stretch in the heart of the Reds' lineup. Many argued he was the league's MVP in 1985 when he finished second to Willie McGee in the voting, perhaps due to some writers' resistance to voting for an acknowledged drug abuser – reformed or not.
Parker's career led him to Oakland in 1988, as the Athletics mini-dynasty was taking shape. He was a wise old veteran with a still-lively bat on those loaded A's teams in '88 and '89 that dominated the American League and swept the earthquake-marred '89 World Series. No longer patrolling the outfield as his body wore down, he found new life as a designated hitter, driving in 97 runs for the '89 champs. He was an All-Star one final time in 1990 as Milwaukee's DH, and after stops in Anaheim and Toronto in 1991 he retired from the game at age 40, 19 years after his debut in the big leagues.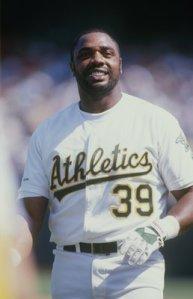 Dave Parker was a veteran designated hitter with two World Series teams in Oakland.
Two batting titles, an NL MVP Award, two World Series championships, three Gold Glove Awards, seven All-Star Games, an All-Star MVP award, five Top-5 finishes in league MVP voting…The Cobra compiled quite a resume.
Despite all that, and more than 2,700 hits, nearly 1,500 RBI, and a .290 lifetime average, Parker never merited serious consideration by baseball writers for induction into the Baseball Hall of Fame.
It seems a shame that an icon of his time, a gifted player and the superstar of one of baseball's most memorable teams, the 1979 World Champion Pirates, may never enter the Hall of Fame.
Maybe the news of Parker's health challenges now will spur some Hall voters to reflect on their long-ago set predisposition against Parker and reconsider his candidacy. However, it's too late for them to right that wrong. Parker's last year on the writers' ballot was 2011, when he received just 15.3% of the vote.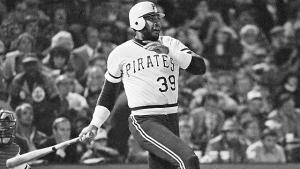 "The Cobra" had a lightning-quick bat and gap-to-gap power.
The only hope now for Parker's eventual induction is that one day the Veterans Committee takes his body of work seriously, as his career numbers rank alongside or ahead of many, many Hall of Fame inductees. 
Hall of Famer Orlando Cepeda's conviction for drug trafficking in the 1970s delayed his election to Cooperstown, but he got in, and he just simply doesn't have the body of work as a player that Parker has. Parker's peer, Jim Rice, got in eventually, and while his career offensive numbers are comparable, his defensive value as an outfielder and his threat on the bases paled in comparison.
In the meantime, today's news spurred many memories of Dave Parker, the ballplayer. I look back fondly on my memories of Parker…mostly as a Pirate, but also up close during his time with Oakland…and I hope his battle with Parkinson's brings renewed recognition of just how great a player he was for a period of time that has been too easily forgotten.