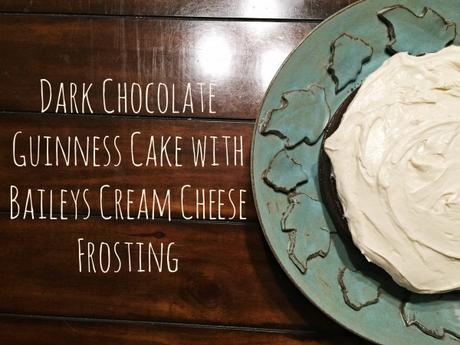 After church this past Sunday, while my little munchkin Jack was taking a nap, Michael, Major and I all took to the sofa to relax and unwind. It had been a long week, and frankly, the downtime was welcome. I don't get too much of it, and to just sit, and do NOTHING was nice. And that's when t he silence was broken.
"Here, I need you to go to the store and get everything on this list." Michael handed me his phone, with a glorious photo of a cake - a deep, dark, mysterious cake.
Below it, a list of ingredients for the cake and accompanying cream cheese frosting. "Then, make this cake, please." It didn't look too hard, and heck, what can I say, my interest was piqued. Why?
The cake was a Dark Chocolate Guinness cake with Baileys Cream Cheese Frosting. I mean, WHAT? Plus, with St. Patrick's day just around the corner, I figured this would be an absolute perfect dessert to whip up and share with everyone just in time for whatever celebration you choose to partake in. I mean, it's a good excuse to indulge a little in something unique and delicious, plus, it's boozy. I mean, c'mon. What better way to spoil yourself? GUINNESS AND BAILEYS!!!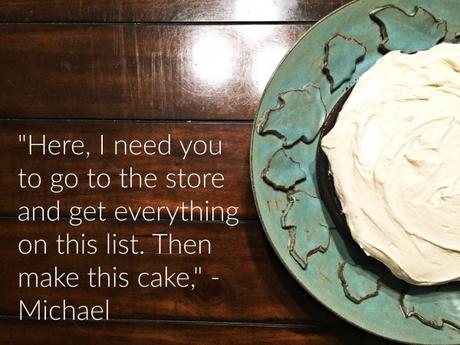 The recipe Michael found from Love Swah was super easy to follow, and I didn't change anything about it, except for adding a bit more Baileys Irish Cream to the frosting than was called for. YOLO.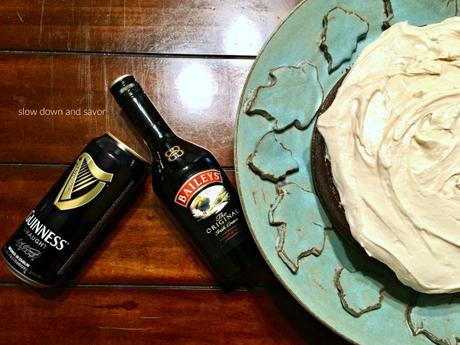 Fun fact:I usually despise chocolate cake. I pretty much turn my nose up at any cake to be honest, but most especially chocolate cake. Bleh. But now that I'm pregnant, my tastes have changed, and I'm all about that sweet tooth life. Bring on the sugar! In moderation, of course... I can say this cake was absolutely delicious. Yum, yum! I had to pat myself on the back and toot my own horn with how it came out. Just sayin'.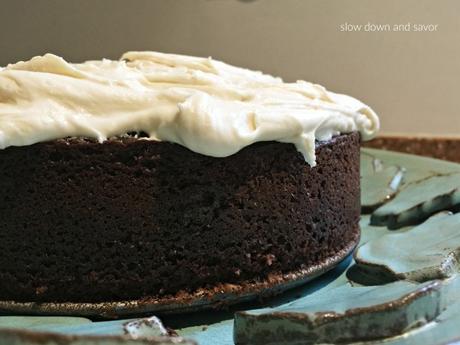 The cake itself was fluffy and light, but was somehow also rich and deep in flavor. The exterior got a slight crispness to the crust from the spring-form pan, which added a nice textural element.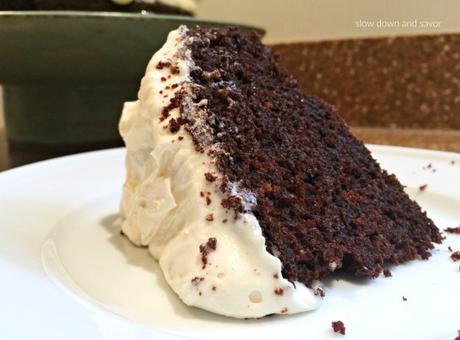 The Guinness made the batter creamy, and slightly bitter, and the bitter-sweet cocoa provided seductive depth. Together, these flavors contrasted beautifully with the sweetness from the fluffy Baileys cream cheese icing.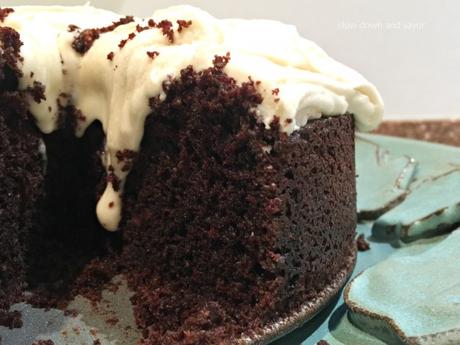 I am really glad Michael showed me this recipe, and I'm really glad I didn't just sit on my booty for the whole afternoon rejecting the idea of baking.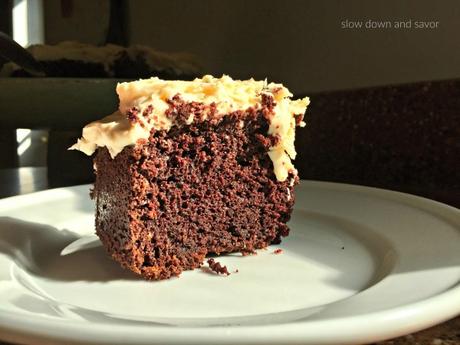 I'm glad I got up and braved the Harris Teeter that Sunday with the hoards - it was the triple coupon event, apparently and most importantly, I'm glad I tried something new.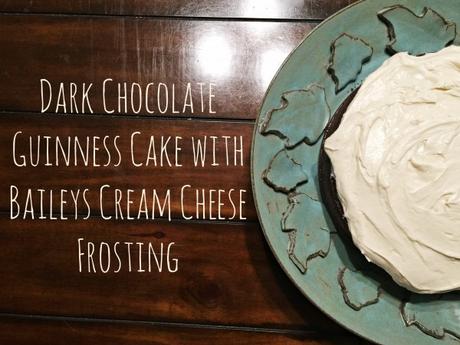 Dark Chocolate Guinness Cake with Baileys Cream Cheese Icing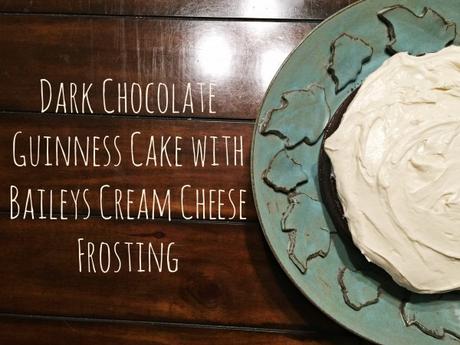 Dark Chocolate Guinness Cake
I cup Guinness beer
1 cup + 1 tbsp butter
2/3 cup cocoa powder
1¾ cups granulated sugar
2/3 cup sour cream
2 eggs
1 tbsp vanilla extract
2 cups plain flour
2½ tsp baking soda
Baileys Cream Cheese Icing
4-5 cups sifted icing sugar/powdered sugar
1/2 cup butter at room temperature
8oz cream cheese at room temperature
8-10 tbsps Baileys Irish Cream (to taste)
Dark Chocolate Guinness Cake
Preheat oven 350°F and use some butter to grease a 9" springform tin.
Melt the 1 cup + 1 tbsp butter into the Guinness in a saucepan over low heat.
Whisk in cocoa and sugar and take the saucepan off the heat.
In a separate bowl, beat the sour cream with the eggs and vanilla until combined, than stir into the beer mixture.
Whisk in the flour and baking soda until combined.
Pour the now-formed cake batter into the tin and bake for 1 hour.
Baileys Cream Cheese Icing
Cream the butter and icing sugar together until well mixed. It won't really look any different at this point.
Add the cream cheese in cubes slowly until incorporated. Suddenly, as if by magic, just when you think you're getting no where, your mixture will turn into icing. It's fantastic.
Add in Baileys. Continue mixing for 5 minutes until the icing is light and fluffy.
Top your cake with the icing, and this is where it gets fun. Swirl the frosting around the top of the cake to recreate the froth on a glass of Guinness.
The middle of the cake may still be slightly wet when you take the cake out, but it will firm up as it cools down.
Leave to cool completely in the tin as it is quite a damp cake and could collapse.
There will be more than enough frosting here, so if you so choose, you can slice the cake in half and fill with the remaining icing. It'll make for a beautiful "naked" cake.
Slow Down and Savor http://www.slowdownandsavorblog.com/


Latest posts by Katie (
see all
)