I've never been much of a jewellery person. The small amount of jewellery I own has been gifted to me on Birthdays and Christmas over the years by various kind and thoughtful family members. And there was that one Christmas when my other half may have been given explicit hints on the exact whereabouts of a pair of earrings I desperately coveted...and yet still got it so very wrong. But for the most part, my humble collection is compiled of pieces given to me by my late Nanny, Mary, who had a wonderful eye for gems and stones. It's those pieces that have always held the most value for me because I know she would have taken her time, considering each pendant or pair of earrings, while she was on her worldly travels. Every piece had a unique story. As I get older (well into the thirties now), I now find myself wanting to buy jewellery for myself and others, in order to create a connection and a story.
Chloe Townsend, designer and co-founder of Willow & Clo. studied make-up artistry before discovering her true passion for jewellery design. She learned the art of jewellery craftsmanship in Rome's Scuola Di Oreficeria, worked in a jewellery boutique to finance buying trips and studied in London's Gemological Institute of America before coming back to Ireland. Her pieces are known for high-end, quality craftsmanship, using recyclable materials where possible and are a unique blend of Indian gemstones and Irish design. It's this unique blend that tells a story and creates a connection.
When I first browsed Willow & Clo. online, I was drawn to the Ogham collection because as a teenager I was obsessed with early Irish history. Visiting the shop in Powerscourt Townhouse to see the collection in person, I was stunned by the detail in the tiny Ogham inscriptions. But it was another collection that caught my eye and, through its story of origin, caught my heart. Chloe sources her gemstones from a woman in Jaipur, India. The two successful, hard-working, female entrepreneurs from very different parts of the world formed a bond which Chloe has strengthened by returning each time. Her Dancing In The Rain collection is sourced from one of those trips and inspired by a rainstorm in Jaipur.
I stared as the raindrop hit the puddle, watched the water ripple and reflect such beautiful shapes and colours, as the raindrops danced carefree with delight! A reminder to take time for our thoughts so we can be awakened to the vibrance possessed by those dancing drops!
Each delicate, colourful piece in this collection is a delight to wear, and the process of putting it on is probably where I felt most joy. With each closing clasp, I felt a connection to a story and thought about the stories I might add to it.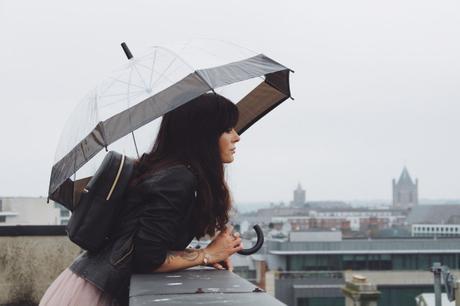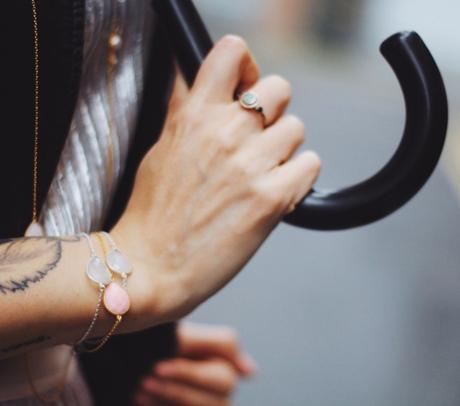 Pink Opal Wrap Necklace/ Moonstone Raindrop Bracelet(s)/ Pink Opal Raindrop Bracelet/ Chrysophase Cluster Ring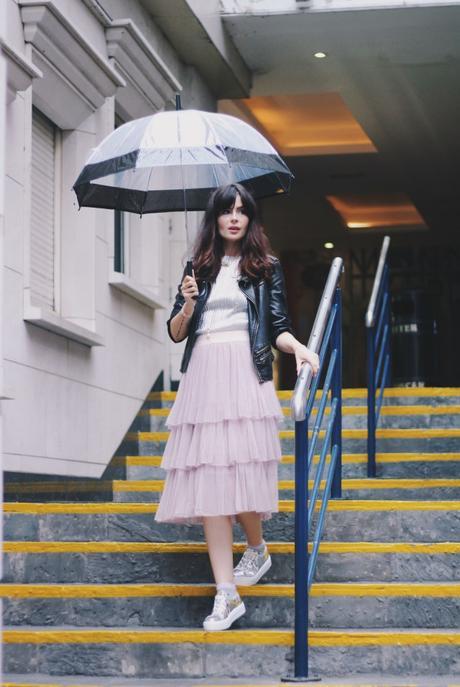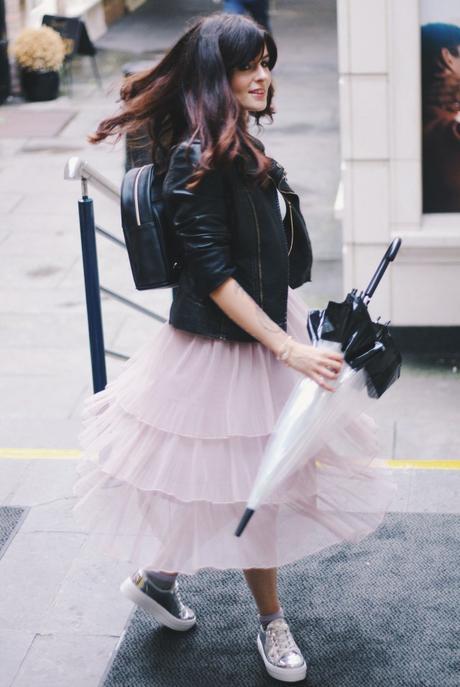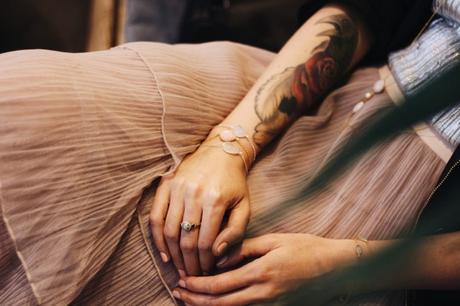 You can pop into Willow & Clo in the eclectic Powerscourt Townhouse in Dublin, or have a peek online: willowandclo.com/
Photos (except for the top selfie) by Ayesha Ahmad. Find Ayesha on Instagram: instagram.com/ayeshabeans/
What am I wearing:
Silver Top; Pink Ruffle Skirt: both at Om Diva
Faux Leather Jacket; Backpack; Unicorn Socks; Umbrella: all at Penneys
Silver Creeper Flatforms at Schuh
This post is in no way sponsored. I received no money, gifts, or discounts. Just having the craic with my umbrella!