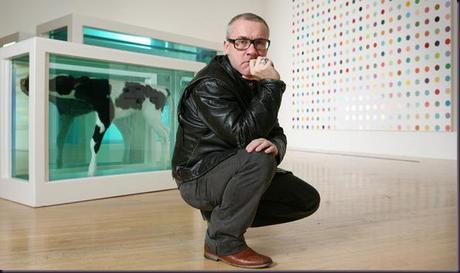 Damien Hirst is a fascinating man with a fascinating astrological chart. He is in the news as a new exhibition of his work including his celebrated work "For The Love of God", the skull of an 18th century man covered in 8,601 flawless diamonds (below) is being opened in conjunction with the 2012 Olympics in London. Expect also to see several of his works of art showing animals suspended in formaldehyde. Damien has always shall we say "pushed the boundaries a bit", following in the tradition of edgy British art and culture.
Damien was born in Bristol in the UK on 7th June 1965. Unfortunately I don't have a birth time for him, so I've set his chart at default 12.00 midday. Does anyone know his actual birth time? If so, please get in touch. It would be especially useful as we know that Damien is a communicative, mischievous Gemini but with either a critical yet technical Virgo Moon or a more socially aware Libran one. Either are possible because just after midday on 7th June 65 the Moon changed signs. What is remarkable about Damien's chart is that he has no less than 7 or even 8 planets in mutable signs (depending on the Moon of course). Damien's instinct is to adapt, to change and to modify. I will elaborate how this affects him later on as I look at the rest of the chart.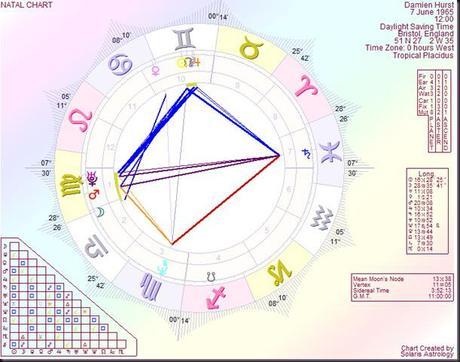 Now this chart is a surprisingly simple one. We have a triple opposition forming the basis of the chart with Saturn opposing Mars, Uranus and Pluto. working of this set of oppositions we have a multiple t-square with the Sun Mercury, Jupiter and the North Node all together. On the other side of the opposition we have a wedge formation with Neptune focused at the point of it. Finally to finish things off there is a potential square between Venus and the Moon.
Put it all together and what do we have. Ok, we have a powerful stellium in Gemini indicating communication, self-promotion, wanting to be on top of everything all of the time, confidence in one's ability, luck, international ambitions and destiny at work. Putting all this Gemini energy at the point of a t-square connecting to the Mars/Uranus/Pluto opposition to Saturn shows a huge amount of tension and motivation. Especially with the Mercury in Gemini square to Mars and Uranus in Virgo we have some serious fun going on here. Mercury out of all of the planets in the zodiac is the "court jester" so to speak (especially so in Gemini and Sagittarius) and combining Mars and Uranus into the mix we have someone who has some much creative, bizarre and off the wall ideas, and has fun coming up with them too. I this square, we have the loose cannon of all the potential aspects in the zodiac, with a total disregard to what anyone else thinks. Damien will be like this – completely a law unto himself. As a youngster his father left the family home when he was 12. Damien's Sun square to Saturn, Uranus and Pluto shows major problems with his father, and he was arrested several times for shoplifting. His mother went on record saying she "lost control of him" when he was young, but the closeness of Mercury, the Sun and Jupiter to the North Node does show a wonderful bond to his mother. As "uncontrollable" as Mars Uranus Pluto square to a Gemini Sun and Mercury is, I dare say that it was a feat that young Damien did not completely go off the rails. It seems the one thing that he did find some focus in was of course his school art studies. Not that is has been an easy ride since he found his natural talent. As I have said many times before art, creation and escapism go hand in hand with Neptune and Pisces prominent in a chart, and true enough he has had his fair share of drug and alcohol problems. Neptune as well as the major aspects makes a nasty little irritable inconjunct aspect to his Sun, and this is where I believe these escapist tendencies come from.
Now with a Pluto and Saturn opposition there is without doubt intensity and ambition and there can be either self-destructive tendencies or possibly the potential for greatness if the talents within can be harnessed and through art and creation Damien finally found an outlet and focus for all this latent energy  he possessed. Love him or hate him, he does not shy away from controversy, and that notoriety had led him to become the world's most successful living artist.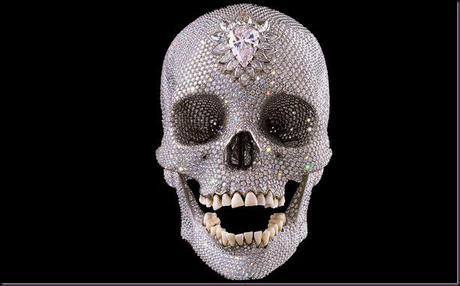 Focusing back onto the opposition which is the backbone of this chart, remember the signs involved. Virgo is hugely technical in it's nature and Damien brings a fantastic appreciation of detail to his art. Saturn is in Pisces shows a seriousness to his creative talents, creation is indeed his profession. Notice also the Virgo/Pisces axis is heavily accented. Virgo shows an interest in animals and Pisces marine creatures ( I suspect the Moon may be in Virgo too) bringing an emotional side and interest in wildlife to the equation. We also have Pluto involved here, and using dead animals and transforming them into forms of art. Mars, Pluto and Saturn also are part of the wedge with creative Neptune in Scorpio (another signature of transformational conceptional art) focused at the point of the wedge. Damien takes everyday objects and brings them to life in a new radical way, this is what Pluto is all about. It all fits together neatly doesn't it?
Very interestingly Damien has lived together for many years with his partner Maia, yet has never got married. This reflects the square between Moon and Venus in Cancer. A square between these two planets makes one not know exactly how to view permanent relationships, and often people with this aspect delay or never make their partnerships official. Venus in Cancer shows a bit of a reclusive streak socially as well as being very attached to one's family. Damien, as Venus in Cancer suggests, prefers to live deep in the remote countryside of leafy Devon in the south west of England, as well as spending time at his art studio in Baja, Mexico.