I made Rajasthan Cuisine, Dal Bati and loved it so much. In my childhood, I just heard about it and first time eat in Chokhi Dani. After that , I had crush with Dal Bati many time in different places. Dal means its spicy lentil soup and Batis are baked flour balls, which are soaked in Dal with lots of ghee. The original batis are baked in chulas or in tandoor. I saw some videos where they bake batis is chulas and I am still thinking when I will get to eat that. Just to eat this, I can do Rajasthan Tour ;-)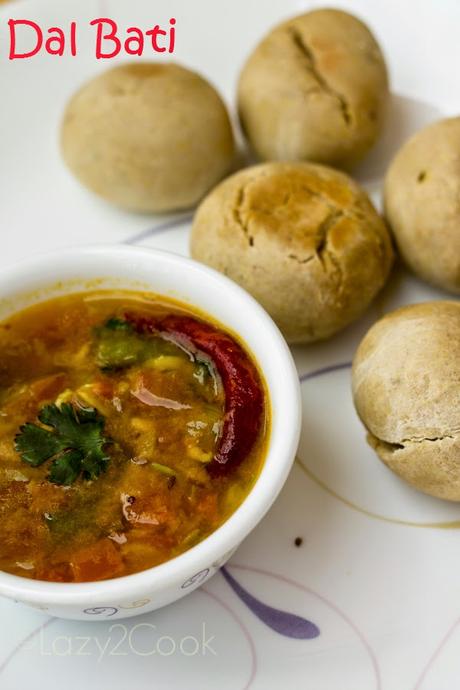 In my aunt's home, she used to make batis and steam and then fry it. It taste awesome. But as I wanted another option instead of frying, I found baking recipe of Batis. Many people make simple batis with just flour, little salt and water. There are variations of spices to add in Batis, some add Jeera or fennel seeds. It gives extra flavor to batis. On my second Son's Birthday, I wanted to make something special, and then struck on this recipe. Me and my sisters together made and my whole family enjoyed this Dal Bati that evening.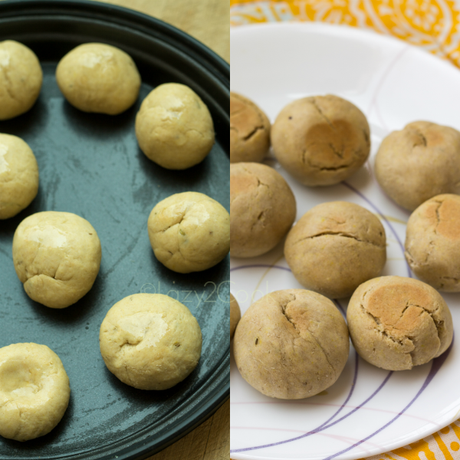 I have preferred toor dal , but traditional recipe go with chana dal, Moong dal, toovar dal and urad dal. They prepare dal with mixing all types of dal.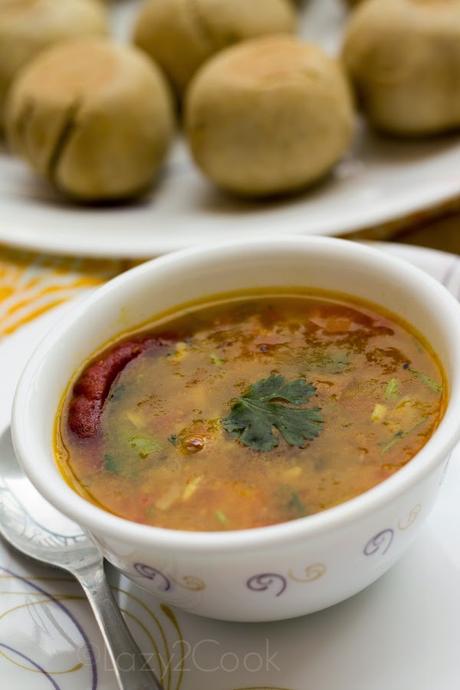 1 bowl toovar (arhar) dal
salt to taste
3 tbsp ghee
3 cloves
2 bayleaves
1 tsp cumin seeds (jeera)
2 green chillies
a pinch of asafoetida (hing)
1 tbsp garlic ,finely chopped
1 cup onions,finely chopped
1 cup tomatoes,finely chopped
1 tsp coriander (dhania) powder
1/2 tsp turmeric powder (haldi)
1 tbsp chilli powder
1/2 tsp garam masala
1 tbsp finely chopped coriander (dhania) , to garnish
1 cup wheat flour
2 tbsp Semolina/rava
2 tbsp Ghee
1/4 tsp Ajwain
1/4 tsp cumin seeds
1/4 tsp fennel seeds
1 tsp Baking powder
1 tsp Salt

1.Add wheat flour, semolina, salt, baking powder, ajwain, cumin seeds and fennel seeds in a mixing bowl.
2.Add melted ghee in flour and rub with hands in flour, so all ghee is mixed properly with flour mixture.
3.Add water little by little to make it a tough dough. Don't worry about cracks. Let the dough rest for 30 minutes.(In this time, make a dal ;-)
4.Pre heat oven to 180 deg C. Mean while, divide the dough to 10 equal sized balls.
5.These balls should be having cracks, it helps in easy cooking. Arrange in a baking tray. Brush generously with ghee and bake for 10 minutes.
6.Check if they turn golden brown then turn on the sides and bake again for 10 more minutes.
7.Your Batis are ready.

1.Clean and wash the Toor dal. Cook Dal in pressure cooker for 3-4 whistles.
2.Allow the steam to escape before opening the lid. Do not drain the water and keep aside.
3.Heat the ghee in a deep non-stick kadhai, add the cloves, bay leaves, cumin seeds, green chilies and asafetida and sauté on a medium flame for a few seconds.
4.When the seeds crackle, add the garlic and onions and sauté on a medium flame for 2 to 3 minutes.
5.Add the tomatoes, coriander powder, turmeric powder, chili powder and garam masala, mix well and cook on a medium flame for 2 minutes, while stirring occasionally.
6.Add the cooked dal and little salt, mix well and cook on a medium flame for 2 to 3 minutes, while stirring occasionally.