It's time for this girl to get serious!  I tried on a pair of pants the other day that didn't quite fit and…well…let's just say it is time to back on track.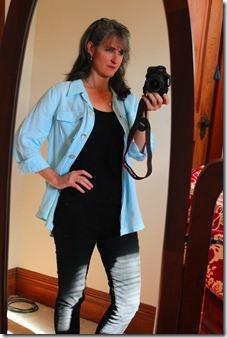 When do you know it is time?
√1.  When your clothing is a bit more snug than usual.  This is why I love the more fitted clothing.  It is a great indicator that one has overindulged a bit and that I most certainly have done!
√2.  When you are afraid to hop on the scale.  I normally don't use the scale.  To me, it is not a truly accurate way to track how I'm doing but more of a guide.
Right before Christmas?  So, how is that for timing?!  Am I nuts?!  Maybe.  Possibly.  Probably.  However, I have a few lined skirts in my closet that really don't care what the season is or what has been going on in my life! 

Bottom Line:  They don't fit!
Show Me The Money Honey:  For those of you who followed my other blog, I won't be posting what I ate everyday.  I have discovered that when posting your daily food intake that suddenly (out of nowhere) there are a million experts in the blogging community on diet and nutrition.  My favorites are the ones who post anonymously, leaving comments as if they are the know all and be all.  Some even said they were nutritionists.  Funny thing is, when you discover who they are in real life, they have no business to talk.  If you want to give me dietary advice, you need to show me that you are walking the walk otherwise…don't bother.
What I'm Wearing
Light blue/green linen shirt, black tank, black cropped pants, gold flats & gold accessories.
The linen shirt and pants were given to me and the shoes I found, brand new, at an ah-mazing consignment store in Lexington.  A girlfriend and I made a (much-needed) trip up.  We shopped at several consignment and thrift stores - love.  Lunched at Olive Garden.  Shopped some more.  I think she knew I needed to get out of dodge for a bit.
Snapping Out Of It
I think I am finally getting out of my funk.  It has been a couple of crappy past few weeks/months and…I….think…I'm…ready.  Thank goodness!
And…
When I walked into the family room this afternoon, this is what I found…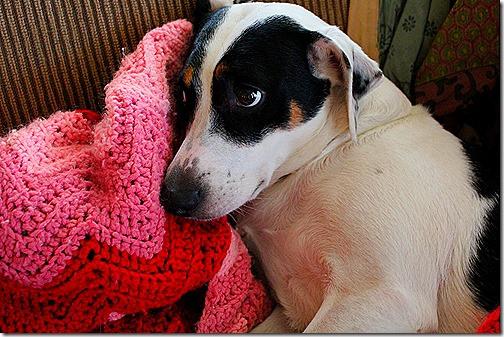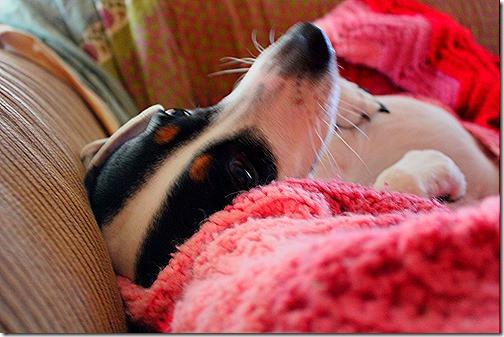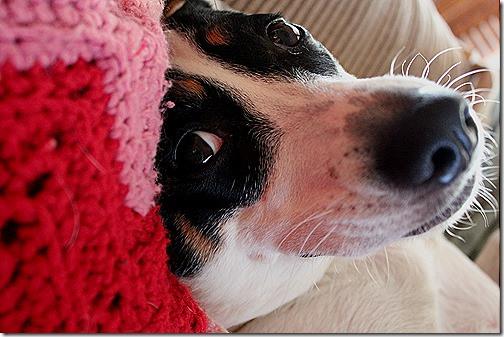 Is she not the cutest?!  Anna is such a little baby doll.  Love this little girl!
We have to keep a billion blankets on the couch for the dogs but they all vie for this pink blanket.  My grandmother crocheted this for me when I was a little girl.  I was into pink everything at the time.  I think it is a good color for Miss Anna.
What do y'all think?
xo Cat