(I didn't know what to title this post as.  Happenings?  Goings On? Life?  Just Stuff?  Whatever…here it is!

)
Merry Christmas from our small town!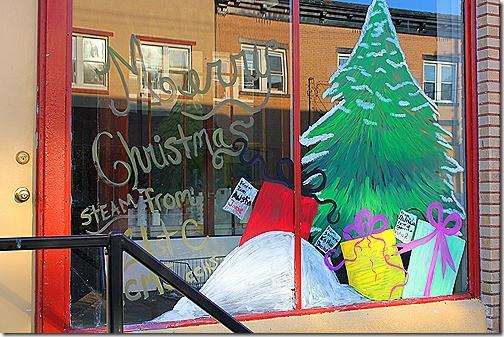 The art students from the high school painted some of the windows downtown.  They did a great job!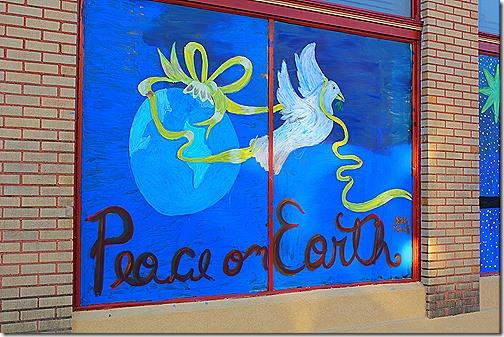 The theme for our Christmas celebration this year was Peace on Earth and so everything, the parade and contests, follow along with some pretty creative ideas.  The floats were amazing.  I wish I had taken pictures but I was busy running around looking helpful and such.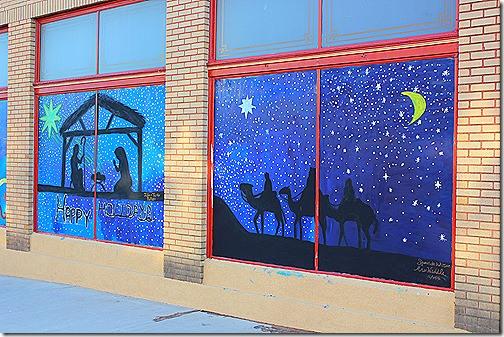 The kids did a beautiful job!  I know I said that already but…they did!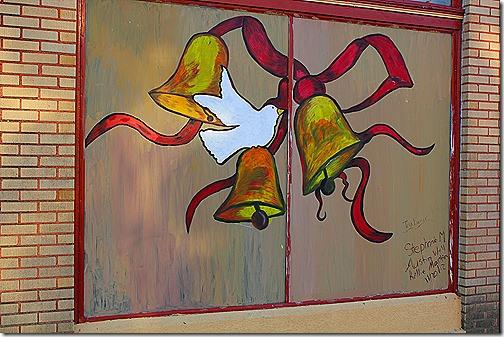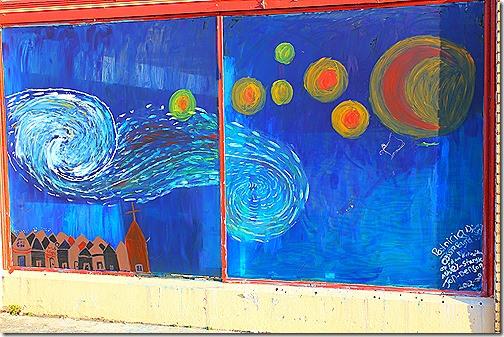 And every piece of artwork needs to be signed by the artist(s)…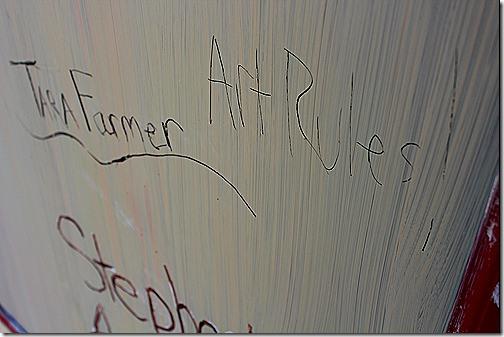 …because Art Rules!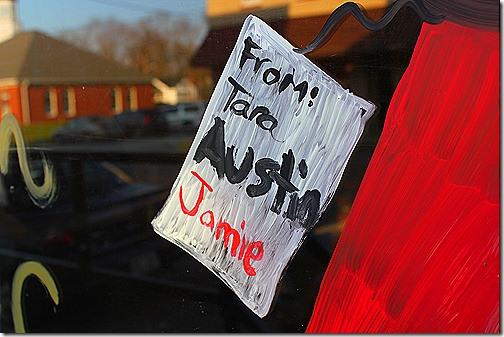 You can see the reflection of our City Hall (left).  I love that it is only a 5 minute walk from the house.
Why?
Because that is where Mr. Cutie Pie works.  Which means, he is home for lunch everyday and back in the evening by 5:05 PM.  Nice!
It is those little things that are worth more to us than all the money in the world.
Monday, December 3, 2012:
Today, I woke up late…late…late!  I must have needed the sleep but man do I hate rushing around like a half crazy person trying to get out the door.  Today was NOT the best day to be lounging around in my pjs.  It was more like, inhale the coffee and out the door ya go!  There was a noon luncheon board meeting to attend and then a grand re-opening at 12:30.  C-r-a-z-y!
This afternoon it is all about finishing up the laundry I didn't finish yesterday and getting things in some kind of order.
Blaine, Sarah, David and I, spent most of Saturday at Carolyn's house going through clothing and books and taking items in to be donated.  There is still so much to be done.  The kids were a huge help and kept us on track.  It is one of those things that can so overwhelming and normally I'm a get in there and get it done kinda girl but…everything we touched brought back memories.  It is like you want to stop and take some time to remember before deciding to keep or donate.  We spend so much of our lives obtaining stuff.  In the end…it is just stuff.  And, that is what I mean about getting things into some kind of order.  We brought back with us 2 car loads full of furniture and books and…stuff.
With my dad's stuff…  Well, now that is another story my friend.  My dad did not have a lot of assets so to speak but enough apparently that an ex-girlfriend seems to think it is all hers.  Let me fill you in a bit here.  This woman is someone my dad had to file a restraining order against because she is out there.  W-a-y out there.  She has even come up with a Last Will and Testament that my dad supposedly signed.  Whatever.  There is more to this mini-saga.  I have had to step in one time and made it clear to her that she did not want me getting involved.  She was calling my son telling him one thing and then my brother something completely different.  My son, now 27, is a big boy but don't start messing with my kids.  He could be 100 years old and I'd still stand up for him – walker and all!
Yep!  That's what's going on here!
Life is never dull that is for sure.  I will say that this has made Blaine and I more determined to get our affairs, not only in order, but every single "i" dotted and "t" crossed so that there are no if, ands or buts about it.
Okay.  The laundry isn't getting done by itself.  Y'all have a good one!
xo Cat