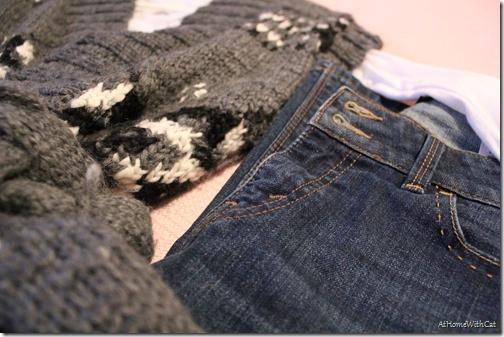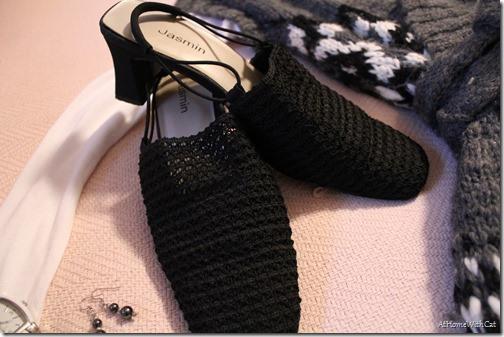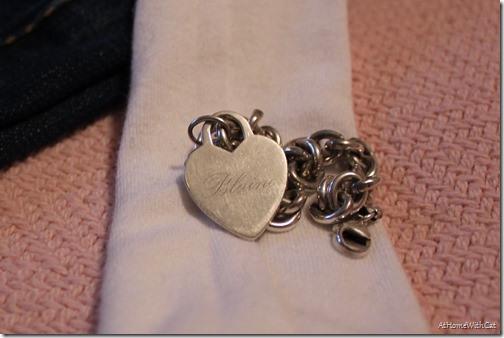 I love this piece of jewelry!  Can y'all guess why?  Blaine & (my) heart.
My go to colors that go with my hair – a little bit of black, gray and lots of white.  Ha!
::  Outfit  ::
Top ::  (Forever 21) white shirt & (Target) Merona vest sweater
Bottom  ::  (Levis) dark wash jeans
Shoes ::  (Thrift/Consignment) Jasmin
Accessories  ::  (XOXO) white watch, heart charm bracelet, black beaded drop earrings
::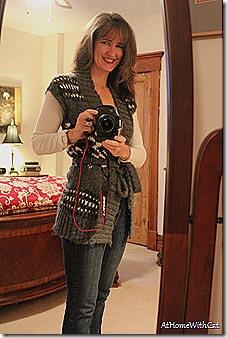 This picture is for Vintage French Chic! 

  Such a cheesy grin but here you go girl!  My outfit  fits in with the weather – gray and rainy.
Still working on getting things put away or at least finding a spot to put them for now.  Having the Christmas decorations up is not helping.  It is a too much stuff overload.
I think I am going to just have to resolve myself to putting the extra whatnots in one of the rooms, shut the door and walk away.  Out of sight out of mind.  I'm not too crazy about that but at this point and time – Christmas and family visiting – it may have to be what its gonna be.
Yeah.
We'll see how long that lasts. 

Nothing that a wild hair moment won't take care of dontchaknow.
::
Blaine found a George Foreman grill at one our local thrift stores for $8 last year or so…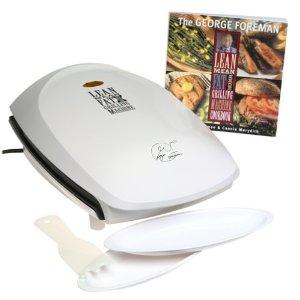 We certainly have gotten our money's worth out of it.  Tonight, we made grilled ham and swiss cheese sandwiches using Blaine's sourdough bread and leftover ham from last night's baked ham dinner.  Oh my!  So good!  I love simple meals like this.  Nothing complicated here…just good!
On that yummy note…I'm heading off!
xo Cat