Hey lovelies....
Here is a hair oil review from the indigenous brand - Dabur. Its on their latest launch -

Dabur Vatika Enriched Olive Hair Oil.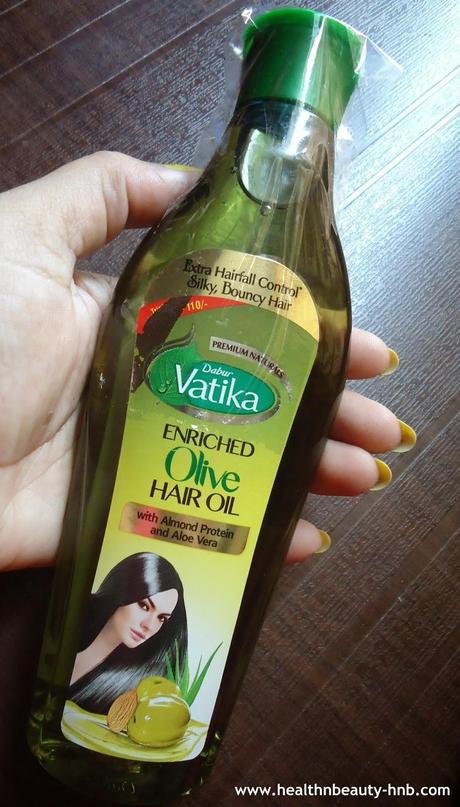 I am too lazy to pamper my hair... my hair regime is quite simple!
Oiling > SLS/SLES-free shampoo > Silicone-free conditioner > Hair serum/Heat protectant
That's about it! No henna.. masks..DIY.. this & that! I do opt for a hair spa once in a while at the parlor for some special care.
I keep trying various hair oils since I get bored from one so easily. So, after having tried this oil for more than a month, I am here with my review...


Price: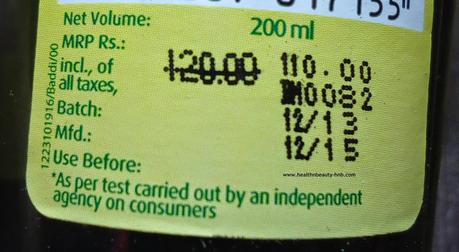 Ingredients: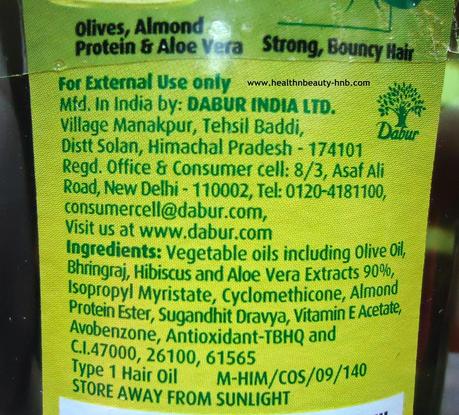 What the product claims:


Dabur Vatika Enriched Olive Hair Oil strengthens each hair strand from root to tip and reduces hairfall upto 50%, while the extracts of almond protein and aloe vera make your hair silkier and bouncier.


The way I see it:


The oil comes packed in a pale green bottle with a flip-open cap. 
The oil is also pale green in color & has a little overwhelming fragrance to it! It does reduce quite a bit after applying, but not all noses are gonna love it...
The density of the oil is the same as regular oils...  I am glad that no mineral oil has been added to the concoction! Most "nourishing" oils in the market these days seem to have mineral oil high on their ingredients list, something that I totally detest! Brownie points for this to Dabur Vatika!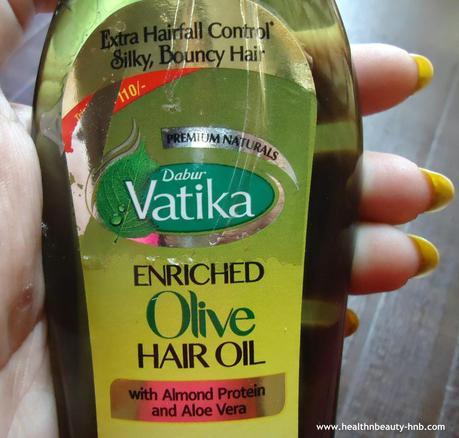 I usually apply this oil with light massage movements about 1-2 hrs. before hair wash. Going through the shampoo twice is a must to get rid of all the oil from the hair & scalp.
It makes my hair very soft & smooth and manageable for sure. The fragrance of the oil does linger a little but even after washing the hair.
My hair feels nourished & healthy everytime I use this oil...It adds some nice sheen to my hair too.
I do not have any dandruff issue but do have abundant hairfall... :)
I am yet to see results on my hairfall from using this product.. but since hairfall is due to various other reasons, I don't expect a miracle from this one alone!
With regular use, this might work on hairfall with other lifestyle changes.
Overall,  I really liked this oil - a nice concoction of hair caring ingredients but for the silicone mentioned in its label! 
Easy on the pocket when compared to other olive oils & nourishes the hair too with extracts from almond, hibiscus,bhringraj & aloe.


HnB Edit - PR Sample. My opinion on the product is true & unbiased.