Something a little different for today – a curry recipe. I'm the main chef in our flat and am constantly on the look out for new things to cook which are tasty, nutritious and simple especially for week nights.
I got the idea for this off the tesco website which has an amazing recipe section that links to their food delivery service where you cna add all the ingredients. It really is amazingly convenient – modern technology eh?! You can see the original recipe for this scrummy chicken, tomato and peanut butter curry here as I've adapted it to suit my needs. Mine was delicious though.
Here's what you'll need: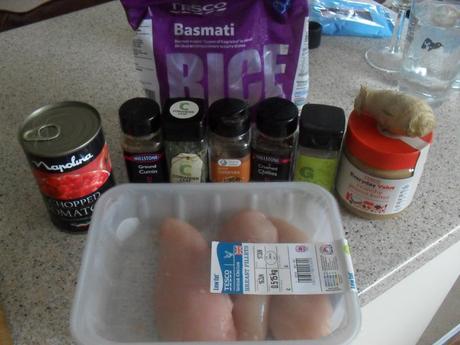 approx. 500g chicken breast
1 x large onion (I prefer red)
1 x 400g can of chopped tomatoes
2 x teaspoons of finely chopped fresh ginger
3 x tablespoons of chunky peanut butter
2 x teaspoons of cumin
1 x teaspoon of ground coriander
1 x teaspoon of garlic granules
a pinch of chilli flakes
basmati rice to serve (one small cup of dry rice serves approx 2 people)
handful of roughly chopped fresh coriander to garnish
This recipe will easily serve 3-4 people, it was far too much for just the two of us!
Now for what to do:
Dice the onion and chop the chicken into big chunks. Heat a tablespoon of oil in a pan and add onions allowing them to soften for a few minutes. Add chicken and brown all over, before adding ginger, garlic and chilli. Cook for a 2-3 minutes. Mix in cumin, ground coriander and chopped tomatoes and simmer for 10 mins or so. Stir in the peanut butte,r then add rice to boiling water (cook for 12 mins). Simples.
To finish, garnish with chopped coriander leaf and serve with warm naan bread and mango chutney (my fave!). Yummy!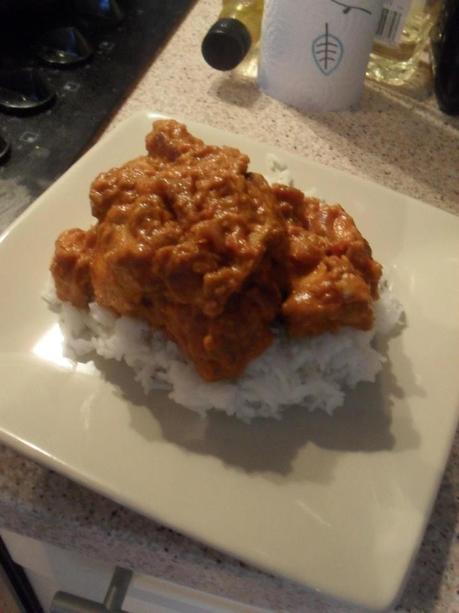 Obviously, this isn't a particularly authentic curry recipe but it is ridiculously quick and easy. And relatively cheap too!
Enjoy!

P.S. Today's song of the day: Coldplay ft Rihanna Princess of China. I didn't like this song when I first heard it, but now I'm hooked. Love the video too.