'Don't spend time beating on a wall, hoping to transform it into a door'
Coco Chanel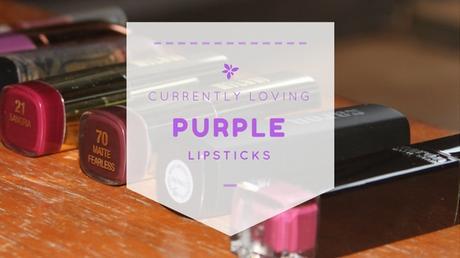 Hey folks,The idea of Friday has never given me so much joy… until today. The weekend promises to be really good and I honestly can't wait.


So I'm talking makeup today and lipsticks in particular. I'm no makeup artist, completely far from it...in fact I'm currently a very lazy makeup person but there was a time when everything makeup excited me. Now there's barely any time to apply basic makeup before running out the door, I can't even recall the last time I had my face beat to perfection. Anywho, I try not to brood over that and I'm quite content with my basic look.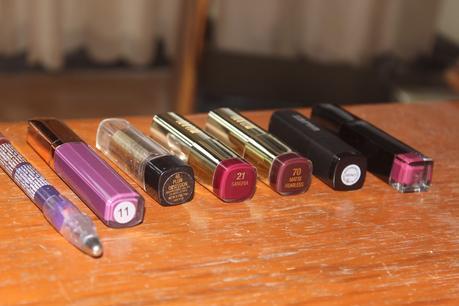 Currently, I'm all about lipsticks because I've come to realize that no matter how basic your makeup is, a perfectly rant-worthy lipstick will pull your entire look together. Lately I realize I've been crushing mostly on purple shades of lipstick and I didn't realize this until I was taking stock of my go-to lipsticks (i.e those lipsticks that would make it to your top 5 list). If I'm being completely honest, ever since the dollar went up around January, I joined #TeamBuyNigeria and I can't say it's been terrible. On the contrary, it's been such a revelation how many promising brands we have in this country however, as with everything in life, there are still classifications of affordable, slightly expensive and then high-end kind of expensive.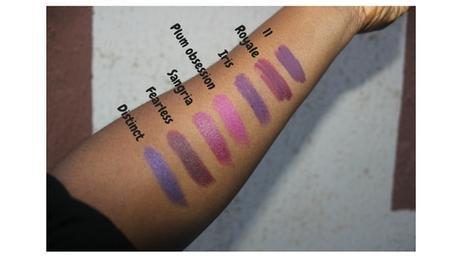 I've found that most of the lipsticks I'm currently crushing on are actually from Nigerian brands but this post is meant solely for you to get in on my current purple addiction to the most affordable brands around, hence the list below:
1. Zaron Moisturizing Lipstick in 'Distinct'
First off, since the invention of matte lipsticks – I've had no greater love, but somehow this particular moisturizing lipstick in that shade is nothing short of surprising. It has a metallic undertone with major gothic vibes and it is not on the excessively loud side as amplified lipsticks go.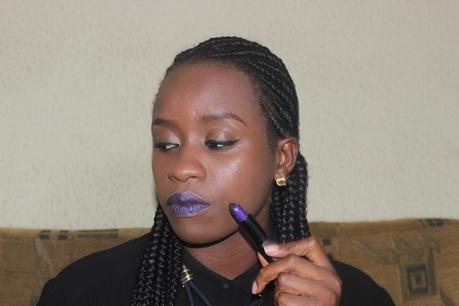 It is highly pigmented, long-wearing, and quite a burden of pleasant surprises. It sells for between N1860 – N2000 depending on where you purchase it and it's definitely slightly cheaper on the Zaron website or at their various outlets.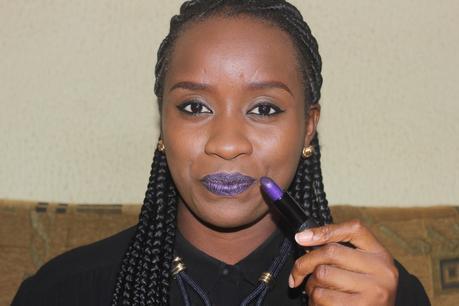 2. Milani Lipstick in 'Matte Fearless'
Y
ou know how you spot a lipstick and without trying it on you are already quite reluctant to buy it cos you've looked at the colour, you've done the math in your head and you assume that it can only be terrible…well that was the story with this lipstick. Imagine my surprise when I try it on and it turns out to be the right mix of gothic and imposing – my idea of perfection.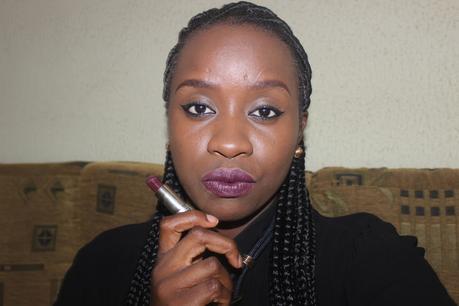 I'm so in love with this color that I could wear it all week without getting tired. However, it doesn't photograph well because trust me it looks a lot better than it does in this picture. I purchased this for N2000, it could be slightly more expensive right now thanks to the exchange rate but not overly expensive.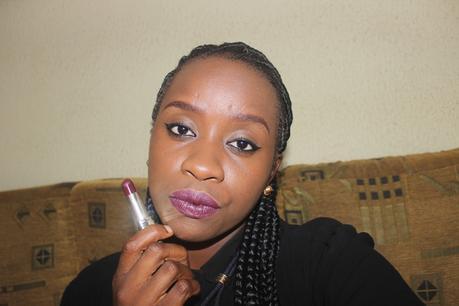 3. Milani Lipstick in 'Sangria'
This is yet another favourite, it's a more dark skin-friendly shade that is a lot less vampy than 'fearless'. One thing I love the most about Milani lipsticks (even the matte ones) is the fact that they are highly pigmented and moisturizing – no cracking up or drying. 'Sangria' is no different, I'm no lipstick expert but from using this a couple times, I can say that it stays on for a long time.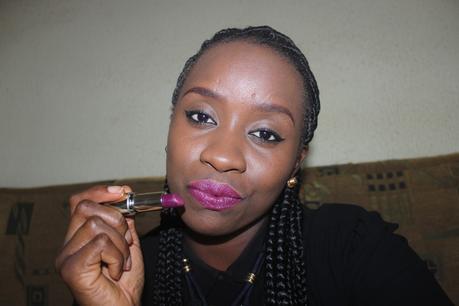 I'm one of those people that loves to mix lipsticks together to get new shades or my desired shade depending on the occasion and I find myself using this particular lipstick as a base for most of my mixtures. This sold for N2000 as well and I can say without a doubt that I've pretty much gotten my money's worth from this lipstick and I'm still at it.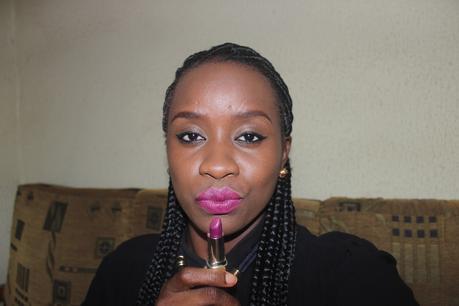 4. Jordana Lipstick in 'Plum obsession'
This is an oldie but goodie, I've re-purchased this so many times I can't even count. It is quite inexpensive – the last time I got one, it cost about N600 or slightly more than that. It comes across as a shade of pink when photographed but in reality it is a light shade of purple. It is always advisable to use a lipliner before applying any lipstick to properly define your lips and that helps a lot with this particular lipstick.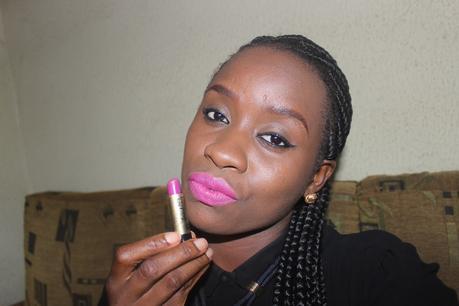 I didn't use a lipliner with any of the lipsticks in this post because I didn't want to interfere with any of the original colours. This lipstick is also highly pigmented and moisturizing, it is supposed to be a matte lipstick but it's not as matte as you would expect. I use this with gloss most times and I'm quite a fan.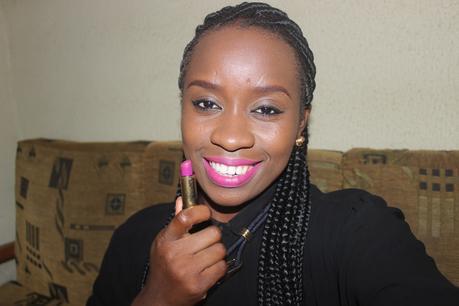 5. Jordana Double Colour Pencil in 'Iris & Velvet'
I never quite figured out if this was an eyeliner or a lipliner, what I do know however is that it doubles as both for me. I use the purple end of the liner as a lipstick base or as a lipstick itself depending on my mood. It comes off looking dry/matte and I try to apply it generously so it never appears like a lipliner but like a decent lipstick.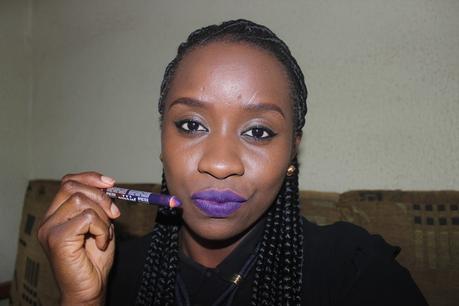 This sells for N100 and the last time I stumbled on it I bought 3 of them so I don't start searching for it when it runs out. This is a totally inexpensive alternative to matte lipsticks and it does alright.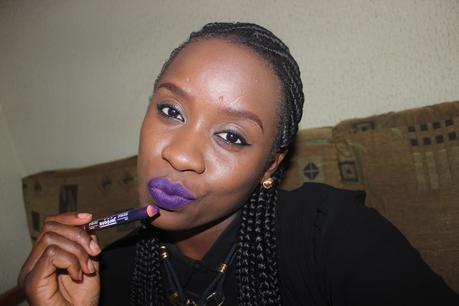 6. Zaron Matte Lipstain in 'Royale'
I got this in a goodie bag last December and I forgot I owned it until I re-discovered it last month. It's a dark matte lipstick, quite pigmented and thankfully it doesn't have a drying formula. I love to mix this with the 'Sangria' as a base and I like the resulting shade. It sells for N3025 on the website, I can't really say how much it will cost in other random stores.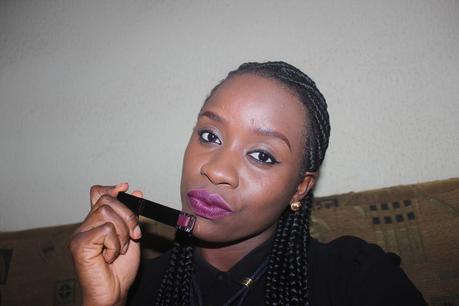 As Nigerian brands go, Zaron really does great for itself if I do say so myself. I think it's time we debunked that popular misconception we all have about Nigerian brands being below par seeing as that isn't the case anymore.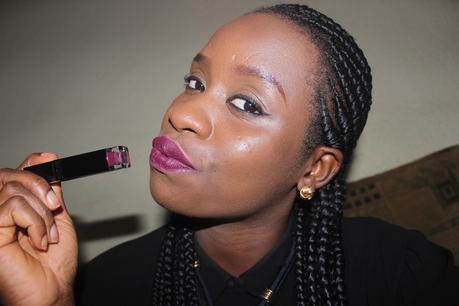 7. Beyond Beauty Lipgloss in '11'
I picked this up at the Hair Salon on some random day and I was more in love with the color than the lipgloss itself at the time. It is one of those inexpensive brands you see in markets or around pedestrian bridges in Lagos although The5kSkop stocks it currently, find it here. The only problem I have with this lipgloss is the fact that while it is super matte (which I love by the way), it is also quite drying.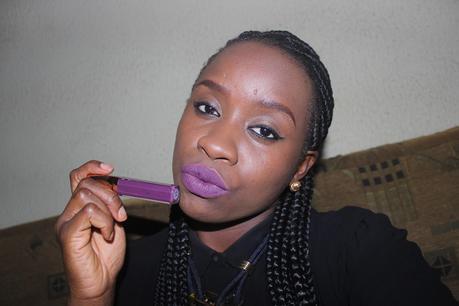 My hack for this lipgloss is to apply a moisturizing lipstick in a similar shade as a base before I go in with this matte gloss. I find that it reduces the dryness and the cracking significantly so I'm able to use this without stress most times. This is really not a bad buy if you know how to work it, it sells for between N400 to N750 depending on where you're buying.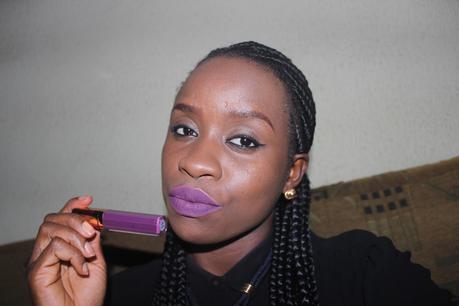 So there you have it: my current favorite purple lipsticks, I tried to include little hacks on how best I wear them and I hope this was helpful.
What are your current purple favourites? Have you used any of mine already? What were your first impressions? Please share in the comment section below and let's keep things interesting.
Enjoy your weekends lovelies and until my next post,
Kisses from Lagos.
Ify*





Let's Connect!

Instagram || Facebook || Twitter || Bloglovin || Pinterest
In case you missed my previous posts, please find direct links below:
Ensemble || Walking In Plaid
Ensemble || Monochrome and Print
Ensemble || Sneaker Affair
Foodie Chronicles || 411 Restaurant & Bar
Ensemble || Go Gold
Ensemble || Of Neutrals And Grey
Weekly Wanderings || Lekki Arts And Craft Market
Ensemble || Of Nudes And Black
Ensemble || Boho Loving
Ensemble || Shades Deep