My husband is awesome, you guys. I'm not even kidding. On Monday, I saw that he had tagged me in a post on Facebook. Curious. He isn't much of a Facebook tagger or user. He's more of a lurker, let's just be honest. Anyway, I signed on, checked my notifications and saw this: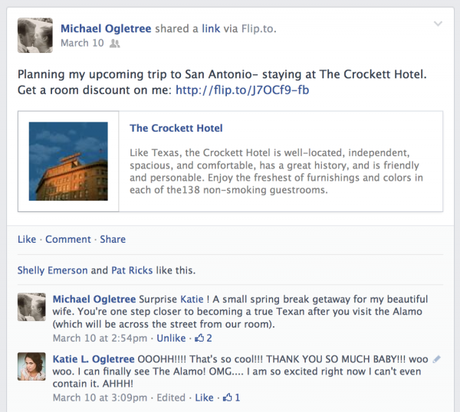 OMG!!! A trip to San Antonio was booked, and we would be staying in a historical hotel directly across the street from The Alamo. Just the two of us! Ow, ow!
Confession: I'd never been to The Alamo. This little factoid has been known to draw serious shock and repulsion from practically everyone I would encounter, but I mean, come on guys. Have you ever seen the Liberty Bell? I have. 4543957497 times. Because that's what you go see on class trips when you're from southern New Jersey, where I'm from. You don't go see The Alamo. Texans do.
Anyway, I was finally going to see The Alamo, and this trip was going to be one I wouldn't soon forget.
When the clock struck 12:30 p.m. on Wednesday, Michael and I were off! We hit I-35 and made our way to San Antonio. When we arrived a mere hour later, we were pretty dang hungry, and made one of the smartest decisions we've ever made. We went to the old Pearl Brewery, which has turned into quite the culinary destination.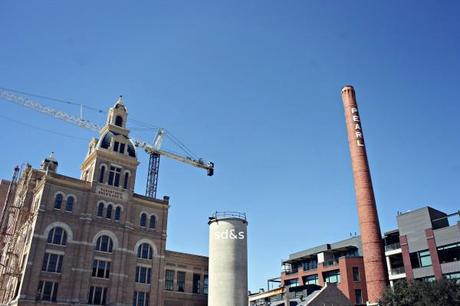 The original brewery was founded in 1881, and shut down 120 years later in 2001. Instead of killing the buildings, the space became dedicated to becoming a truly sustainable location, full of the best food and eating establishments around. It's also home to the famed Culinary Institute of America's Texas branch. Very cool.
When we arrived, we headed straight for Cured, a restaurant I'd heard a lot about when some of my food bloggy friends visited the city.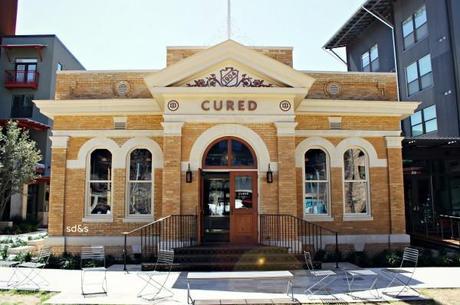 Cured tranformed the old Administration building for the brewery into a wonderland of charcuterie. The old president and vice president of Pearl Brewery actually had their offices in this building back in the day, and kept the money secure in the big safe that is still part of the building, used for storing wine. In fact, as an homage to the history of this building, they decided to make use of the old president's desk in an interesting way. Just make your way to the men's bathroom. Your welcome. (Thank you Evin – Food Good, Laundry Bad – for sharing this bit of knowledge with me!)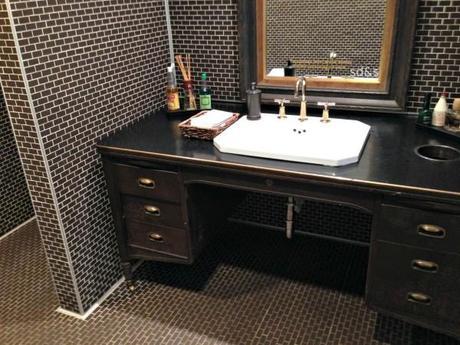 Anyway, as we approached the building, I couldn't help but get excited. This place was gorgeous. I loved how the folks behind Cured kept the history and the integrity of the architecture alive.
When you first walk in, you're faced with a beautiful glass case filled with all sorts of curing meats, terrines, jellies, and marmalade. It's beautiful, simple and stunning.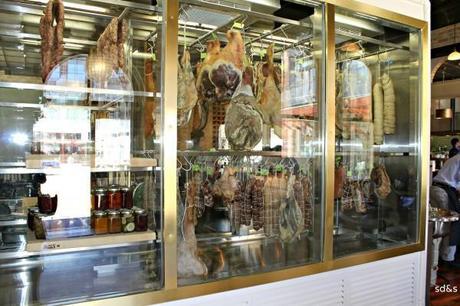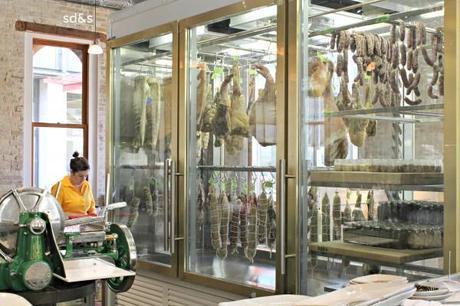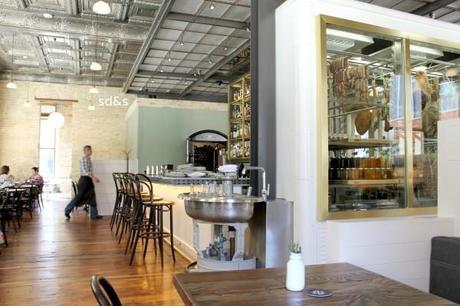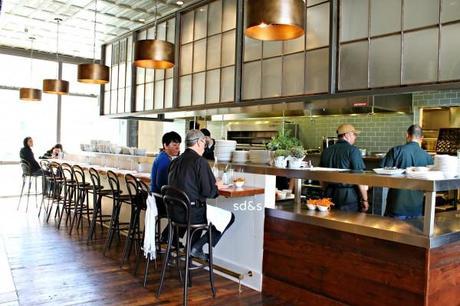 The hostess seated us promptly next to a window, and left the two of us to go over the menu.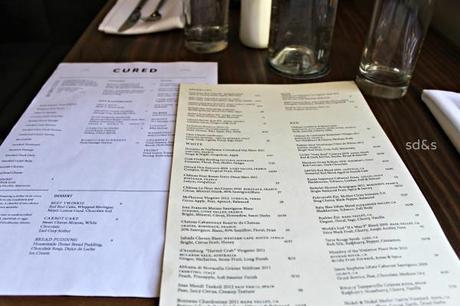 It became obvious what this restaurant was all about: Deal with local farms, bring in the entire animal and utilize the entire animal. Boom. The charcuterie aspect of the restaurant allows them to do that. They're aging and curing out the wazoo.
We settled on two dishes to share. First up would be a selection of three meats from the charcuterie end: Apple Jalapeno Pork Rillettes, the Mortadella and some Spanish Chorizo. The whole thing comes with pickled veggies, mustards and some homemade crackers. Yum. Second up would be the Po' Boy of the day: Slow Cooked Pork Grillades on a roll imported straight from New Orleans, topped with lettuce, and tomato, with a side of fries and pickled cucumbers.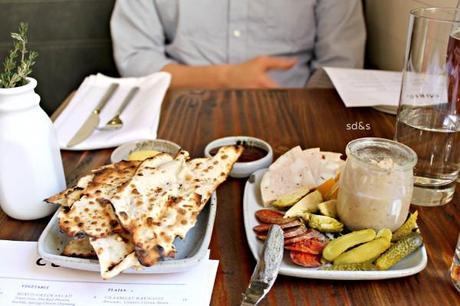 Gorgeous. Stunning. Incredible. Mouth-watering. Drool-worthy. Best. Ever. This charcuterie plate was crazy good. First of all, Michael and I really had no idea what we were getting when we ordered the Apple Jalapeno Pork Rillettes, but our waitress said it was one of her favorite things from the menu. She hit the nail right on the head with this one. HOLY CRAP. It was good.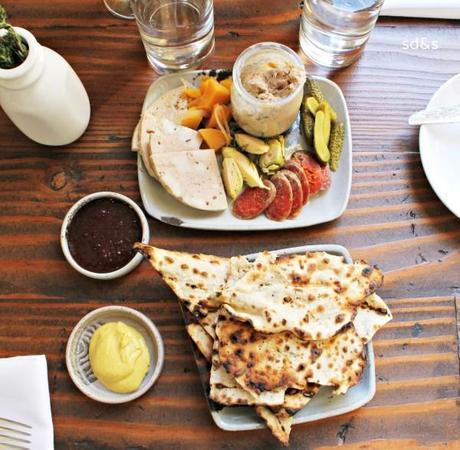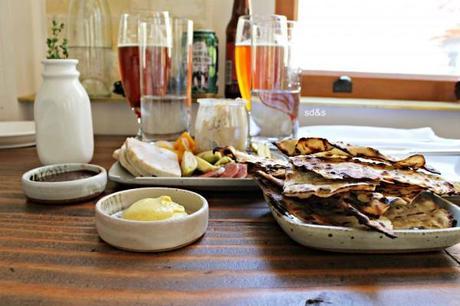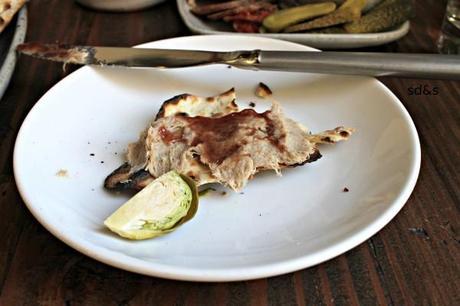 The consistency reminded me of tuna salad, but it wasn't tuna salad, you guys. It was something that dreams are made of. It was something that was life changing. I was full of joy after the first, second, eighth bite of this glory food.
Basically, Rillettes are a preparation of meat similar to pâté. Made with pork, the meat is cubed or chopped, salted heavily and cooked slowly in fat until it is tender enough to be easily shredded. It's then potted, covered with a layer of fat to preserve it, and then served with pickled veggies and various mustards. I fell in love with the pickled brussels sprout + rillettes + sangria marmalade combo. It was heaven-sent.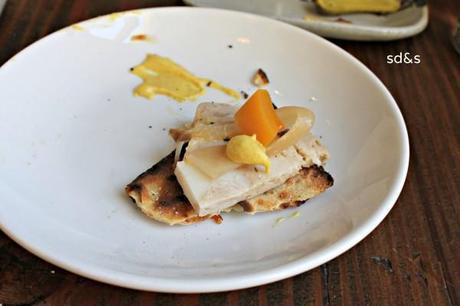 I also really enjoyed the Mortadella with some hot mustard and a cube of pickled butternut squash. The sweetness of the squash and the saltiness of the sausage paired perfectly. My husband wasn't a huge fan of the Mortadella, likening it to Spam, but you know what? Whatever. More for me. He was more into the chorizo, which was smokey and savory in all the right ways.
I had gotten totally lost in the joyful world of cured meats and somehow forgotten about our Po' Boy, but when it arrived, I knew I couldn't forget about it again.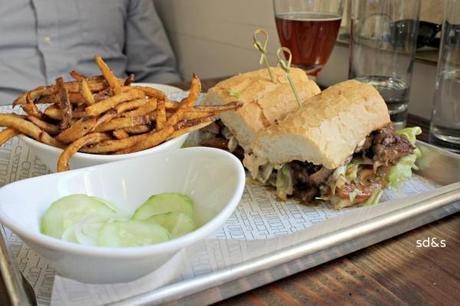 Basically, I didn't know what Slow Cooked Pork Grillades were, but as I learned, it's a traditional dish from New Orleans, where the meat is sliced thin, browned and then stewed. It's traditionally served over grits, but to have it on a flakey, soft New Orleans Po' Boy roll is something wonderful. Just wonderful.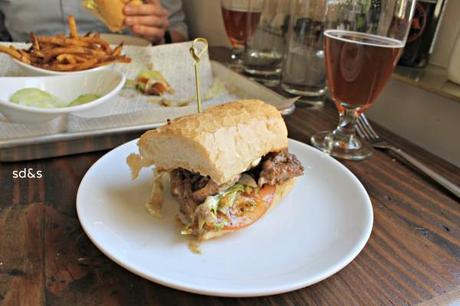 It was creamy, savory, tart and perfect. Sandwich perfection. As for the fries? They were stupid good too.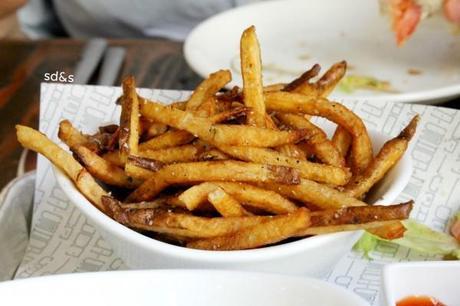 My husband was all about these, saying that he'd eat these fries every single day of his life if he could. I'm right there with him. They were just amazing. They are what fries are supposed to be.
We cleaned our plates, paid the bill, signed the cute little book they leave for their patrons to write in, relaxed a bit, enjoyed the sunshine splashing in over our table, and toasted with our last sips of brew to the start of an amazing Near-cation.