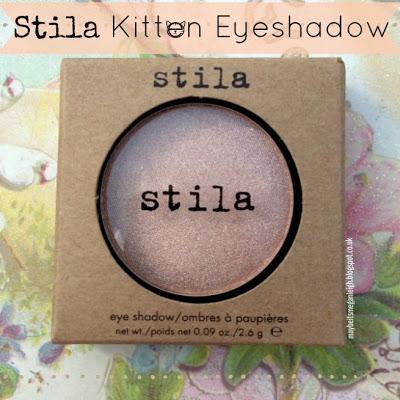 Stilla's award winning shadow kitten, is my new obsession! I am literally crazy for this eyeshadow!
Kitten is my first stila shadow & now I most defo want/need more. Firstly the texture of this shadow is sooooo soft & creamy like butter, no exaggeration it is as smooth as butter & glides beautifully onto the lid!

Kitten is a pale champagne with a pink undertone and white gold shimmer.
I can understand why people may over look this shade thinking its pretty basic & they already have similar shade, but trust me when I say it is not like any other!
 The texture of the the shadow like I've already said is beyond amazing, has great staying power even without a primer, although with an opaque primer the color does really pop. Can be worn wet or dry, when worn wet the shimmer is intensified giving a glistening almost wet effect.
To apply I use my mac 242 flat shader brush to pat the shadow onto the lid, this way can sometimes cause slight fall out, so my preferred method is using my ring finger, I think you get the most opaque finish with this method.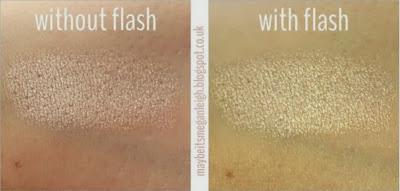 The eyeshadow is in a pan that is not glued to the case, but held in place with a magnet. Because of this, stila's eyeshadows would be so easy to transfer into a Z palette, or a custom palette of that nature. Also a single Stila eyeshadow contains 2.6 grams of product, which is a lot considering a MAC eyeshadows only contains 1.5 grams of product.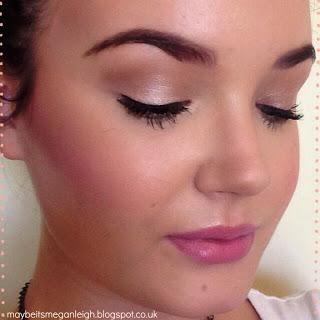 If you have not tried this eyeshadow I really do urge you to give it a swatch next time your out shopping, Ahh buttery smooth shadow goodness!
£12 Available from stila.co.uk, Boots & most online beauty stores.
What do you think of this shade?