Most of the people who read this blog probably already read Powder. Of course you do. But just in case you missed it, Crystal's very own Hugh Gren was recently interviewed for a new series on Powder. The purpose of the series is for each interviewee to recommend the next one.
I recently ran into Hugh up on Chinook Pass, where he and a couple of other Crystal diehards were making the most of the remaining snow. They were taking turns shuttling each other to the top. I was riding my bike to the summit. It was Hugh's turn to shuttle, and he stopped to cheer us on. And that's a nice boost to get on those last few switchbacks from the summit. That's just the kind of guy Hugh is. He may be a bit quirky and hyper, but above all else, Hugh has an infectious enthusiasm. He's one of my favorite locals at Crystal.
Who did Hugh recommend for the next interview? Another Crystal favorite. But you're going to have to read the article to find out.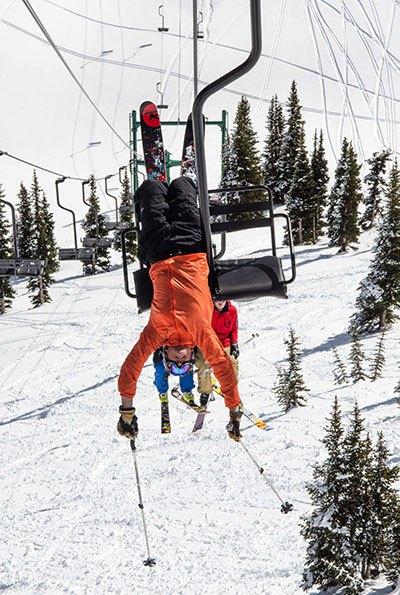 Hugh Gren letting it all hang out on Chair 6