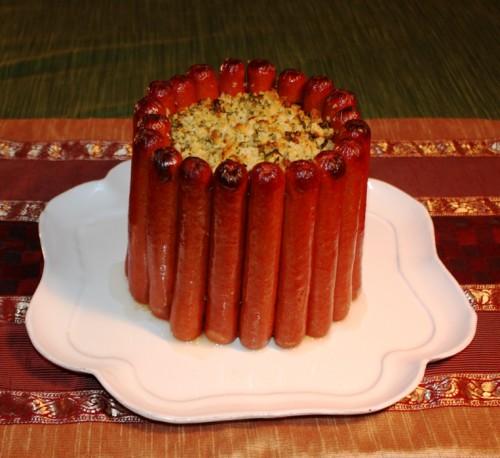 Long has the Crown  Roast of Hot Dogs haunted my culinary imagination. It first caught my eye ages ago in my hometown paper, the St. Louis Post-Dispatch; the recipe and photograph clipped but never actually prepared.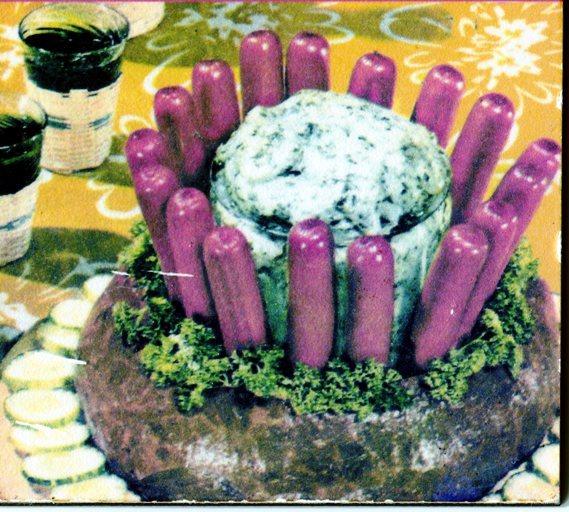 Years later this refrigerator magnet found its way into the kitchen with the vintage photograph depicting a most glorious version, nestled in a ring of tomato aspic. Oh the majesty, oh the splendor…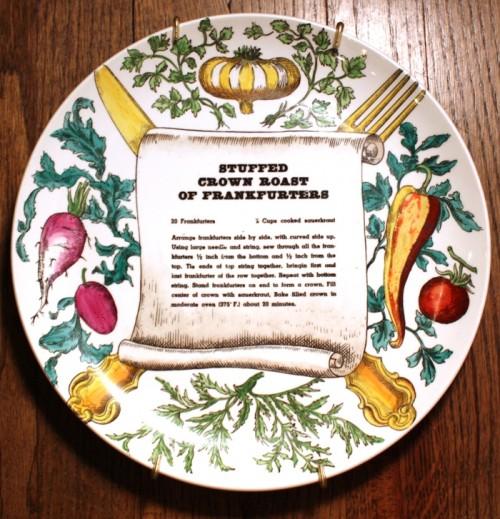 Time passed, all the while classic crown roasts of pork and lamb reigning supreme in the center of celebrations, like those that occur every Dec. 24th chez Dan and Mary Pat Sullivan back in St. Louis. But the crown of frankfurters made no appearances.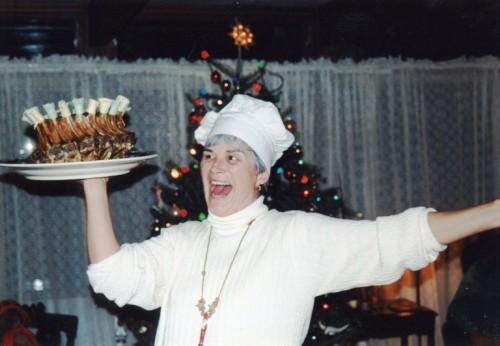 Now before any tsk-tsking starts over Crown Roast of Hot Dogs being NOCD (not our class, dear) it should be noted that artists as great as Piero Fornasetti have celebrated this time-honored recipe. (This Fornasetti plate would command a prince's ransom on eBay!)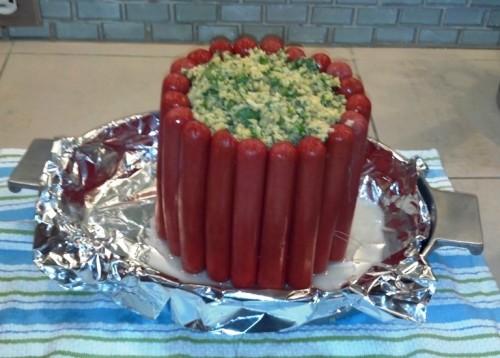 Enough with the pre-amble.
This Crown Roast of Hot Dogs is perfect for Christmas, New Year's eve or any holiday — think how impressive it would be on a Super Bowl Sunday buffet — and best of all,
Crown Roast of Hot Dogs IS spectacularly delicious.
RECIPE:
Crown Roast of Hot Dogs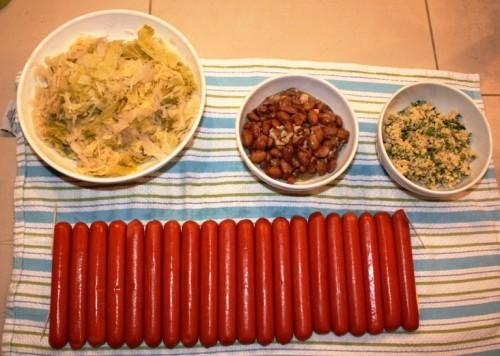 The roast:
24 top-quality hot dogs (Boar's Head makes a premium Angus Beef variety, quite good)
Needle and thread
Filling #1:
2 Granny Smith apples, peeled, cored, cut into 1/2″ slices
1 T. butter
1 small head savoy cabbage, cored chopped into 1/2″ shreds
1 lb. sauerkraut, rinsed and squeezed dry
1 chicken bullion cube
1/2 c. water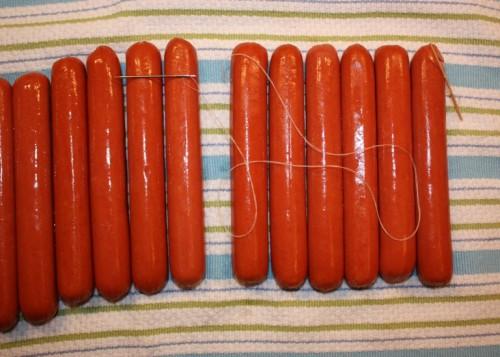 In a medium sized pot with a lid sauté the apple slices in butter until slightly softened, about 4 minutes. Add the sliced cabbage, drained sauerkraut, bullion cube and 1/2 c. water. Stir well to combine all the ingredients, cover and simmer on low heat until the cabbage is completely wilted. Stir every couple of minutes to prevent scorching, adding more water if needed.  When it's all very soft, remove from heat and drain off excess liquid.
Filling #2:
1 15 oz. can Roman or Cannolini beans, drained
3 cloves garlic, minced?
1 T. olive oil
1/2 t. red pepper flakes
Heat the oil in a sauce pan and when hot cook the garlic and red pepper flakes, stirring, until the garlic starts to color. Do not burn. Add the  drained can of beans, stir, and cook on low, stirring occassionally, until heated through. Set aside.
Topping:
1/2 c. Panko bread crumbs
3 T. fresh parsley, chopped
2 T. Dijon mustard
2 T. butter
Melt the butter and toss with the bread crumbs, parsley and mustard. Set aside.
Assembling the roast:Thread a 2′ length of thread and tie the end with a toothpick 4″ from the end. This will prevent the thread from pulling through the hot dogs.
Lay the hot dots flat on a clean dish towel, side by side, tops and bottoms lined up.  Sew them together 1″ from the top and 1 " from the bottom.
Remove toothpicks and tie the ends of the thread together. As you tie the ends tilt the dogs up so that when you finish you have an erect ring.
Place the roast into a baking dish.  Spoon in half the cabbage. Spoon half the beans over the cabbage. Repeat. (Any extra topping that doesn't fit in the ring can be baked in a separate pan when you cook the roast.) Top with the bread crumbs.
Bake the Crown Roast of Hot Dogs at 375° for 30 minutes, until heated through. The crumb topping and tips of the hot dogs will brown.
Transfer to a serving platter with a large spatula.

Print This Post