Every once in a while, if I've done a little too much of one thing, I rebel and start doing something else. So for now, because I want to continue working out but don't want to follow my running plan, I've decided to pick up some crossfit workouts on my "off" days. I used to be an avid Crossfitter, but because of running and situational stuff, I haven't been doing it as much.
First off, if you've never done crossfit, let me explain a little of what it is.
Crossfit



The basic premise behind Crossfit is that you combine olympic lifting, anaerobic activity, gymnastics, etc together to get the best "athlete" that you can be. You can typically function at a much higher level as a crossfitter vs other things. I know that I'm butchering the words so let me tell you from their website -
"

CrossFit is a core strength and conditioning program. We have designed our program to elicit as broad an adaptational response as possible. CrossFit is not a specialized fitness program but a deliberate attempt to optimize physical competence in each of ten recognized fitness domains. They are Cardiovascular and Respiratory endurance, Stamina, Strength, Flexibility, Power, Speed, Coordination, Agility, Balance, and Accuracy.

The CrossFit Program was developed to enhance an individual's competency at all physical tasks. Our athletes are trained to perform successfully at multiple, diverse, and randomized physical challenges. This fitness is demanded of military and police personnel, firefighters, and many sports requiring total or complete physical prowess. CrossFit has proven effective in these arenas.Aside from the breadth or totality of fitness the CrossFit Program seeks, our program is distinctive, if not unique, in its focus on maximizing neuroendocrine response, developing power, cross-training with multiple training modalities, constant training and practice with functional movements, and the development of successful diet strategies.Our athletes are trained to bike, run, swim, and row at short, middle, and long distances guaranteeing exposure and competency in each of the three main metabolic pathways.We train our athletes in gymnastics from rudimentary to advanced movements garnering great capacity at controlling the body both dynamically and statically while maximizing strength to weight ratio and flexibility. We also place a heavy emphasis on Olympic Weightlifting having seen this sport's unique ability to develop an athletes' explosive power, control of external objects, and mastery of critical motor recruitment patterns. And finally we encourage and assist our athletes to explore a variety of sports as a vehicle to express and apply their fitness."That is directly from their website, so you can find that a lot of other information there. 


The website has a workout of the day listed daily, 3 days on, 1 day off. I obviously, cannot follow that in the way that it is listed as I am still running 3 days a week to train for my half marathon, but am going to try to follow it as closely as possible. 
Examples of Crossfit women -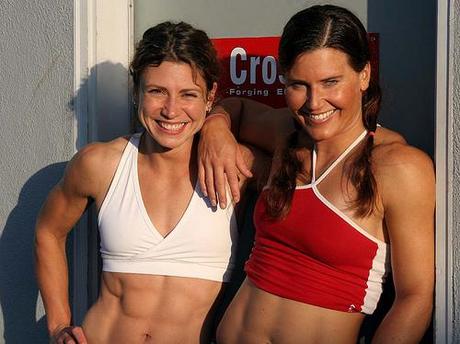 The girl on the left does programming for them, I think. And the girl on the right was an Olympic skier source
What I will say is that these women do crossfit exactly as it's intended and eat exactly as they suggest so will I look like that, probably not. If I did, would it be so bad, no. No it would not. 
Crossfit has benchmark workouts that help you measure how you are improving. Some of these workouts are called "Girl" workouts. Here's an example of a girl workout -
Fran
Fran is 21, 15, 9 reps of Squat Thrusters, Pull ups21 squat thrusters (men's weight 95 lbs, women's weight 65 lbs)21 pull ups (kipping pull ups)15 ST15 PU9 ST9 PU
Terrible, hard workout. 
Yesterday was my first day of doing a Crossfit workout and what was the WOD, a Cindy. This is a great benchmark workout and a good place to start if you're new or just starting back. 
It's an AMRAP which means As Many Rounds As Possible in a certain amount of time, Cindy being 20 minutes. 
5 pull ups10 push ups 15 squatsAMRAP 20 minutes
My best Cindy was 17 rounds. Yesterday, I got 10. So not so bad, but no where near where I used to be. I'm kind of excited to be doing some different things so we'll see how this goes!!