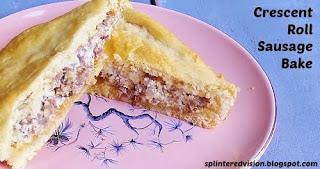 It's the beginning of the Christmas season. With Thanksgiving over, it's time to finish up the Christmas shopping and enjoy the holiday spirit. We have a radio station that plays holiday music 24 hours a day. It's all I listen to this time of year.  The days are shorter and colder. This is one of my favorite times of the year.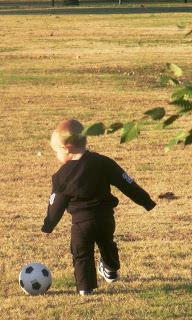 We've managed to find a couple of warmer days to take our son out to pick up pecans and kick around the soccer ball. But in a few days it will turn cold, wet, and sometimes icy. We'll have to find way to let our son bur off his excess energy inside the house. His Christmas presents might help us accomplish that. 
This Thanksgiving was full of our family's traditional dishes. My husband and I celebrate our holidays with my family for lunch and his family for dinner. There is always lots of leftovers and figuring out creative ways to serve our leftovers as much of a holiday tradition as anything.
The morning after Thanksgiving I had a pretty good idea of what we would be eating for the next few days. So, I decided to make something for breakfast that was easy and did not involve leftovers.
Crescent Roll Sausage Bake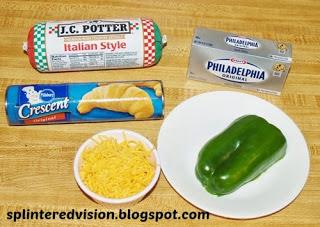 Ingredients
1 pound of Italian pork sausage
½ of a Bell Pepper, Diced
2 cans of Pillsbury crescent rolls
1 block of Philadelphia cream cheese, softened
½ Cup of Shredded Cheese (use more if you like)
Salt and Pepper to taste
Directions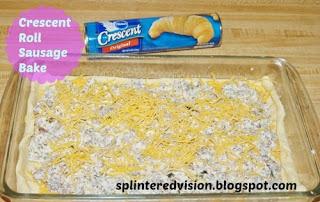 Brown the sausage with the diced bell peppers in a skillet until well cooked. Add cream cheese to sausage and peppers in a bowl and mix until combined. Spray a 9 x 13 glass baking dish  and roll out one package crescent rolls and place on the bottom of the baking dish. Sprinkle half of the shredded cheese over the crescent rolls and top with sausage, pepper, and cream cheese mixture.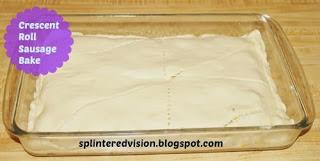 Top with remaining shredded cheese and unroll the second can of crescent rolls and lay over the top. You can press the edges of the 2 layers of crescent rolls together if you like. Bake according to the directions on the crescent roll can. Slice and serve.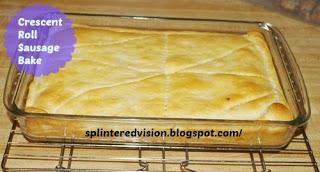 These were a big hit for the morning after Thanksgiving. We might just have to make them for brunch on Christmas Eve this year, too. 
Hope you enjoy!