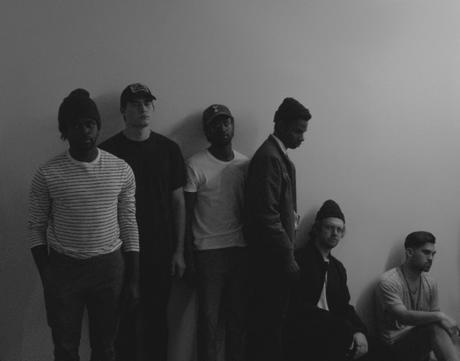 With the summer definitely heating up, North Carolinians OCNS were smart to put out a hot new summer track.  "You" is the latest single from a band that thrives on its infectious blend of indie and pop.  Born as a dance track, the song and its story show you a lot about the band itself.  OCNS offered some time to delve a little further into that story with the interview below.  Check it out:
How did you get your start?
We got our start as many bands have in the past: high school. Esdras, Grandy, Isaac, and I (Drew) started meeting up in their church at the time and got to know each other playing little cover songs and jamming out our first nasty songs. We were very much into heavy music at the time and we were still getting the hang of our respective instruments, so it was gross to say the least. David joined after his high school pop rock band started parting ways and we began writing our first batch of real songs. Andrew joined in October of this past year (2017), and he instantly clicked with the whole group. After long months of having searched for someone who lived close enough to practice on a semi-regular basis, had a similar set of inspirations, and had the drive to keep pushing like we have, it was a godsend to have Andrew start working with us.
Is there a story behind your band name?
We used to be called Oceans, but ran into other bands current and past who had the name, so we decided to just distance ourselves from it entirely.
Who or what has inspired your sound and latest track,"You?"
"You" was at one point a different song we had completely written and that we were happy with, but as time passed and we sat on it, it got stripped down to the beat alone, had the key changed, and became an entirely different beast about an entirely different subject. Musically, it took on a dancey tone very early on, much in the vein of the music Daft Punk makes with guest vocalists. I believe it would be safe to say some of the sax influence came from The Midnight and their 80's feel.
Tell us about your writing process; any unusual quirks?
Our writing process ranges from being jam-based at practices to being extremely precise and premeditated. We could come together with a single chord or small riff in mind and loop it until other parts evolve around it and it becomes a full blown part, but the key there is to be able to recognize when something good is happening and remembering how to pull it off more than once. Other times, Isaac or Andrew will come with a fully prepared demo that has every part laid out as far as their mind's eye could see, which will then be taken by each member and personalized. Everyone has their hand in the process and every instrument is collaborative. Our drummer could write a vocal line, our keyboard player could have the guitar written out, and our bassist could have the perfect beat in mind. It changes from song to song. A quirk may be that parts from songs tend to stem off and inspire the beginning of the next song, though it may not be obvious. It may be a key in common, a tempo that is 2 BPM different for the sake of being 2 BPM different, or it could just be a general feeling.
What is your favorite show memory?
My favorite show memory was playing in South Carolina, where we had never played before, and a couple people bought us all shots. That was nice. That and having our families show up to shows really far away from where they live. It's really cool that they support us and actually enjoy our songs.
What would be your dream tour and why?
A dream tour for us would probably consist of playing alongside The Midnight, because their music is a huge sounding and they kill it live; The Neighbourhood, because they have a very laid back vibe with plenty of atmosphere though they still make you want to dance along with them, and Mutemath, as they are fantastic musicians and their ability to switch instruments and have intricate jam sessions onstage is jaw dropping. Personally, I'd love to share the stage with Chon or Circa Survive because of the massive impact they've had on my view of music and my playing ability, but it wouldn't fit nearly as well with our sound.
What's your favorite song to cover?
That would have to be Phoebe Bridgers version of "You Missed My Heart," originally by Mark Kozelek and Jimmy LaValle, "Book" by Chon, or "Friends In Low Places" by Garth Brooks. But really, we hate playing covers and have made it a point to NEVER include any in our live show. Miss us with that.
If you were to create a "soundtrack to your life," what songs would be on it?
The Paper Kites – "On the Train Ride Home" (Grandy)
Juicy J – "Money A Do It" (Esdras)
Neck Deep – "A Part of Me" (David)
Third Eye Blind – "How's It Going to Be" (Andrew)
Lany – "Where The Hell Are My Friends" (Isaac)
Fall – "Chon" (Andrew)