Designing an impeccable logo requires the consideration of multiple dynamics. Black and white framing strips everything away, confirming a logo is sensible in its simplest form. A logo mark is designed to complement the actual graphic, as seen on the famous Cardinals, Red Bull, Yamaha and Adidas ads. Logos need to be properly color balanced and convey a message in a simple manner.
But social media logo design changes these dynamics dramatically. By appealing to a social media platform, users are witnessing the brand in a different light. This touches on how they interact with the brand and how the logo is perceived.
There are two core strategies for tackling a social media logo design, and they are rather oppositional.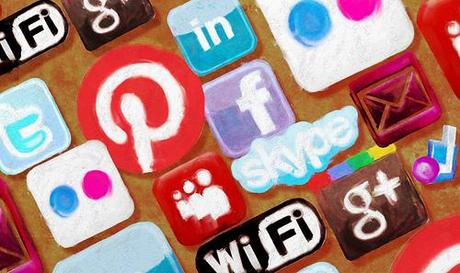 Image by Flickr user royblumenthal
Clean and Easy: Fit the Box, Get the Job Done
Many of the most effective logos are simple ones, such as Shell, USA Network and Mitsubishi. These single color and often singularly enclosed logos are visible from a distance. In a social media platform, bright graphics, advertisements and feed posts distract users. The best logo could be one that is simple and streamlined. Look at the famous Apple logo. It has recently been converted from its rainbow schematic to a single mildly transparent gray tone. Of course, Apple allows users to change their logo color on their computers, another small addition that speaks wonders about the interactivity of the company.
Buffer reports another point of concern in the fact that 189 million Facebook users use the website strictly on their mobile. On a mobile platform, screens are smaller and resolution is lower. This could potentially make a noisy and busier logo a mess on a mobile screen. Simple logos extend into a square format, are easily read from a distance and stick out among the noise of a traditional social media page.
Take, for example, the Logo Garden logo design. The company itself specializes in allowing customers to design their very own brand logo. But the logo for the company is eloquent. It follows all those simple attributes that make a logo excellent, iconic and memorable. And in the social media format, it is stacked and formatted in a cohesive and logical way. Professional graphic designers such as my favorite Garrett at Shobiz Media and Design is another great option.
Take Advantage of the Digital Format: Add Flourishes
On the opposite end of the spectrum, a great logo is adaptable. These logos have various forms and deviations that fit specific types of means. A simple logo fits for an online marketing ad; but on a T-shirt, a glorified and fantastical version of the logo is more acceptable. On a social media platform, a radiant and intricately layered logo could help tremendously. Consider the fact that a logo on social media is not limited by ink colors or ink print size. Facebook specifically allows users to post a cover. Many companies incorporate a more detailed logo into their cover design.
Guest post by: Steven Clark
Steve is a graphic designer who transitioned to being a work-from-home dad last year, after his triplet boys were born.