I tend to only think about cranberries when pairing them with
turkey
in a sauce, however these little fruits are quite delicious and a powerful form of antioxidants.  I really enjoy the combination of cranberry and almond in these muffins.  I didn't make these very sweet so if you prefer a sweeter muffin you may want to increase the sweetener.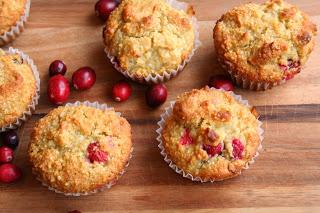 Ingredients
(makes 10-12 muffins)
1 cup ground almonds/almond flour
1/4 cup coconut flour
1 tablespoon psyllium husk
1/2 teaspoon sea salt
1/2 teaspoon baking soda
3 eggs
1 teaspoon gluten free vanilla
1/4 cup water 
1/3 cup honey or other natural sweetener
3-5 drops liquid stevia
1/3 cup grapeseed oil
1/3 cup fresh cranberries
Directions
Preheat oven to 325 F and prepare muffin pan.
In a mixing bowl combine eggs, vanilla, oil, water, stevia and honey.
In a separate bowl, combine almond flour, coconut flour, psyllium husk, sea salt and baking soda.
Add flour bowl to egg mixture stir just until blended. Fold in cranberries to the mixture or scoop batter into muffin pan and then add the cranberries on top.
Bake 20-25 minutes or until inserted toothpick comes out clean.