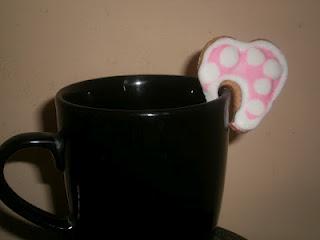 You wanna make your favorite cup of coffee more enjoyable??? Place this dainty cookie on the rim of your cup!I saw them here!
I lurrrve to make something  which is not run of the mill stuff and I found these cookies perched on the edge  to be quite unique and cute! Its a regular cut -out cookie in a heart shape which is by the way  perfect for Valentines Day!The only thing that you will require is a cookie cutter in a shape of I.
This recipe for cookies is by Nigella and you dont need to adapt or make any changes,since her recipes are somehow purrrrrfect!!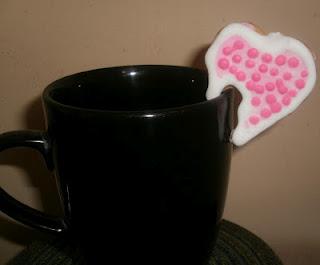 Cut-Out Cookies
Add Timer
Ingredients
Cookies:
6 tablespoons soft unsalted butter
1/2 cup sugar
1 large egg
1/2 teaspoon pure vanilla extract
1 1/2 cups all-purpose flour
1/2 teaspoon baking powder
1/2 teaspoon salt   
I
1
Combine dry ingredients together-flour,baking powder and salt.
Cream the butter and sugar till light and fluffy,beat in egg and vanilla.Add dry ingredients and mix slowly.
Form into a disk, in plastic wrap, and let it rest in the refrigerator for at least 1 hour.
Roll it out to a thickness of about 1/4-inch . The easiest way I find is to roll it in between two plastic sheets!Cut into a heart shape with cookie cutter, and using your "I" shapped cutter cut the slot out.
If not using the above recipe then you may want to freeze the dough for a few minutes before baking it as the dough may tend to expand during baking process.Should that happen,while your cookies are still hot, you can re-cut them.
Place the cookies a little apart on  parchment or silpat lined baking sheets.
Bake for 8 to 12  minutes,
at 180C, 
the cookies are done when the edges turn golden and the middle is slightly soft but set while they cool.
Royal Icing
 1 egg white
1/2 t lemon juice
2 1/2 cups of confectioners sugar
Food coloring
Beat egg white and lemon juice.Gradually add confectioners sugar mixing well after each addition.Whisk till you get stiff peaks.Add color.Decorate your cookies!Eat!Enjoy!