You all know about my Pinterest obsession and this weekend, I made two recipes that I found there. I'm going to post both recipes because they both turned out well, but I thought I would do the easy one first.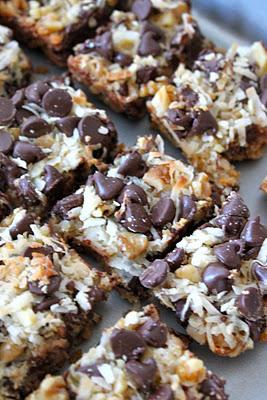 recipe link
On Pinterest, they're called Magic Cookie Bars, but I've also heard 7 layer cookies. 


Ingredients

1/2 cup butter, melted




1 1/2 cup graham cracker crumbs




1 (14 ounce) can Eagle Brand Sweetened Condensed Milk




2 cups semisweet chocolate chops




1 1/3 cups flaked coconut




1 cup chopped nuts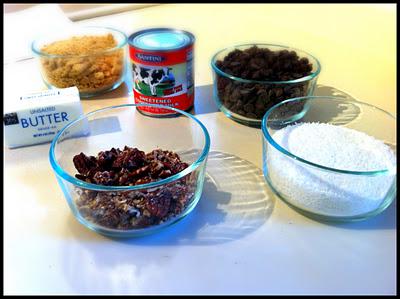 This was the easiest recipe ever - You basically just layer everything :)


Preheat over to 350 degrees Fahrenheit.  Coat a 9x13 baking pan with no-stick cooking spray.




Combine the graham cracker crumbs and butter. Press into bottom of prepared pan.  Pour sweetened condensed milk evenly over crumb mixture.  Layer evening with chocolate chips, coconut, and nuts.  Press firmly down with a fork.  Bake 25 minutes or until lightly browned.  Cur into bars or diamonds.  Store covered at room temperature.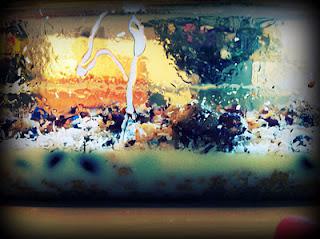 Can you see the layers???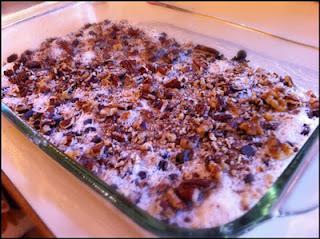 Voila!
Next time, I will use more graham crackers to get a little more stability in the cookie. When I cut it, it was a tad bit mushy. I also used shaved coconut vs shredded coconut because that's what I had. In the future, I will use the shaved because I think the consistency will work more nicely with the layers. I used Pecans and Walnuts for the nuts and they were delish. I took this to my grandfather's 80th birthday and everyone ate them!