We all know my love for skincare is right up there with my love for makeup. I actually got my Esthetics license so I could focus more on makeup but ended up falling in love with all of the services an Esthetician performs.
I have mentioned this before but I've been taking very good care of my skin all of my life. I Love Skincare! I don't know any other way! I actually look forward to my Sunday nights where I give myself the "treatments" and pamper myself. I do exfoliate & use a masque during the week as well but Sunday is my day to go all out.
I was introduced to Control Corrective products last year during one of my Beauty Army selections. I put together a kit special for my Mom and in it, I chose the Control Corrective Botanical Soothing Cream SPF 30. She loved it!
Read about my selections for that month here---> *Beauty Army March 2012 Kit*
The brand established in 1997 & it's products have been featured in magazines world wide--> Press
Fast forward to today & the company was so sweet to send me some products for my review!!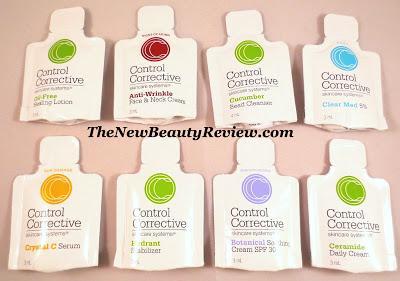 I wanted to try everything before I gave my review so I finally finished it all last week :-)
I'll go over everything in order so you can follow by skin care needs. 
Everything is labeled by color.  The

Green

products are for ALL skin types. It's their "Core Collection"
*Cucumber Bead Cleanser* ALL Skin types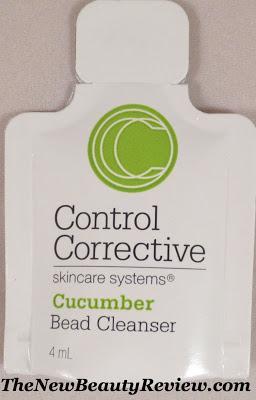 The first thing that I noticed was the sweet scent of this scrub. I don't like the straight smell of cucumber, I prefer it sweetened. This was sweet but not overwhelming, it remains fresh. The scrub itself is gentle as it contains tiny polishing beads, which I demand in a product if I'm scrubbing my face with it! Lol!  This can be used day or night & it's technically a cleanser  but I used it as a light scrub as well. It can be used as a 3-in-1 because it's for the face AND body. It's phenomenal!  After use, my skin felt thoroughly cleansed and polished. It wasn't tight, dry or left with any residue of makeup. I highly recommend this!!!  Main Active Ingredients: Cucumber & Grape Seed oil (a powerful, water soluble antioxidant)
*Hydrant Stabilizer* ALL Skin Types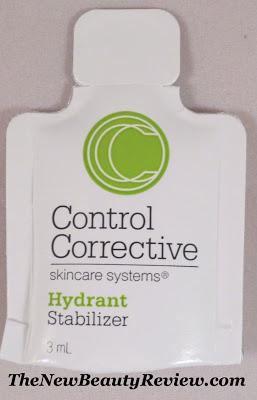 This is the kind of product everyone needs in their skincare cabinet! It's an oil-free gel so that means it's good for everyone to use. If you have dry, oily or normal skin we still ALL need hydration! Our skin can never have enough. It's weightless but you can definitely feel the difference after you put it on.   It feels like your skin just drank a glass of water, or 2. Lol! It's almost like a gel toner because it leaves my skin feeling plump & perfectly moist after use. It has the same light, pleasant scent as the Oil-Free Heeling Lotion. I would also recommend putting this in the refrigerator & using it cold because it's aloe based. In my opinion, and it's been my experience, anything that contains aloe works best cold. It will add an extra soothing and calming feeling to your skin. This would be great for someone with Rosacea as well! I used this after the Cucumber scrub & before my moisturizer for extra hydration. I would take this with me when traveling and pat some on my face to give my skin a "pick me up" Also good for a Makeup Artist kit. This is great for year round use!  Main Active Ingredients: Aloe, Chamomile, Arnica Montana Flower Extract, Salvia Officinallis, Panthenol & Allantoin
*Oil-Free Healing Lotion* Normal/Oily Skin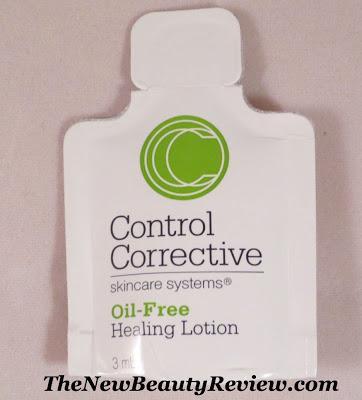 The texture of this lotion is lightweight so I recommend this for anyone with oily skin because it won't feel greasy/heavy but you will definitely feel hydrated. It's also calming so I'd suggest anyone with Rosacea putting this in the refrigerator & using it cold for extra soothing on the skin.  My skin is normal & certain times of the year it can feel dry but this worked really well for me. It's not something I'd personally use as a night cream because it's not heavy enough but it's perfect for daytime. It has a very light fresh scent, not irritating at all. It's a really well balanced lotion! Main Active Ingredients: Vitamin E, Vitamin A (Retinyl) Panthenol & Allantoin

*Ceramide Daily Cream* Normal/Dry Skin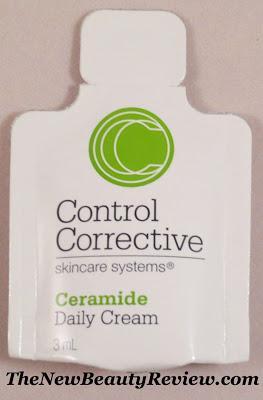 This silky moisturizer is a step up from the Oli-free Healing Lotion in terms of texture. It's definitely heavier but still not greasy or too thick. This is probably the best cream for me to use all around. It doesn't smell like anything in particular but still has that fresh scent that the other products have. This is good for day and night (it does not contain SPF) It's a hydrator as well as a moisturizer! The Ceramide 3  helps to trap & lock in moisture so your skin feels flexible, which I love! Main Active Ingredients: Ceramide 3, Aloe, Safflower Seed Oil & Vitamin E
*The 

Red

labels Control Signs of Aging.

*Anti-Wrinkle Face and Neck Cream*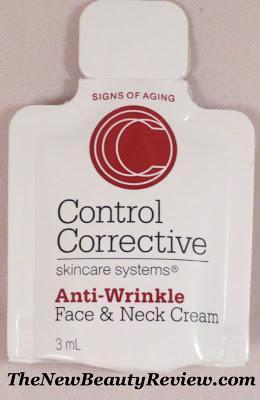 This smooth & silky cream is so good, I cut open the sample and wiped up every last drop of it before discarding the container! Lol! I have no shame when it comes to my skin care, sorry not sorry!  :-) I love anything that will target the neck area because it's an important part of your routine, or at least it should be. This will assist in combating the appearance of fine lines and/or wrinkles. It's very moisturizing and can be used day and night. This is something I'd use in my Makeup kit on clients who have these concerns. It's always good to have specific skincare in your kit for clients with different skincare needs.  Main Active Ingredients: Palmitoyl Tripeptide-3, Lactic Acid, Kojic Acid Dipalmitate, Licorice Root Extract, Hyaluronic Acid & Hydrolized Collagen/Elastin

*The

Yellow

labels Control Sun Damage.

*Crystal C Serum* All Skin Types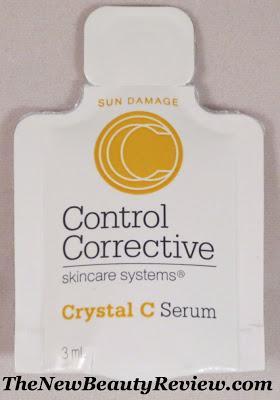 This is also a product everyone should use! It's a busy product in the sense that it conquers a few areas of concern at once. It repairs, brightens, illuminates, revitalizes, evens out AND firms skin. If your skin looks dull, tired or lackluster this is for you!  It's listed as "a therapeutic daily vitamin" for tired skin and it definitely lives up to it's reputation. I noticed when I put it on that my skin looked somewhat flushed & naturally even, as if I'd used tinted moisturizer to even it out. The scent is not strong but to me smells like concentrated OJ. Lol! It's not unpleasant or strong but it is slightly scented. It smells like this Vitamin C chemical exfoliant I used to use, which I loved! Either way, I used this Serum after classing and before moisturizing. I like how it feels on my skin, like a barrier protecting it. Main Active Ingredients: Vitamin C, Chamomile Flower Extract, Sodium Hyaluronate & Japanese Green Tea Leaf Extract.


*The

Lavender

labels Control Sensitivity/Redness

*Botanical Soothing Cream-SPF 30*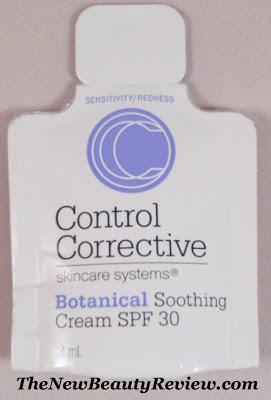 As I mentioned just before, this was actually the first product I got from Control Corrective. I gave it to my Mom because it's supposed to calm, sooth & hydrate the skin while protecting it from sun damage. Anyone can use this (as long as you are not sensitive to SPF)  It's target client is someone with Rosacea, sensitive and/or inflamed skin. I love products that take into consideration the need to protect your skin from the irreversible damage of the sun. It's unscented and keep in mind you don't have to have sensitive, inflamed skin to use this. It's a great moisturizer w/SPF. This is great for everyday use! Main Active Ingredients: Vitamin E, Wheat Germ Oil, Honey Extract, Allantoin, Octinoxate (6%) Octisalate (5%) & Oxybenzone (3%)

*The

Blue

 labels Control Acne

*Acne Treatment Cream* Normal/Oily Skin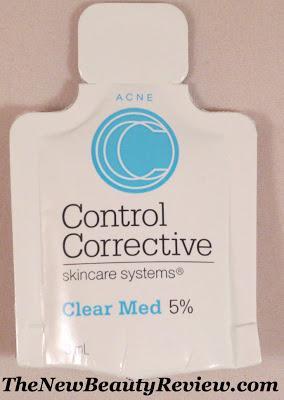 I will start by saying I don't have acne and rarely get blemishes but when I do I want them gone immediately! Lol! I was getting what looked like the start of a blemish and I dabbed some of this on it and it took it down soon after. This will break down oil & kill bacteria while calming any inflammation. It advises you that some flaking will occur which is not uncommon when using products like these.  This little blue wonder targets acne, acne prone and oily skin. Because I don't have any of that I will use this to spot treat just the same. It's always good to have something like this on hand because skin can be unpredictable. People literally wake up with a blemish! Our skin changes over time due to hormones and that can cause all types of new issues to arise at any given time. As a Makeup Artist, this is something I'd keep in my kit and use on clients that have acne or irritated skin before a makeup application because it kills bacteria, sanitizing the skin. Main Active Ingredients: Benzoyl Peroxide (10%) & Sulfur (3%)
*NOTE: This product is not for sensitive skin and if you have cystic acne, please consult with your dermatologist before trying new products. 
This entire line is extremely affordable with products ranging from $9-$96 for individual items. Kits are  $75-$120 but you get a LOT of product. 
I like how the products are broken down into specific categories. I have used skincare lines in the past that are too jumbled up. They need mixing and it gets complicated. This is clear and lets you know exactly what product works for that certain skin type. I love how focused it is!
Their website if filled with skincare tips, how to videos and great tools to manage your skin maintenance. It's definitely worth checking out!
Contact info: (Click these links to be directed right to their sites) ControlCorrective.com  Youtube Facebook Twitter
If you want to try the products you can also sign up for Beauty Army They are responsible for so many of my amazing product discoveries :-)
All in all this is the kind of line I'd want to use on clients in a spa. I'd feel confident knowing that all of their skincare needs have been met and that they can continue to care for their skin properly at home as well. I would also stock my Makeup kit with this line because again, there is something for everyone who sits in your chair.
Keep it Prettie! *Stephanie*