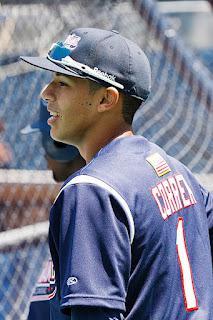 Photo: AP Images
- Troy Ballard
The last time Houston had a first round pick, the team elected to pass on Derek Jeter and selected Phil Nevin instead -- the Astros learned from the mistake and drafted the explosive shortstop Carlos Correa with no sure-fire safe pick on the table.
Despite being relatively quiet going into the draft, Correa is certainly not lacking praise from scouts and coaches alike. One scout in the AL went as far to claim that he is 'like A-Rod.'
Keep in mind -- this kid is 17-years-old.
Possibly more impressive than being the next Alex Rodriguez with a clean slate, is that Correa is the highest overall player drafted from Puerto Rico in MLB history. With his selection he was able to jump past Ramon Castro, a Puerto Rican countryman that was also drafted by Houston that previously held the position with his 17th overall selection in 1994.
For Houston, the team has continued a massive youth movement overhaul to re-energize and re-tool a deflated roster.
And Correa is a great place to start.
The right-handed power hitter dazzled scouts with amazing plate discipline, sharp defense, a powerful arm and an incredibly hard work ethic. Correa was being eyed by multiple teams with top picks, and if Houston passed on him, he wouldn't have fallen that much farther down the board.
In comparison, Mark Appel, the lights out pitcher from Stanford who was flirting with being the top overall selection, bounced all the way down to the eighth spot with the Pittsburgh Pirates. Another possible choice was the highly touted outfielder Byron Buxton from Georgia -- and with all the hype he didn't slip past second overall where the Minnesota Twins scooped him up.
Correa will likely start out his career in the minor leagues as a shortstop, but when he ultimately breaks into the big leagues, scouts project he will be moved to third base (this A-Rod thing is starting to seem legit). Another comparison that has been tossed out is Hanley Ramirez, who was just bumped to third base this season.
Given the struggles of Houston in recent memory, this selection is what many hope is the turning point for the franchise. Although Correa isn't the safest bet -- as mentioned earlier -- scouts and front offices said the exact same thing about Derek Jeter.
Think of it as a high-risk high-reward selection.
If Correa can even develop into half the type of player that The Captain is, the pick was an outstanding success. The unfornaute part is that as fans, we likely won't see CC for at least a season, and possibly even beyond that as he is still so young.
On the same token, the Washington Nationals pushed their first-overall selection Bryce Harper into a baptism of fire at 19, only one year after he was drafted, and thus far it has been dynamite. It's possible that the Astros will feel the same way about Correa, and he'll be making his MLB debut sooner rather than later.
On behalf of Beard and Stache -- congratulations Houston and Carlos, and welcome to MLB and good luck in the new era.
Be sure to follow Beard and Stache on Twitter @BeardAndStache, and also Troy @TroyBallards, Like our Facebook page HERE!