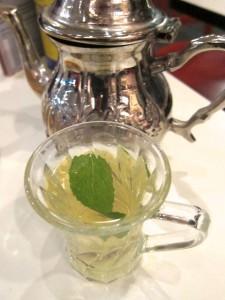 Fresh Mint Tea
Le Comptoir Libanais
SohoHaving enjoyed a pomegranate tea at Le Comptoir Libanais, Wigmore Street in September, I was pleased to discover they have a new branch at a more central location in Soho.
Broadwick Street is close to Carnaby Street, Regent Street and Oxford Street but tucked away off the beaten track so a good place to know to get away from the crowds.
This time I was looking forward to trying the fresh mint tea. Served in a traditional silver teapot and a pretty glass, it was perfect with my honey-sweetened pastries.
The same silver teapots, brightly coloured baskets and exotic ingredients line the shelves. Tins of harissa, Turkish delight, all kinds of pickles and tins of tea all in wonderful packaging are on sale. Painted wooden chairs and bold geometric tiles create a vibrant Middle Eastern style cafe interior.
Le Comptoir is in a spacious corner location. There are some very trendy, but tiny, cafes nearby. Fine for coffee drinkers in need of a quick fix, but enjoyment of tea is a more leisurely affair, better for a bit of space and a window to watch the world go by.
I have eaten here a couple of times and love the food. Freshly prepared with lots of vibrant flavours. There is an all day menu – Le Comptoir is open from 8am-11.30pm so you can pop in for breakfast or lunch, or for a more leisurely dinner in the evening.
Le Comptoir Libanais also have a branch at South Kensington so handy if you are visiting the museums.

---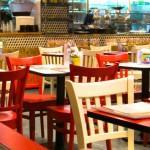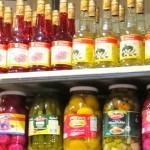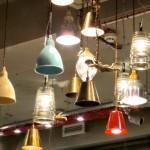 ---


Price of a Cuppa : Fresh mint £2.45, other types £1.95 (Jasmine, pomegranate, English breakfast, Earl Grey etc.)

Leaf or Bag : Fresh mint, and leaf tea

Crockery : Silver pot and tea glass

Music : Arabic pop

Service : Efficient and friendly

Food : Very good – Mezze, falafel, wraps, salads, yoghurts, baklava.

Kitty says: Gorgeous food, great tea, spacious corner location
Address: 59 Broadwick Street
Soho
London W1F 9QH
Website: Le Comptoir Libanais
---
You may also enjoy: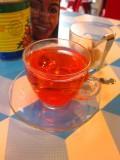 Comptoir Libanais
Wigmore Street

Momo Cafe
Heddon St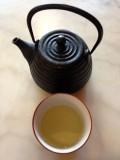 Camellias Teahouse
---