I'm going to brag on my amazing husband for a minute, OK? He recently received an amazing promotion at work, and I am so proud of him and all that he has accomplished, and continues to accomplish at his job. This promotion was truly an incredible achievement. Hurrah! Go Michael!
This promotion has brought with it a lot of new amazing experiences, interesting changes and a ton of travel. His previous position pretty much kept him home-bound in his home-office, and he didn't have much in the way of actually visiting with clients, since all of the work he was doing was via phone and email. Now, he's on the road a lot, meeting with partners, customers, clients and other people. This clearly meant that he needed to up the ante with his professional wardrobe. He really didn't have much of one before.
We started beefing it up with the likes of Banana Republic and Brooks Brothers. While Brooks Brothers and Banana Republic are always great and of excellent quality, the clothing also came with a pretty hefty price tag. In our hunt for affordable, attractive and great quality clothing for him, we continued to run into the fact that the majority of clothing stores offering stuff for a young professional man were unpredictable, priced too high for what you were getting, and unreliable in terms of quality.
So what's a young professional man to do when it comes to finding high quality, stylish, comfortable and versatile suits, button-downs, sweaters, ties and other such items in this uncertain world of crap clothing and high-priced commodities?
Turn to Facebook, apparently. That's just where my husband found an ad of gold on a sidebar. Let me explain…
Michael came to me one day a few weeks ago with his computer in tow, eagerly showing me his new find: Combatant Gentlemen. What we found after doing some research on their site, along with review videos on YouTube and blogs, was something incredible.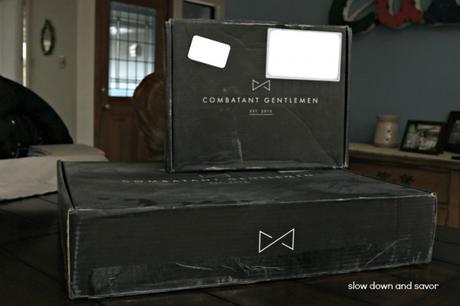 First of all, Combatant Gentlemen, founded in 2012 in Irvine, CA, is REALLY affordable. Like… REALLY. They're selling their tailored suits in different styles and fabrics, handsome button downs, soft sweaters, classic and fun ties, comfortable jeans and more at insanely low prices. I was a bit concerned at first. I mean, how can something so "good" be so – for lack of a better word – cheap?
Well, they have their own sheep. Say what? Yes. They have their own dang sheep.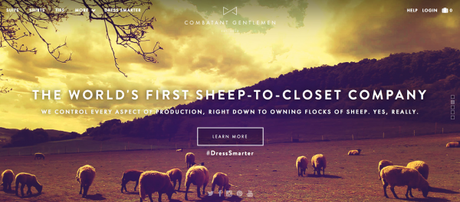 The guys behind Combatant Gentlemen ACTUALLY do own a flock of sheep (67 and counting) that apparently live out in the hills of Biella, Italy where their fabrics are born, raised and cared for. Combatant Gentlemen is all about awesome quality control, and cutting out the middleman which in turn cuts out any extraneous costs that would ordinarily cause that awful mark up that most suits come with. How cool is that?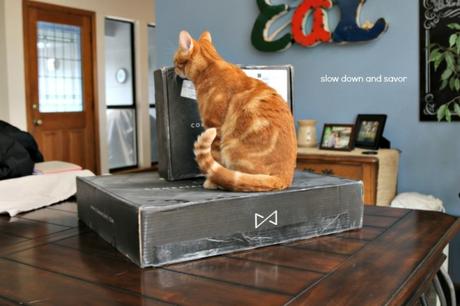 But the fun doesn't stop there. One of CG's founders and CEO, Vishaal Melwani, is a third generation tailor who grew up in Las Vegas, with roots all over the globe. According to a really great interview I read given by Vishaal, his father and mother immigrated here from Hong Kong with the American Dream fresh in their eyes and hearts, and his father actually ended up making friends and business partners with Gianni Versace. Yeah, THAT Versace.
Vishaal says, "I grew up in this weird couture high-end fashion world focusing on what's really going on around me. For more cumbersome work, my dad would bring me in and I would be his backup seamstress. I would do hems. I would alter clothing." How cool?
So one would be safe in saying that Vishaal knows his stuff, and having studied International Business at University of California, Irvine, he's got the know-how to be an unstoppable force in the fashion and textile industries.
On to the clothing!
Shopping on the CG website is a real breeze, and with a ton of different suits to choose from in 2 different styles, the hardest decision will be what color and pattern to get, especially once you find a style you like. You'll find it VERY hard to NOT purchase every single color and pattern in that style. I can see this being an addiction.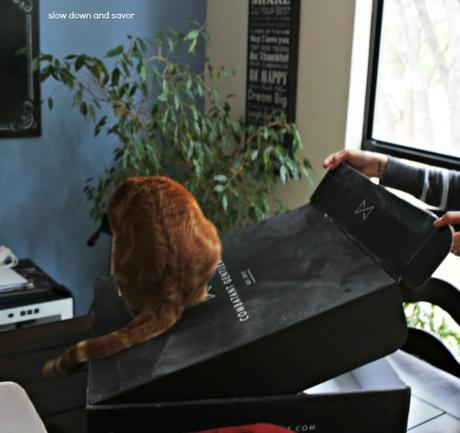 And as for the two different styles I mentioned, "The modern fit suit has a broader shoulder base and is more relaxed throughout the chest. The modern cut is recommend for men who are going for a more relaxed look. Customers with broad shoulders, large thighs and athletic builds gravitate towards this cut. This fit runs true to size. The slim fit suit has a slimmer shoulder base and is more tapered throughout the chest. The slim cut is great for men with tall, lean builds. This fit runs about a size small. It is highly recommended to size up 1 size in the waist."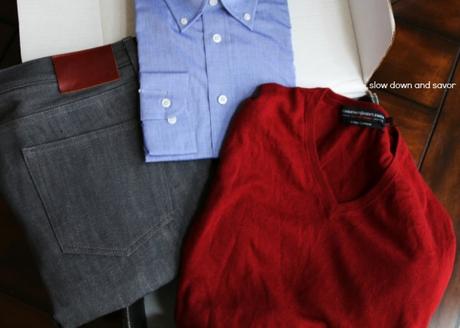 Once Michael picked out which of the Italian wool suits suited him best (har har har), he was a bit nervous. I mean, figuring out your size is a huge burden, especially when it comes to an online retailer. It's hard enough in real life at a brick and mortar storefront. But guess what? They make it REALLY easy for you at CG. They've got this handy-dandy little tool called a Fit Tech, where you answer a few easy questions, like how tall are you, how much do you weigh, neck size, and jeans size. They use the data you provide to give you a pretty dang accurate size for their suits.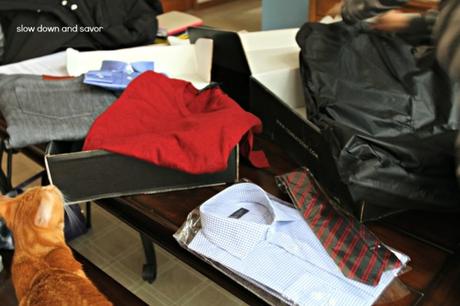 So once we discovered his size, and decided between the 2 different suit cuts, he made his decision. Unfortunately, they didn't have his perfect size in the pants for suit he fancied, but we decided he should just go ahead and get it anyway. All of the pants come unhemmed, so a tailor visit is a must anyway.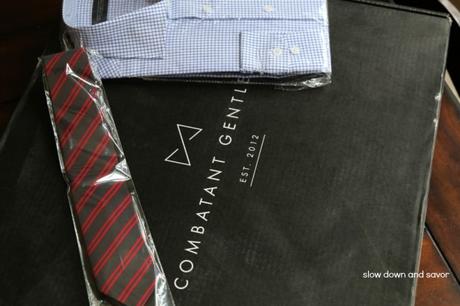 But you can't JUST get a suit, especially when the price tag was only $160. Yes. ONE HUNDRED AND SIXTY DOLARS FOR A SUIT. You've got to be out of your mind if you thought that's all he'd get. Out of your MIND.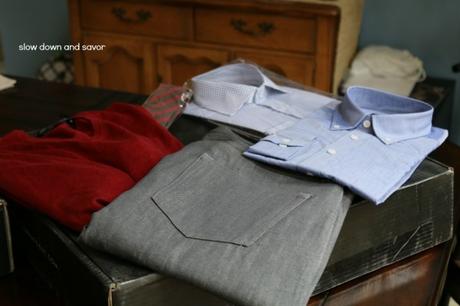 So in addition to the Navy slim fit suit , he also decided to grab two button downs ($40/each), a silk tie ($16), a handsome red cotton-cashmere sweater ($45) and a pair of slim-fit gray denim jeans ($70). So for the price he paid for ALL OF THAT STUFF, you STILL couldn't get a decent suit anywhere. It's amazing.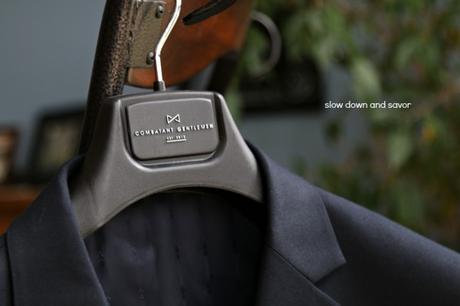 But how's the quality? Is it worth it?
Short answer: AMAZING! YES!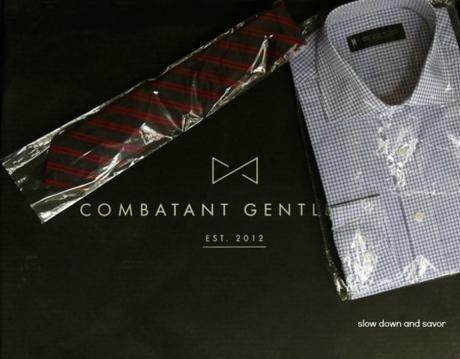 Long answer:
First let's talk about how everything came packaged. The boxes were handsome, they had a fun design on the inside, and everything was wrapped neatly and nicely, especially the suit, which came in a separate, re-usable garment bag. Awesome.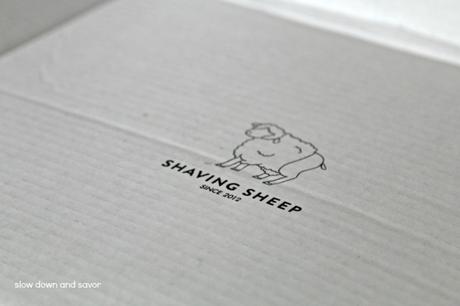 As for the suit itself, the construction of it feels and looks like it's done right, and honestly, it actually feels REALLY solid compared to any department store suit either of us has felt, or that he's worn.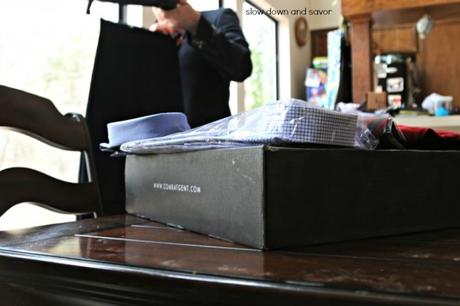 Since it is made of 100% Italian wool (remember those sheep grazing on the beautiful country side in Italy?) the weight of the fabric is just right. It manages to maintain serious substance without being over-bearing. It's light-weight, yet sturdy, and it's VERY attractive.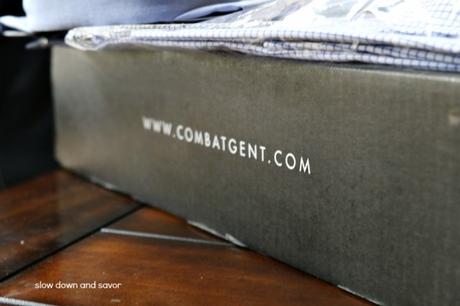 Yes, the pants were a bit too big, but like I said earlier, they need to visit a tailor anyway. But they looked good. And the suit jacket looked good too! Together they looked great, and paired with either one of the button downs, Michael looked like a million-trillion bucks.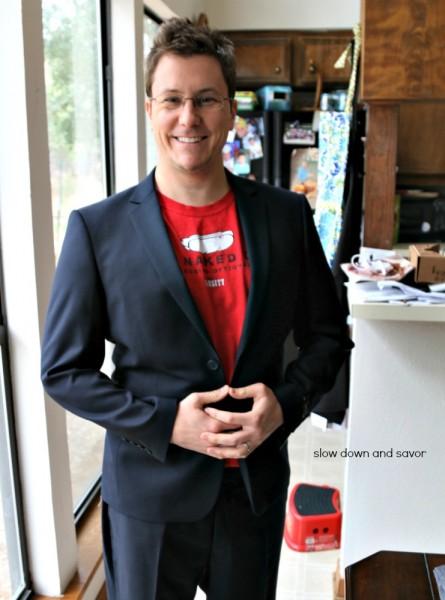 He said that the suit felt really comfortable on, and kept marveling at its breathability and possible versatility.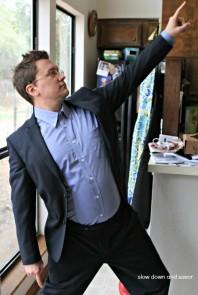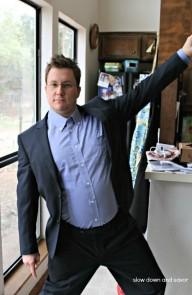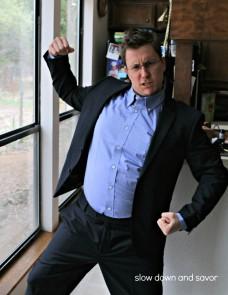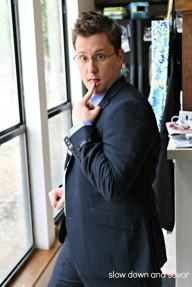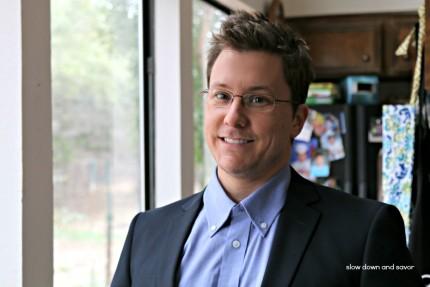 He could see himself wearing it and feeling confident in and out of meetings, as well as to happy hour or dinner. It's just one of those really awesome staples that he was missing in his closet, but now can't see himself without.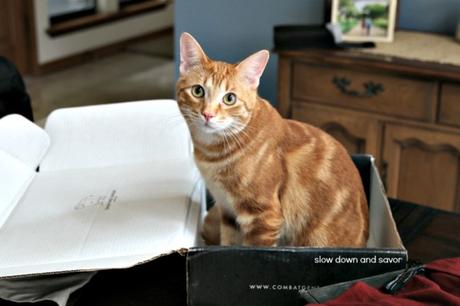 The shirts are pretty thin, but they look damn good on him, especially the blue gingham one. Yes, I like the light blue oxford just fine, but that gingham one… Oh wee! It looks awesome. And talk about versatility!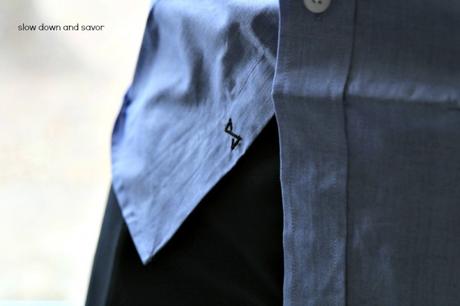 The shirts translate great from pairing beautifully with the suit, to the jeans he ordered as well. I love these slim gray Selvedge jeans, you guys. "After sourcing world-class raw selvedge denim from one of the finest mills in Japan, we cut, sew, and finish our denim in Los Angeles, California. It's hand-finished with blank copper hardware, hand-dyed thread, vintage twill pocket bags and naturally tanned Spanish leather back patch. Our light gray selvedge denim is incredibly versatile and easy to pair with just about any color, dark or light. Wear them, break them in, and make them your own."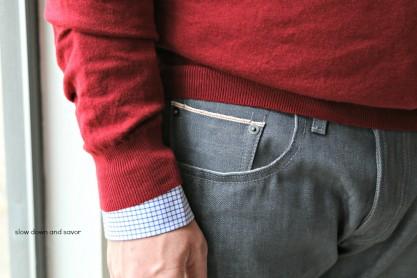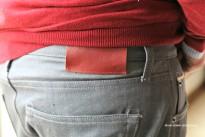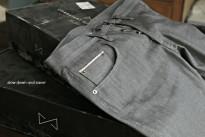 They're stiff, durable and heavy and absolutely perfect for travel. They look professional yet casual, and Michael absolutely loves the way they fit and feel, though they may need to visit the tailor as well to get the bottoms hemmed a bit.
The sweater is SO soft, and looks excellent on him, and pairs perfectly with the jeans for that laid-back and relaxed yet put-together look. It's so soft… Have I mentioned that before? Lord. I just want to rub my entire face all over it…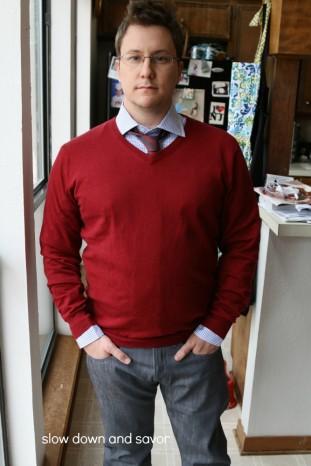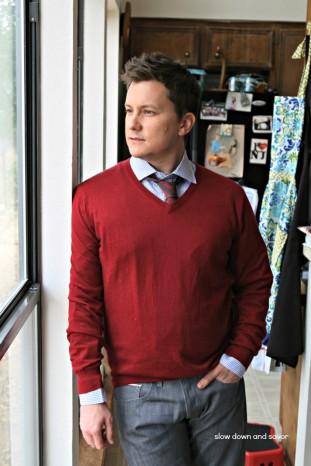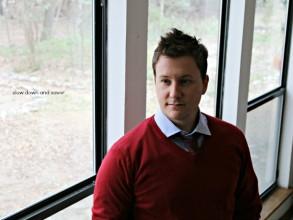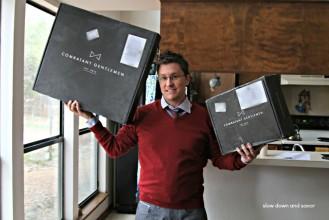 The last piece from this CG haul was the Striker Tie, a gray silk tie with red diagonal stripes. It's so classic, and a beautiful accent to the suit he picked out. I just am so happy with everything Michael received from CG, and I'm even happier because Michael is super happy with it. Those jeans have quickly become his favorites, and that sweater is just so soft and so handsome on him. He can't wait to get the pants fitted, and sport his suit like a boss.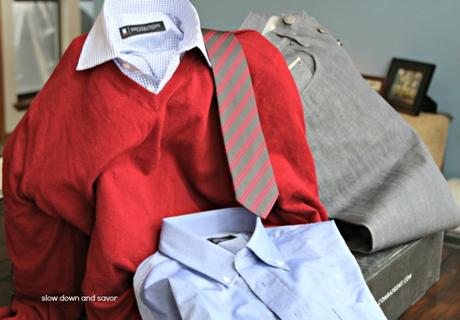 The final verdict? Basically, we find CG to be amazing for people like my husband who like to take a practical approach to their fashion choices, while still making sure that they look and feel great in what they're wearing. CG has proven to us and to countless others that their consistent quality, excellent service, reliable sizing, attention to detail and style are paramount. They give you way more than just value, but you also get a wide range of colors, sizes, patterns, and styles, and while you will need to visit a tailor to get that perfect "fits like a glove" fit, Michael and I both give CG two thumbs up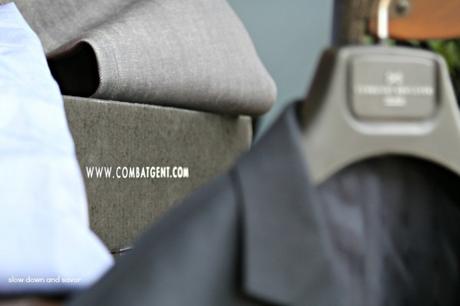 So thank you to Combatant Gentlemen for creating ultra affordable, professional and high-quality clothing that makes those who wear the gear look good, feel good and ready for battle in their everyday life! Michael is proud to be a Combatant Gentleman now, and I'm happy to see him looking so good, and feeling confident!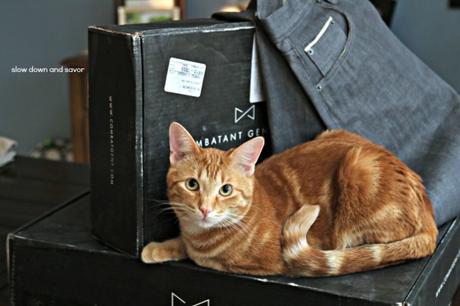 Have you ever heard of Combatant Gentlemen? What do you think? Ladies, introduce your men! And men, check it out. It's a must in our house now!
FTC- All items were purchased with our own resources. I don't accept money in exchange for positive reviews, and as always, all opinions are honest and 100% my own.