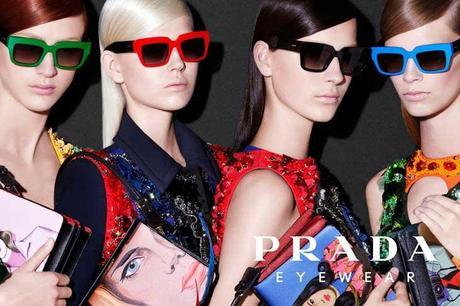 The recognised fashion brand, Prada, has presented its new eyewear Spring/Summer Collection 2014. In this way, the unmistakable Italian fashion has run a risk with its "Special Projects": Prada Voice for women and Prada Society in sunglasses for men. We are talking about two different and reformist models in which are combined new trends and style with a vintage touch.
The classical quality as starting point, the persistent innovation in its designs along with a traditional base and a colorful explosion, are some of the characteristics that this new collection includes. Without forgeting, on no occasion, the elegance and strong identity of an own style founded by Mario Prada in 1913.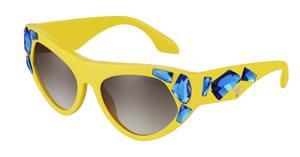 Referring to the bet by Prada Voice for women, it is reflected a clear bold and independent spirit from the collection. Extravagant shapes, intense tones or even, colorful stones with variable style, figure out the Prada's secret in every female collection: the strong personality of a woman in society. This collection, which is limited, is consisted by six sort of glasses made with acetate; five of them are sunglasses and one of them to test.
Some of the frames are an obvious inspiration of Cat Eye, that provides too elegance to a female face. Others, for instance, are more inspired by the 50's, including a contemporary aspect.
However, in this new Spring/Summer 2014 (Prada Voice) what is really interesting is the risky choice about colours and its brilliant tones, including: Mint colour, Tide colour, Red Lacquer and Sunflower colour. They are combine with stones in the colour range of blue and orange perfectly.