Hey everyone!
Today I'm reviewing the
Coloressence Waterproof Lip pencils
which I bought recently from Jabong.
Price : Rs 225
Quantity :
Buy online at Flipkart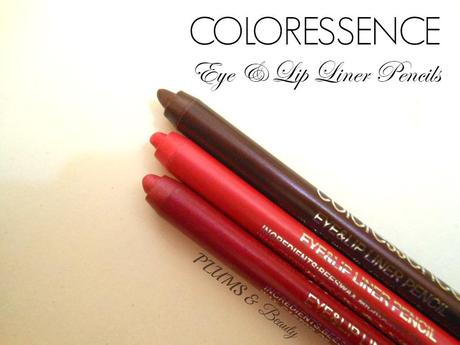 Coloressence Waterproof Lip Liner Pencil Wine Shine, Fuschia Pink, Purplish Rose Review, Swatch, Price
My experience with the product
Coloressence lip liners are plastic pencils that are very difficult to sharpen - not like the usual wooden pencils like the Bourjois, Faces and Lakme ones that sharpen easily in a clean manner. The body of the pencil are colored - easy to locate. The sharpener comes free with each eye and lip pencil.The texture of the lip liner is a little dry because it's completely matte so make sure you have prepped your lips before and also apply lip balm for better application. After applying lip balm beneath, it easily spreads on lips without tugging or pulling. I line my lips using this and it helps in lining perfectly due to the sharp tip. I also fill my lips with it as the texture is not very dry and it feels comfortable when applied all-over. It increases staying power of lipsticks for 2 more hours which is perfect. Even if the lipstick is faded, the lip-liner stays as a stain and you are not left with bare lips. It also prevents creamy lipsticks from bleeding to a great extent but not completely. 
P.S. - I haven't used them on my eyes - so no comments.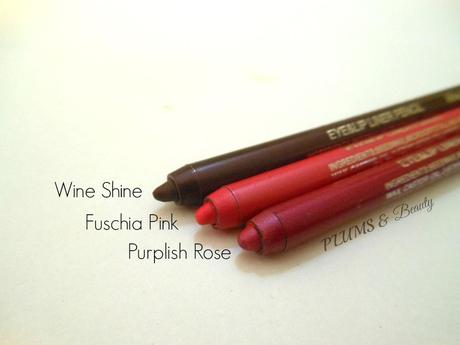 Coloressence Waterproof Lip Liner Pencil Wine Shine, Fuschia Pink, Purplish Rose Close up, Review, Swatch, Price
Wine Shine is a deep plum toned berry pink. The shade is quite lovely and if you want to try a darker lip without going overboard, this can work nicely as a stain. It would pair well with berry/wine lipsticks. I love wearing this all over the lip topped with a sheer plum/pink gloss for a day-time wearable deep lip paired with black liner and mascara.
Fuschia Pink is a gorgeous bright pink with warm undertones. The color is gorgeous - very intense and the matte finish adds to the depth of the pigment. 
Purplish Rose is a blue based pink with cool undertone. The shade might flatter on fair to medium complexion but look OTT on darker skin tone. 
Overall, all the four shades are completely different from each other and would flatter on almost every complexion. Do give this a try if you are on a lookout of budget-friendly lip liners.
Rating : 3.75/5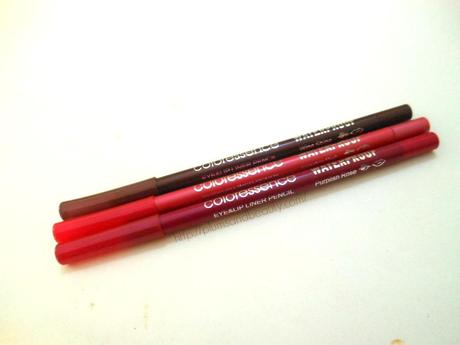 Coloressence Waterproof Lip Liner Pencil Wine Shine, Fuschia Pink, Purplish Rose Review, Swatch, Price & Buy Online India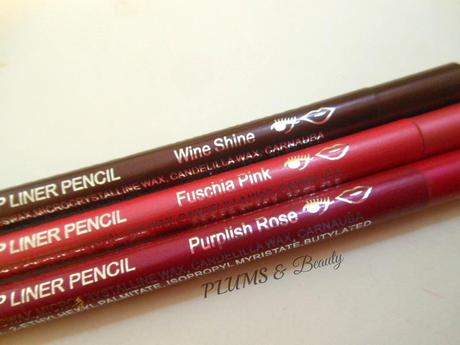 Coloressence Waterproof Lip Liner Pencil Wine Shine, Fuschia Pink, Purplish Rose Review, Swatch, Price & Buy Online India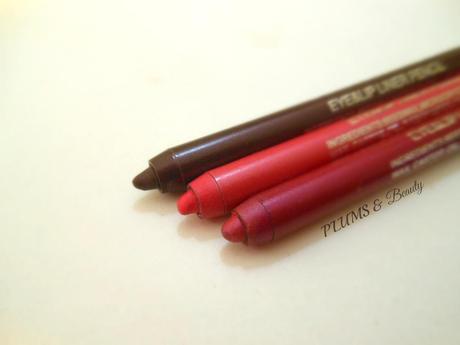 Coloressence Waterproof Lip Liner Pencil Wine Shine, Fuschia Pink, Purplish Rose Review, Swatch, Price & Buy Online India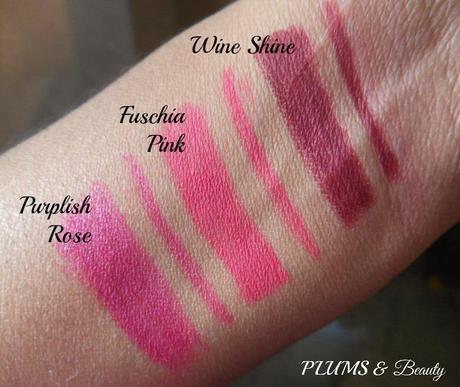 Coloressence Waterproof Lip Liner Pencil Wine Shine, Fuschia Pink, Purplish Rose Swatches