Colorbar Angled Angel Eye Defining Brush | Angled Eyeliner Brush
Hey everyone, today I am going to be sharing my review on this angled eyeliner brush from Colorbar. I really did not need these, I have far too many angled brushes in my kitty, but I picked it up because, it is a must have brush in a vanity so its ok to have multiples of it ( my excuse) and also from the price point I thought not give it a try, if it works fine if it doesnt at-least its not drilling a hole in my pocket.
Price : INR 250/-

Colorbar Angled Angel Eyeliner Brush
So as I said an angled eyeliner brush is a must have brush in your beauty arsenal, it is a multitasking brush, you can use it for various purposes, and I love such products and applicators where you can make the most use out of a product/brush.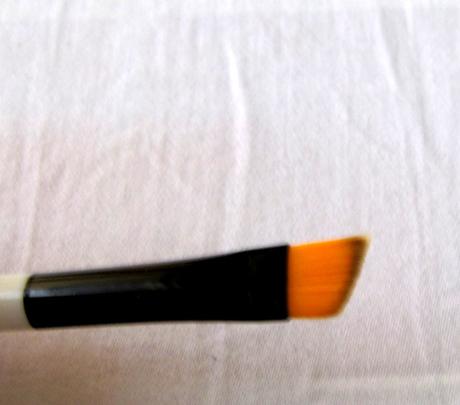 Colorbar Angled Angel Defining Brush
The different ways you can use an angled eyeliner brush due to its unique angle and precision of application are
* Applying a winged or cat eyeliner, it does half the work for you as when you place it at the corner of your eye flicking it upwards because of its angle and length it creates the wing for you.
*Filling your eyebrows. Though this brush is not ideal for filling your brows as its a little big I feel for that purpose, but you can still work around it , just make sure to pick a little product at a time.
* Cleaning up your eyebrows/ applying concealer around your eyebrows: By cleaning up your brows I dont mean shaving them off..hahaha..what I mean is once you have filled your brows, this brush is perfect for applying a concealer underneath and above your brows to clean up the brows and give it a finished look, a synthetic angled brush id perfect for that.
* The same way this brush can be used around the lip area, when you apply dark bold lipstick you can take some concealer on this brush and apply it around the edges of your lips for sharper more crisp and clean looking lipstick, a concealer brush works just fine but it may not be able to give a precise application as this brush would.
* Applying your eyeshadow as liner : When you want a more softer look for your liner and you apply eyeshadow this is your best brush for that purpose as opposed to a skinny eyeliner brush.
So you see you can get a lot of use out of an angled brush. That being said the Colorbar brush is not the ideal and ultimate brush for this purpose, it lies somewhere in between,the quality is okay but front he price point I cant really complain. I just wished it to be a little more stiff and little more thin. Colobar brushes do not shed and lose their shape after drying which is a major plus point.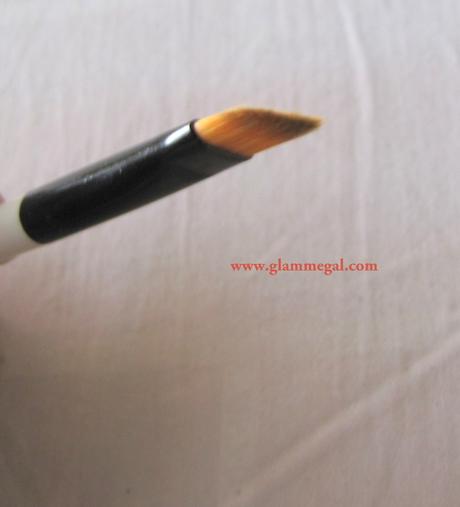 Colorbar Angled Angel Eyeliner Brush
I f you are on a budget or a makeup beginner who doesnt want to invest too much into makeup brushes now then do go ahead and get this one you. You will get plenty of use out of it.
Related
You Might Also Like
ELF BLUSH BRUSH REVIEW 4 IN 1 BRUSH
Faces Metaliglow Eye Primer Review
LORAC PRO PALETTE REVIEW, SWATCHES, MAKEUP LOOKS AND MORE
LOREAL COLOR RICHE LIPSTICK 290PLUM PASSION REVIEW, SWATCHES AND FOTD
COLORBAR VELVET MATTE LIPSTICK PEACH CRUSH REVIEW, SWATCHES
GIA BATH AND BODY WORKS OATMEAL MILK AND HONEY SOAP REVIEW
Save While You Decorate Your Home This Diwali with Zoutons
PRETTY SECRETS REVIEW AND SHOPPING EXPERIENCE
Tags:
angled eyelienr brush review, beauty blooger in India, budget makeup brushes, cheap makeup brushes, colorbar angled angel eye liner brush review and price, colorbar makeup brushes, Indian beauty blogger, makeup brush India, makeup brushes, makeup brushes for beginners, makeup brushes review India, review