Hello everyone!
I hope you're all having a fantastic day! Today I have a review of three hair products that I recently was able to try out: Alterna Life Solutions Clarifying Shampoo, Rusk Deepshine Oil Treatment, and a Conair hairdryer.
I'll start out with the hairdryer!
This is the Conair Translucent Turbo Hairdryer: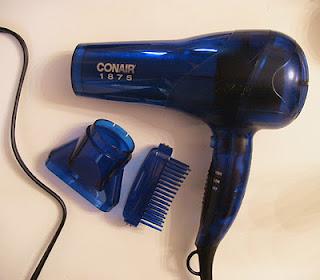 It comes with the hairdryer and two attachments, a diffuser and a straightening pick.
This hairdryer is absolutely awesome. I'm generally not too picky with hairdryers, but this has really blown me away! (pun not intended) :p To be honest, the reason I chose this one was because it costs just $16.99! For under $20, I wasn't expecting anything special, but seriously, this is so much better than I expected.
It comes with 3 heat settings: a cool, warm, and hot, two speeds: high and low, a cool shot button, and the two attachments. For under $20, that's seriously a deal! The cool shot button is especially useful for setting hairstyles, and I love the diffuser attachment to blowdry my hair with a round brush. It's not too heavy, and honestly, I really have no negatives about this product. I still can't get over the fact that it was only $16.99. Highly recommended.
Next up we have the Alterna Life Solutions Clarifying Shampoo!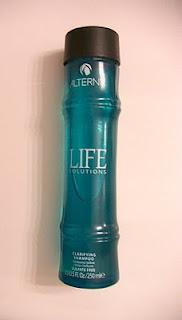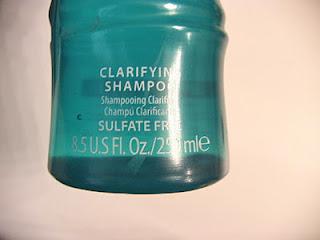 For those of you that don't know, a clarifying shampoo is a shampoo that is specifically used to remove product buildup. After a while, products like hairsprays, gels, grime, and oils can build up on your scalp, and it can really weigh down your hair. A clarifying shampoo should remove all that and make your hair extra fresh and even add a little bit of volume.
Unfortunately.. I wasn't a fan of this one. First off, this shampoo has somewhat of a weird consistency. It's not quite a liquid; its almost more like a gel. The worst part is though, after lathering and rinsing my hair still doesn't feel quite clean! It still has kindof a grimy feeling to it, like the shampoo didn't really wash anything away. Another thing that might be worth pointing out was the smell. It literally smells like a men's cologne or after-shave. It's not super strong, but I did notice it. After I washed it out though and my hair dried, I couldn't smell it anymore. 
Not my favorite product, and at $24, I would not repurchase. :/
And lastly, we have the Rusk Deepshine Oil Treatment!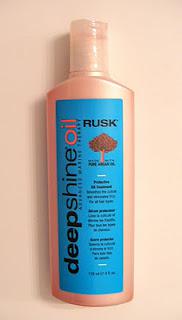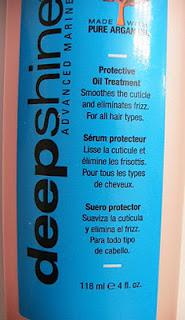 This product really caught my eye because I had been looking for a hair oil/treatment for that extra bit of TLC my hair needed to stay smooth and silky, and I must say, this did the trick! 
The Rusk Deepshine Oil can be used as a heat protectant, frizz eliminator, or just an all-over treatment for smooth, silky locks! It's made with Argan Oil so it's super good for hair. 
This product really helped my hair, especially my ends, become smooth and shiny again. My hair is thin and it can get really unruly, but this really helped to smooth everything out. If your hair needs something extra to keep it smooth and shiny, this is seriously for you! I like to put this in my hair after I shower and blowdry, and it makes a huge difference!
It's a little bit pricy at $29.95, but so worth it. The bottle is 4 oz and I use just a dime sized amount for my long hair. 
Well, thats all for now! I hope you guys enjoyed this collective hair product review, and stay tuned for more! You can purchase all of these products at Folica.com. They're having a 20% of sale until later tonight, so check it out if you haven't already!
Thanks for stopping by,Belle