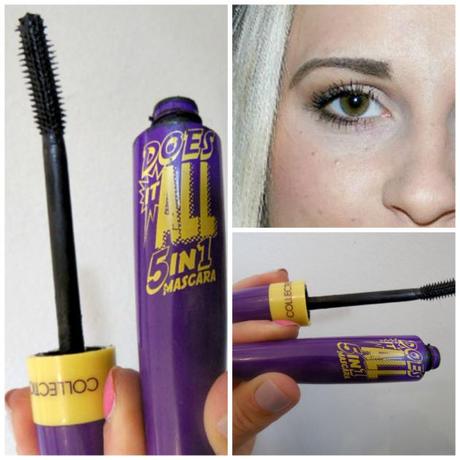 Hey There,
To be honest, although I am a huge fan of Collections concealer, I didn't have high hopes for this mascara. Purchased purely for the reason that it cost less than £5.00, (I think I even got it in a 3 for 2). On first use, I did notice that the brush took on a similar design to my 'most loved' high end mascaras, MAC 3d Dimensions and They're Real, a multi-bristle brush . And it wasn't until the first few uses, that I discovered actually how amazing this mascara was. Not only did my mom point out how nice my lashes were, (If you know my mum, you will understand the importance of this), but I noticed that there wasn't much between the benefits of this mascara to many others I have raved about. My eyelashes were lengthened, volumized, and fuller. The color is the blackest of black, so really made my lashes stand out. The picture provided actually shows my mascara after a few weeks of use, so not even at its best.
Mascara has always been a staple product of mine, I would never go out the house with out it, (Although student life did help relax my rules around my public face). I can't go on a night out with out false lashes, so you can imagine, I demand a lot from my mascara. At first I thought I may of got lucky with this one, and thought about purchasing another one, just to be sure. And then I heard AndrewJamesBlog talking about how he thought it was 'a dupe of Benefits They're Real' on Instagram.
The only downfall, is it is a little more make up remover resistant than other mascara brands. But hey, some may prefer that, and as long as it ticks all the other boxes for my lashes, than an extra pad of make up remover doesn't bother me.
The 5 in 1 mascara promises to be long lasting, curl, volumize, lengthen and condition lashes all for £4.99. Have you tried it yet?
Lots of Love,
KBxx
Facebook : Beautybykaris - Twitter : Beautybykaris
Instagram : Kkbrelsford - Bloglovin : Beautybykaris