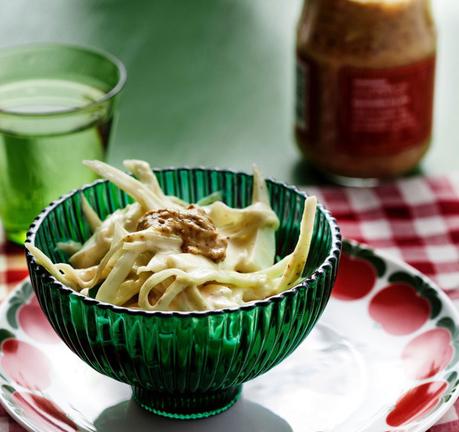 Here's another Swedish LCHF recipe ( check them all out here) - today it's coleslaw:
Coleslaw
Low-carb cookbooks usually include a recipe for this world-famous cabbage salad. Wholesome, tasty and very versatile. Throw in some seeds of dried fennel or two teaspoons coarse-grained mustard for a nice flavor accent.

Ingredients

4-6 servings

¼ white or red cabbage
½ lemon, juiced
1 teaspoon salt
½ cup (1 dl) mayonnaise
1 pinch of fennel
1 pinch of pepper
1 tablespoon coarse-grained Dijon mustard, optional

Instructions

1. Cut away the core and shred the cabbage in a food processor or with a sharp cheese slicer. Put the cabbage in a bowl.

2. Add salt and lemon juice. Stir and let sit for 10 minutes. Discard any excess liquid. Mix cabbage, mayonnaise and possibly more mustard. Season.

TIP! Try the same recipe but with fennel or thin celery-root rods that you first pre-cook in lightly salted water for a few minutes. Tastes great too!
Previous recipes by Anne Aobadia
More
More
Diet Doctor's LCHF
Healthy Tasty Green Chips!
Picnic at Diet Doctor's House Dinner at Diet Doctor's