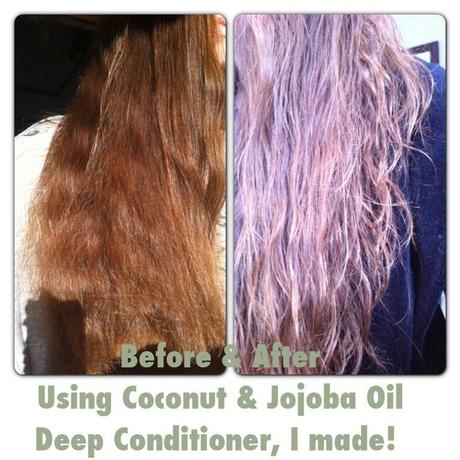 Can you see the difference, other than the sunlight? lol. So much shinier, curlier, and easier to brush! So easy to make too.
Recipe: 
2 tbsp coconut oil
1 tbsp jojoba oil
1-3 drops of a favorite essential oil (optional)
Mix together. Put a bit in your palms. Rub your hands together then message, lightly & evenly though out your hair, adding a little more at a time, as needed. Blow dry and brush your hair to warm it up and spread it around. Leave on for 15-30 minutes, pinned up or in a shower cap. Brush again before washing with shampoo & conditioner as usual.

You an also take 1 part of this deep conditioner blend and mix with 10 parts water, in a spray bottle, & make a detangler/leave in conditioner. I can't wait to try this today.
Pam. Click here to Email Me or P: 780-774-2530  E[email protected] SN: