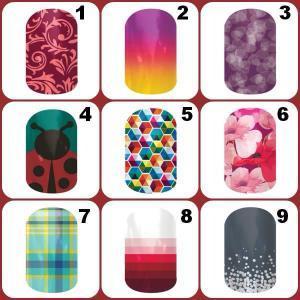 What woman wouldn't like beautiful, professional looking nails, for a fraction of the  cost? With 300+ nail wrap designs to choose from, as well as a "Nail Art Studio" where you can create your own custom designs, YOUR style has no limits.
Here's a brand new party-plan business that just hit Canada September 1st in BC & ON, with the rest of the provinces soon to follow. Right now, it's free to pre-register for more info when it's available in your area. Click here to check out the website!
I've been a stay-at-home mom for years now. I had contemplated going to college so I could do nails out of my home but never did. I love doing my
own nails. In fact, I usually have very long nails (just cut them off yesterday due to one that broke) and since I grow them and paint them myself, I'm very limited to the artsy skills with my left hand. I always get lots of compliments on their length and the colors I choose. This is what they look like after last night: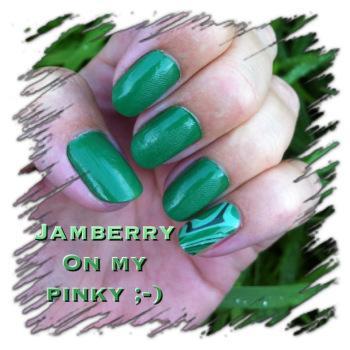 Notice the pinky nail?! That's a free Jamberry nail shield sample that I got from my sisters friend, Kim. I found a shade of green that kinda matched and applied my usual base plus 2 coats of polish, last night before bed. I watched a bit of TV and was careful, as usual, not to touch anything. As you can see, however, I went to bed too soon and I have pillow/sheet indentations on the painted nails.
So, here's my thoughts about joining the business, which I may add more later:
Jamberry:                                                                              Traditional Paint:
-Pricier than painting them myself                               -Cheap
-Natural adhesive                                                                 -Can contain toxic chemicals
-So many styles & colors to choose from                   -I'm not artistic
-Quick & simple                                                                     -Time consuming to dry *yawn
-Lasts a few weeks                                                                -Chips & wears off in days
-Protects from breakage
-Potential to earn extra money doing them at home or out & about, on friends & family members, doing home parties, all the while, having fun doing something I love…nails!
Soooooo, I've decided……I'm going for it! Here's what I get: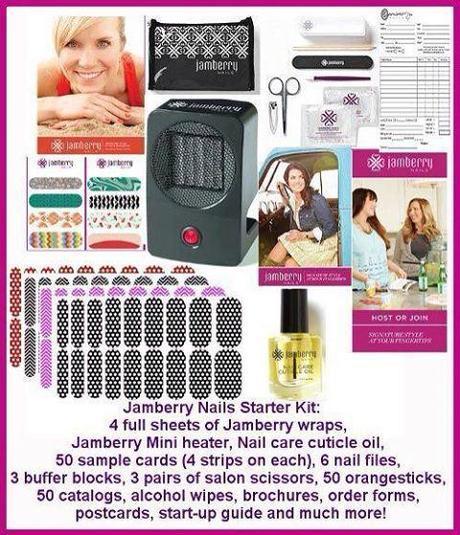 Here's a bit of info about the business, taken from their website:
"The story of Jamberry Nails begins with three sisters who possess distinct personal tastes, but share a love for style. After an expensive afternoon together at the nail salon, Lyndsey, Christy and Keri vowed to find a simpler,
more cost effective way to keep their hands looking polished, while still spending time together.
After lots of trial and error, the proprietary nail wraps of Jamberry Nails
launched in late 2010. The DIY, at-home application and incredible variety of designs caught on quickly and sales soared. A new era of nail art was born.
Gone are the days of nails that chip and flake after only a few days! Gone are
the days of the single colored manicure. Gone are the mani/pedis that take all afternoon and most of your cash too! Jamberry nail wraps arm you with style and confidence while demanding very little of your time or money.
Join the nail revolution, ladies!"
ApplyInstructions" src="http://goinggoinggreenca.files.wordpress.com/2013/09/jamberry-applyinstructions.png" width="419″ height="558″ />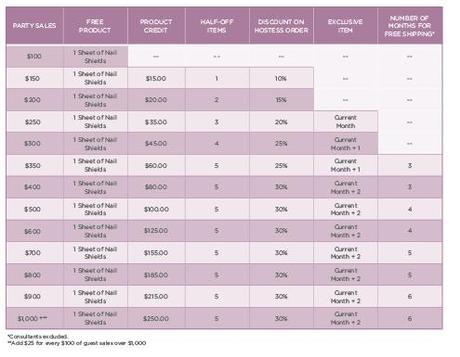 Click Here for the link to pre-register for your Canadian area, or if you'd like any info, contact me using one of the ways below. Thanks and have a Green day, Every day =)
Pam. Contact P: 780-774-2530 E[email protected]SN: