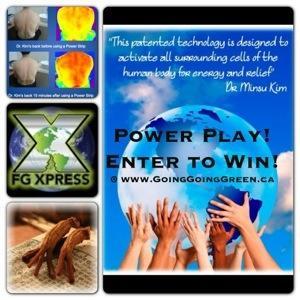 Want to win one of the hottest, natural health products available on the market?! It's time for a "Power Play"!!!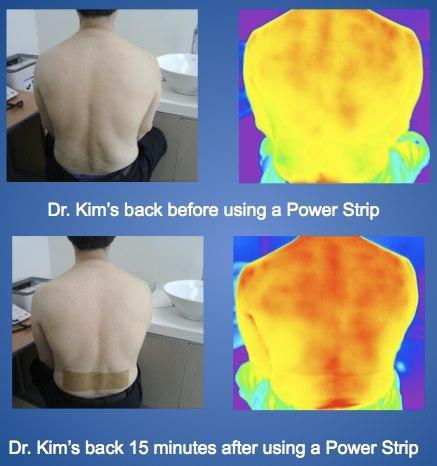 Picture from an infrared thermal imaging camera. Note the profound effect Power Strips have on energy and circulation.
What are Power Strips, you wonder? Basically, they are a total health patch for anyone looking for a natural alternative to pain relief, more energy, balancing chi/meridians, body detox, & so much more.
To learn more about this fabulous product, click here.
I am going to have a draw for 3 Power Strips. Anyone on Earth may enter as they will be shipped in a greeting card envelope, so anyone with a mailing address is eligible.
Contest rules:
1) You must be over 18 & enter by filling out this form, below.
2) Earn extra entries by referring this link, anywhere through social media, emails, etc being sure that you ask them to put your name & email address in the "referral" spot =)
3) You should subscribe to my website, to get email updates when I post (link is near the top left of this page) & follow my page on Facebook (not required though).
4) All entries must be received before June 21st (the summer solstice), by 11:59 PM, MST. Draw will be done within 48 hours. Winner will be contacted by email & announced on my website.
Why wait to see if you're the winner? Order Now by clicking here to go to the website that's loaded with video's, more info, & to read what others are saying about this product.
I highly recommend that you consider buying a single pack with 15! This way it would give you a full month to experience their results. Just 1 patch can be worn for 2 days! When I ordered my first pack of 15, I couldn't help but tell friends & family about them. I ended up giving away & selling out of them, leaving none left for myself till my next order came in. Oops, silly me & I haven't made that mistake again. Sharing this product is so easy to do, & needed around the world.
Name
(required)
Email
(required)
Who referred you to this contest? Name & email address please Comment (optional) Would you like more info about this product? Would you like to know more about the world wide, home business opportunity?
Thank you, Good Luck, & have a Green day, Every day =)
Pam. Click here to Email Me or P: 780-774-2530 E[email protected] SN: