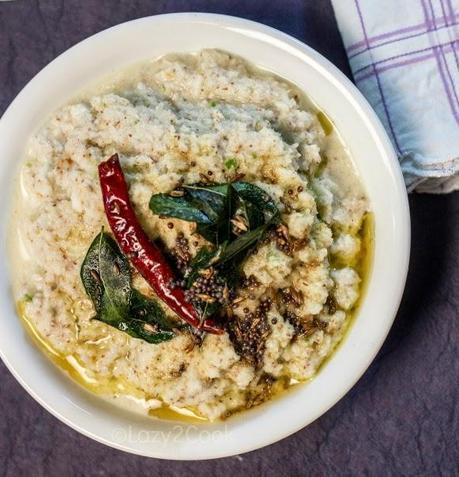 Coconut Chutney is must when we are having Idli or Dosa. Else we can't feel that we are having South Indian delicacy. When I was in Canada, we used to bought bottle preserved chutney. But, here in India I can get fresh coconut and so learned coconut chutney. I even make lots of variations to this chutney each time.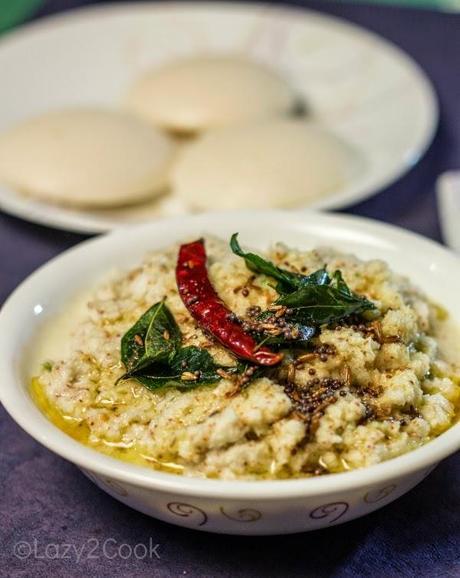 This time I made coconut chutney with yogurt and roasted chana dal. We can put tamarind, urad dal or you can make green coconut chutney by lots of coriander leaves. I have made Coriander chutney, Curry leaves chutney , mint -coriander chutney many times. Coconut chutney is a South Indian spicy chutney-side-dish. This is a coconut stew mixed with other spices and served with Idli, Dosa, vada and even with cooked rice. In Marathi, we say olya khobryachi chutney means wet coconut chutney.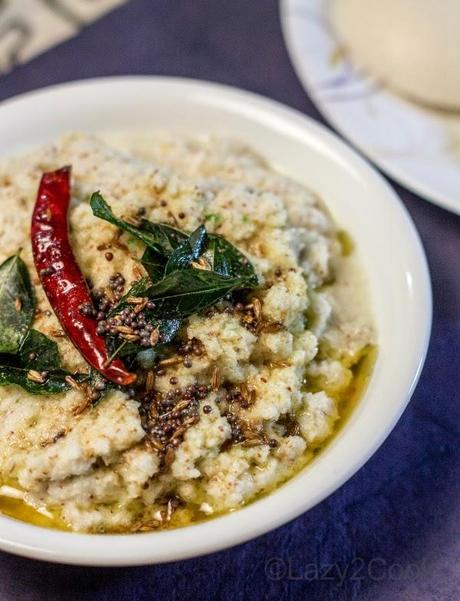 I made Idli this Sunday, with Sambhar and coconut chutney , the meal was complete. My kids enjoyed Idli lot. My one and half year old also grab on Idli. Check on my post - How to make Soft and Spongy Idli.
1 cup roughly chopped Fresh Coconut
1 teaspoon grated Ginger
2 Green Chilies, chopped
1 tbsp. Roasted Chana Dal
2 tbsp. Curd
1 tsp. Lemon Juice
1/2 cup Water
Salt

1/2 tsp. Cumin Seeds
1/4 tsp. Mustard Seeds
4-5 Curry Leaves
1 Dry Red Chili
1 teaspoon Oil
1.Take chopped coconut in a small mixer of food processor or grinder.

2.Grind it to make a medium coarse paste and take it in a bowl.

3.Add green chilies, roasted chana dal and ginger in same mixer. Grind them to a smooth powder.

4.Add crushed coconut, curd, lemon juice, salt and 1/2 cup water.

5.Grind them to a medium coarse paste. Check the consistency of chutney and then add water as needed. Transfer it in a bowl.

6.Heat oil in a small tempering pan. Add mustard seeds. When seeds begin to crackle, add cumin seeds, dry red chili and curry leaves and sauté for 10 seconds.

7.Take away pan from flame and immediately pour tempering over the prepared coconut chutney and mix well.

Enjoy Coconut chutney with Idli and dosa .