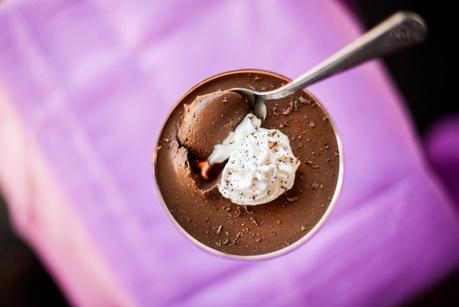 Do you want some dairy free chocolate mousse? It's got a relatively low amount of sugar, all from the very dark chocolate.
It's not for every day, but it can be a good dessert option for special occasions (unless of course you are addicted to sweets, then it's never a good idea).
This is another recipe from popular Swedish cookbook author and blogger Åse Falkman Fredrikson.
Coconut and Chocolate Mousse
This chocolate mousse is delicious and completely dairy free!

Ingredients, 4 servings

1¾ cups (400 ml) creamy coconut milk
2 egg yolks
3½ oz (100 g) dark chocolate (at least 70%)
1 vanilla stem

Instructions

1. Carefully bring coconut milk and egg yolks to a simmer, whisking continuously. Let simmer while stirring for 10 minutes.

2. Break the chocolate into a bowl. Add the vanilla kernels and pour the coconut milk on top. Let stand for a while so that the chocolate melts.

3. Whisk the batter together and pour into glasses. Refrigerate for at least two hours before serving.
More recipes from Åse Falkman Fredriksson
More
Diet Doctor's LCHF
Healthy Tasty Green Chips!
Picnic at Diet Doctor's House
Dinner at Diet Doctor's