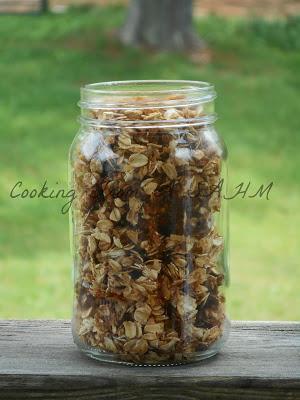 My daughter loves Granola in her yogurt. We had been buying her the yogurt that comes with granola but the flavors were limited. So I thought " Hey I can make the granola, and she can use them with whatever flavor she wants". So today I bring you Coconut Almond Granola :-)
Coconut Almond Granola
4 C Old Fashioned Oats1 C Coconut1/2 C chopped toasted almonds1 C Honey1/4 C Brown Sugar2 T Oil 
In a bowl combine your oats, coconut, and almonds. Set it aside. In another bowl whisk your honey, brown sugar and oil. Pour it into the dry ingredients. Mix till its fully combined. Take a cookie sheet and line it with parchment paper. Pour your mixture onto the cookie sheet and spread it. Bake at 350 for 20 to 25 minutes till its golden. Take it out and let it cool. Once its cool you can break it up and it will keep for 2 weeks. This makes a lot of granola.