For my birthday back in March, my mom and dad bought me an experience day voucher to take part in a cocktail making workshop at a bar in Shoreditch. I know what a cool gift right? I finally got round to booking the class recently, only two and a half months later, and we had such a fab Saturday evening!
Unsure what to expect, as I'd never done something like this before and the cocktail making masterclass we were booked onto was also promoted as 'Sex and the City' themed – I've never watched a single episode of the show – I took Alex along with me, keeping my fingers crossed that it wouldn't be too girly, for Alex's sake obviously.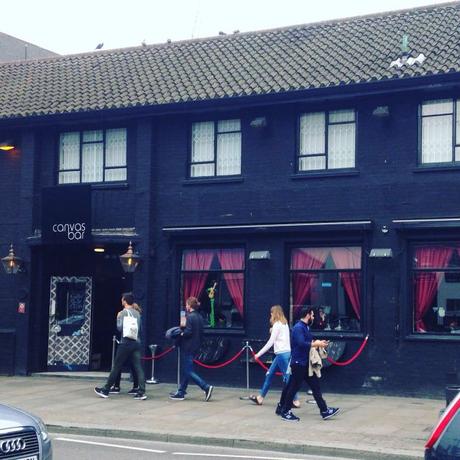 We turned up at Canvas Bar a little early and headed to the bar where we were welcomed with a prosecco reception, and as there was another pair who were booked for a masterclass at the same time, we waited for them to arrive. Alex and I sat chatting, checking out the interior of the bar which is SO much cooler than it looks outside, and sipping our prosecco.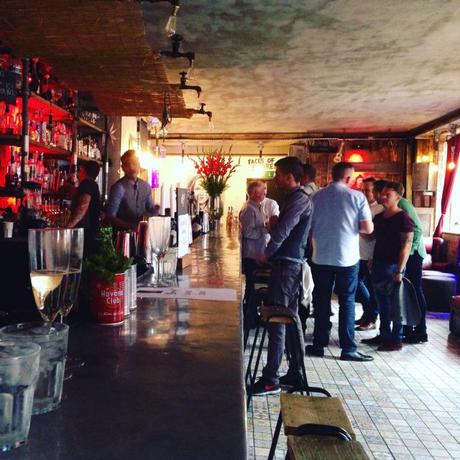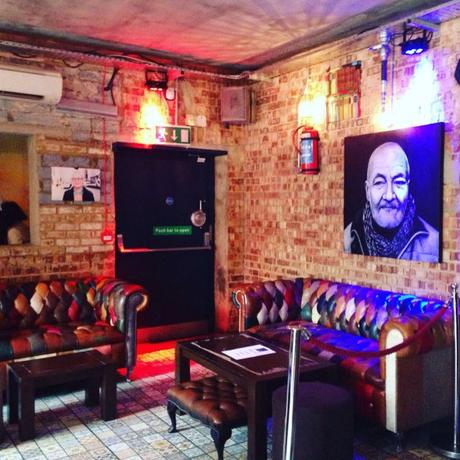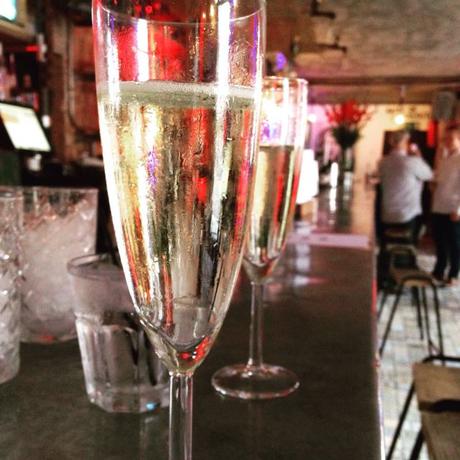 The other pair turned up, and we were soon clinking shot glasses with our first shot. I don't think my body was quite ready for a tequila at 6pm, but it was cool how it got us all celebrating together, and even the barmen had one too!
Alex's shot was a Ron de Jeremy which was recommended by the barman. A spiced rum, with a hint of chocolate. Alex said it was one of the best spiced rums he's ever had.
Then we came onto the first cocktail – The mojito. One of the barmen demonstrated the method and techniques – we were even let in on the little insider secrets for the best smelling mint, and how to prepare our glasses for the perfect serve – before letting us all loose behind the bar to try and create our own. A mixture of lime, mint, sugar syrup and white rum, we were also left to experiment with the flavoured syrups, in which I quickly picked the passionfruit and Alex the strawberry!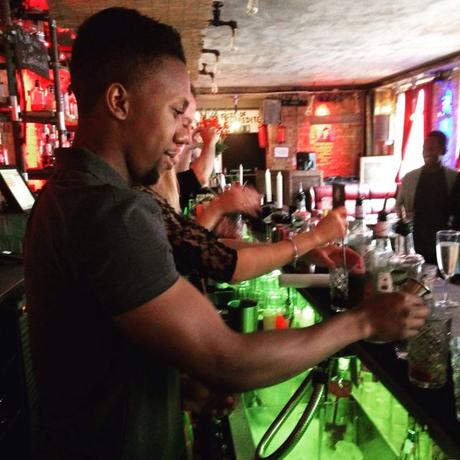 Alex showing off his mojito skills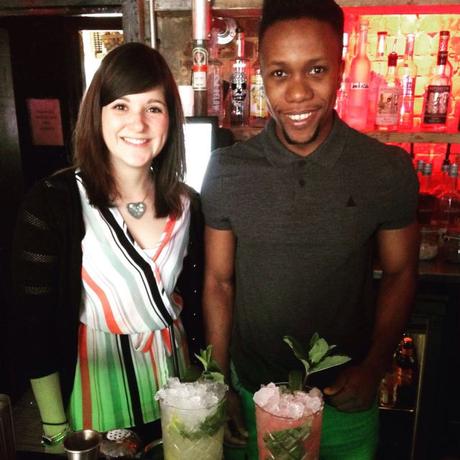 Alex and I behind the bar looking a little awkward. Not a good pic of me either, my blouse is definitely not lying in he right place – oh well!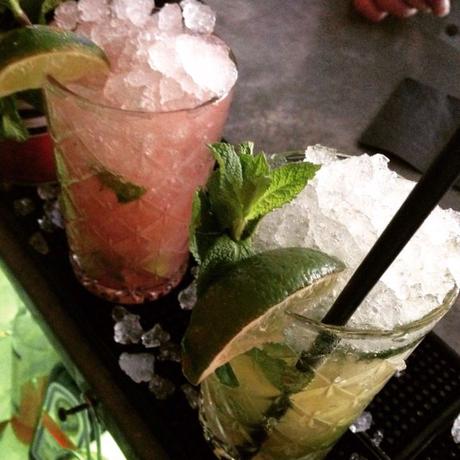 Mojitos!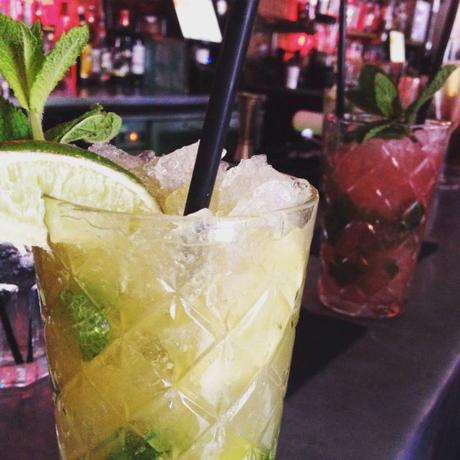 We perhaps could have used a little more flavour, but overall they were pretty awesome, perhaps even better as we made them ourselves😉
Next came another round of shots, another tequila for myself and a different spiced rum for Alex. We all clinked shot glasses once again, before absorbing as much information as possible about the cosmopolitan, whilst in a state of slight tipsiness.
I obviously wasn't all with it, as when we were let loose once again to create our own cosmos I forgot to add the vodka…or maybe that was on purpose😛 The barman helping Alex and I was laughing at me lots, and I was adamant that I had remembered everything, even when my glass was only filling three quarters of the way up…whoops!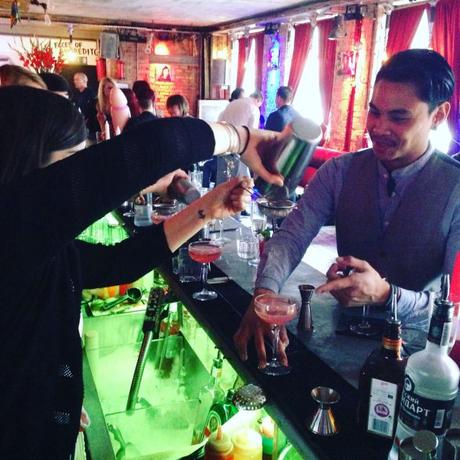 Everything went back in the cocktail shaker for me to add the vodka, and off I went again shaking away…giving my arms a good old workout. 
Full time cocktail flarers must have some really strong arms! I'm not sure I could shake cocktails all night.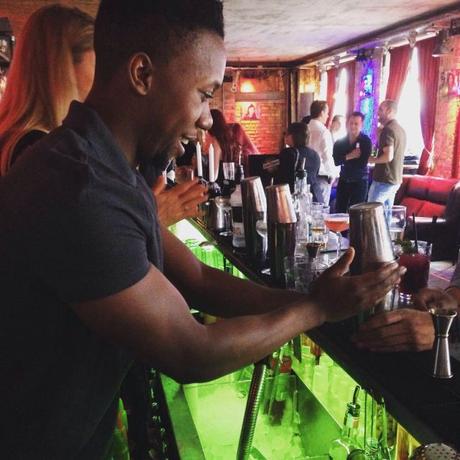 Alex was pretty awesome at cocktail making! This is him popping open the shaker.
We made our way back round to the front of the bar, where we tasted our cosmos and listened to a few more tips and techniques on finishing drinks and design, before all doing one final shot…I think it was whisky (not my idea of fun!) … to finish the experience.
I have to say, I was pretty drunk by the time the masterclass finished. We stayed to finish our drinks (well Alex finished his and had some of mine) and made our way home …perhaps not walking in a straight line.
We had such an awesome cocktail making experience! It was one of the best birthday presents I've had, I think ever, and I highly recommend it as a gift or even a celebratory treat. It'd be great to start a night out, or even do before a dinner…but perhaps learn from my mistake and eat something to line your stomach first😛
Have you done anything like this before?
Chloe xx