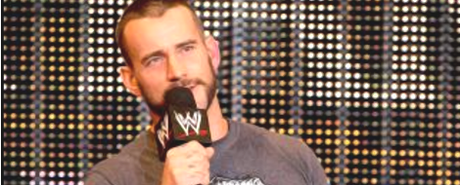 On August I wrote about  CM Punk's historic title reign but I really didn't give a lot of information about his title reign. I mentioned the men he has defeated during his title reign and the type of matches where he has defended his title. That's why I decided to look for more information and write this. Also Night of Champions is this week and it only made sense to write this. Currently CM Punk is on his second WWE Championship title reign. He won the title back at November 20, 2011 at Survivor Series by defeating Alberto del Rio. Since that victory CM Punk has defended his title on 16 occasions. Out of those 16 title defenses he has lost 5, 2 via countdown and 3 via DQ. Those losses are the following:
Date Show Opponent Result
Jan 2, 2012 April 2, 2012 April 9, 2012 May 29, 2012 July 23, 2012 Raw Raw Raw Smackdown Raw Dolph Ziggler Mark Henry Mark Henry Kane John Cena loss via countdown loss via countdown loss via DQ No contest loss via DQ
In his 16 title defenses CM Punk has defeated 11 different opponents, 9 men out of the 11 have been World Champions. Also only 6 out of the 16 title defenses had been singles matches without any special stipulations. Here is a list of the matches with stipulations:
Show Stipulation
Raw Royal Rumble Elimination  Chamber Wrestlemania Raw Extreme Rules No Way Out Money in the Bank Summerslam Got disqualified lost title John Laurinaitis as Guest Referee Elimination Chamber Got disqualified lost title No DQ Chicago Street Fight Triple Threat No DQ and AJ as Guest Referee Triple Threat
But not all statistics are good. During CM Punk's title reign he has been in the Main Event of 1 out of 9 pay-per-views. But those numbers aren't as important as the following. CM Punk's title reign 297 days long making it the 9th longest title reign in history. This makes this title reign the longest one in 6 years. If he holds the WWE Championship until November 13, 2012 he will surpass Kevin Nash 1994 title reign, and he would move into the 8th place of longest title reign in history. And if he holds the title until January 27, 2013 to face The Rock at the Royal Rumble his title reign will approximately be 433 days long and that will be the 6th longest title reign in the WWE Championship history, plus it would be the longest title reign since Hulk Hogan's 1984 title reign. As mentioned above CM Punk's title reign is the 9th longest. In the combined reigns Punk's current  297 title reign with his first 28 days reign makes a total of 325 days combined, this place him in the 14th position of All-time title reigns combined. But his current 297 days long title reign has tied the combined days of The Rock's 7 title reigns. All these numbers just prove what I mentioned on August, we are witnessing an historic title reign. Like Punk said in a Q & A he now is to kids what guys like Ric Flair and Shawn Michaels were to him. Even if he was being overshadowed his title reign is impressive for this Era and past Eras. The best thing is looks like the best is yet to come.