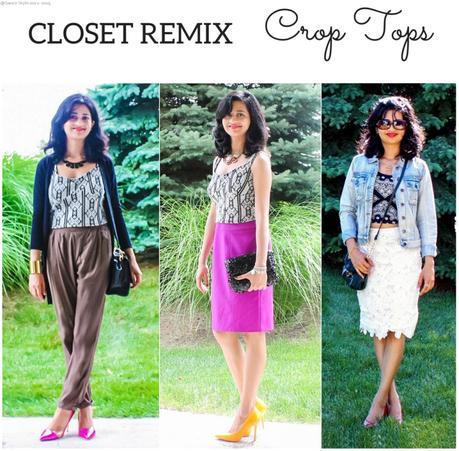 I practically lived in Crop Tops last Spring and was hoping they would make the cut this year too. Thankfully, Crop Tops are still very much the trend and the perfect way to beat the heat wave. You can opt for a printed matching set, pair it with a maxi skirt or style them with a pair of culottes. There are a lot of ways to bring a fresh spin to this trend. When shopping for one, look for a top that can be styled with different elements of your wardrobe. Here is how I have worn this trend in the past:

I - Style the crop top with a pair of pleated trousers and a cardigan in a neutral color to bring the outfit together
II - Pair it up with a bright colored skirt finishing the outfit with a sequined clutch and statement heels
III - Wearing the crop top with a denim jacket and a pencil skirt keep your look classy without going overboard with the trend
Here are 10 more ways to wear a crop top
Though a crop top might not exactly be your typical wardrobe staple, it is certainly a great way of refreshing your wardrobe coming season and a trend you can't ignore.
What are your thoughts on this trend? I look forward to hearing your thoughts.

Have a good weekend!