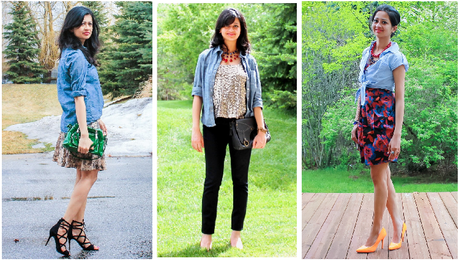 In the past week or so, I think I have pretty much sold the idea of a chambray shirt as a must have in the closet in myriad ways. I can't emphasize enough on how versatile this shirt can be and how good a layer it is to have during those Winter - Spring and Summer - Fall Transitions.
From wearing it with a sparkly mini to wearing it as a layer over a tank top, a Chambray shirt will surely last you many seasons, It can be dressed up or down and whether it is casual Friday at work or a girl's night, this piece is a fab transitional piece to have.
Today I have 3 ways you can style a chambray shirt.

I - Pair it with a Floral A- Line Skirt complete with a mini bag and lace up sandals. The Edginess of a chambray shirt balances out the flirty floral skirt and brings the look together.
II - A Sparkly sequin tank topped with a chambray shirt and worn with black denim is an easy weekend outfit without having to go overboard. The statement necklace adds some extra glamour to the look.
III - As I mentioned before, strapless dresses have their own place and time. However, if you would like to create a chic day outfit with a strapless dress, consider pairing it with a chambray shirt. The chambray shirt brings the classy element into any look.
What are your thoughts on "The Chambray"? How do you like to wear this wardrobe staple?
Have a Fabulous Friday!